About 200 supporters of a Kentucky county clerk jailed for refusing to hand out marriage licenses to gay couples rallied and prayed Saturday as she faced a third day behind bars.
Some in the crowd — chanting, "Thank you, Kim; Thank you, Kim" — swiftly defended Kim Davis, who defied court orders to issue the licenses even after the Supreme Court made same-sex marriage legal in June.
Related: Does Kim Davis, Kentucky Clerk Blocking Gay Marriages, Have Legal Grounds?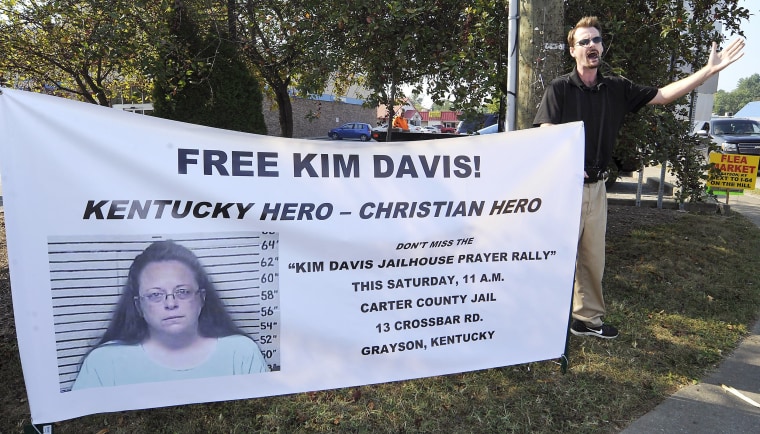 Those supporters argued Davis, a born-again Apostolic Christian, shouldn't be in custody because the justices in their rulings can't make laws.
"There is no law that requires her to grant a marriage license to people of the same sex," said Michael Peroutka, a lawyer and founder of the Institute on the Constitution, a conservative think tank. "The Court has had many opinions ... but they are not law," he added.
Peroutka was echoing Republican presidential candidate Mike Huckabee, who said in a statement Thursday that the Supreme Court "cannot and did not make a law. They only made a ruling on a law. Congress makes the laws."
Legal experts, however, told NBC News that's a false argument.
"A Supreme Court decision is the law. Full stop," said Jeffrey Fisher, a Stanford University law professor and expert on Supreme Court practice. "When the Supreme Court interprets the Constitution, the Supreme Court's words become the law," he added.
Related: Kentucky Gay Marriage Controversy Splits 2016 GOP Field
Steve Vladeck, a professor at the American University Washington College of Law specializing in federal jurisdiction and constitutional law, agreed. But either way, Vladek said, the argument about the Supreme Court is irrelevant.
"She's being held in contempt because she's refusing to follow a district court decision in a suit to which she is a party, holding that same-sex couples have a right to obtain marriage licenses from her," Vladek said. "It's hard to think of any way in which she could be more directly violating a judicial judgment by which she is bound."
Some traveled from outside Kentucky to support the embattled clerk, held in contempt of court by U.S. District Judge David Bunning on Thursday and sent to jail until she agrees to follow the court's order. Davis has vowed not to resign and is expected to remain in the Carter County Detention Center through at least the holiday weekend.
"A Supreme Court decision is the law. Full stop."
Those in the crowd held up signs proclaiming, "God's Marriage = 1 man + 1 woman" and "Kim Davis for president."
"How many of you are thankful that we actually have somebody who has a backbone to stand up against wickedness in high places," said Rev. Randy Smith, a local evangelist.
The rally was held a day after gay couples lined up at the Rowan County Courthouse to obtain marriage licenses.
Later, Davis' attorney, Mat Staver, said he had spoken with his client, who remains hopeful that a judge, the governor or lawmakers will allow her to be exempt from issuing licenses to gay couples based on her claims of religious freedom.
Davis is willing to remain in jail until her request is met, Staver said, adding that she is a "prisoner of her conscience."