The family of a black Ohio man who was fatally shot by a white cop in a Walmart sent a blunt message Thursday to the federal investigators probing the racially charged case — do something already.
"We have been waiting for two years," said grieving dad John Crawford Jr. "Do your job. You have everything you need. If you need anything else, we will provide it."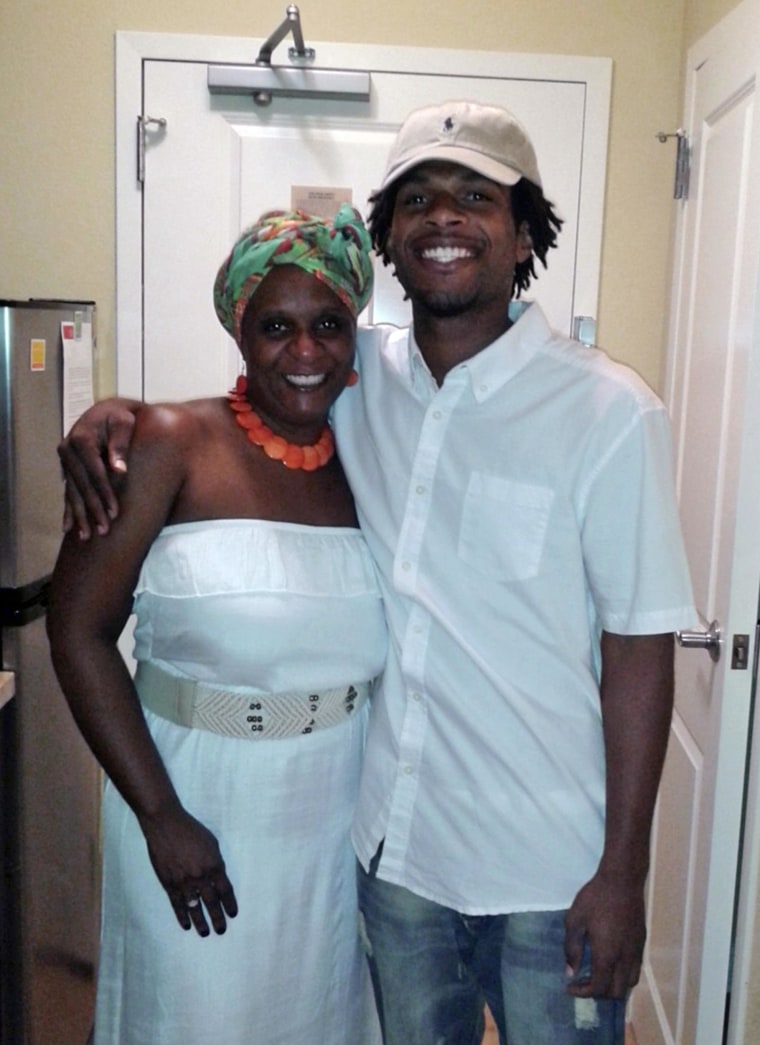 Crawford's appeal to the Department of Justice came at a news conference during which a family lawyer made a previously unreported claim — that the officer who gunned down John Crawford III on Aug. 5, 2014, did not fire the fatal shots with his service weapon.
"He shot him with his own personal gun," lawyer Michael Wright said of Beavercreek Police Officer Sean Williams.
Asked whether this was true, Beavercreek police Capt. Scott Molnar said his chief was out of town "and until he returns we're going to reserve any comment."
Molnar did, however, confirm that Williams remains on desk duty while the DOJ investigation is going on and continues to carry a gun and badge.
The other Beavercreek officer who was involved in the deadly shooting, Sgt. David Darkow, is back on active duty.
A 22-year-old father of two, John Crawford III was killed after a 911 caller reported a black man was threatening customers with a rifle. It turned out to be a toy air rifle that the younger Crawford had picked off a store shelf — and surveillance video later revealed he had not threatened anyone.
"There is enough evidence for the Department of Justice to make a conclusion," said another Crawford family attorney, Sean Williams, who stressed that he was not related to Officer Williams.
Related: Family of John Crawford, Man Killed by Police at Ohio Wal-Mart, Files Suit
"His civil rights were violated," the attorney said of the dead man. "It doesn't take two years to figure this out."
DOJ inaction is "impeding our civil case" because Officer Williams, Beavercreek city officials and Walmart are refusing to submit to depositions citing the ongoing federal investigation, Williams the attorney added.
"They are hiding behind a Department of Justice investigation," he said. "That is just wrong."
The Crawford family filed the civil lawsuit in December 2014 and is seeking $76,000 in damages.
The DOJ declined to comment on the Crawford family's appeal for a resolution to their probe "due to the ongoing investigation," spokesman David Jacobs said in an email.
The Beavercreek police also had no official response to the latest development.
The Crawford killing happened four days before 18-year-old Michael Brown was shot dead by a police officer in Ferguson, Missouri — a tragedy that sparked a series of violent demonstrations and focused attention on what critics have called a plague of police shootings of unarmed black men.
There was no violence in the Dayton, Ohio, metro area after an Ohio grand jury in September 2014 declined to charge officers Darkow or Williams with a crime.
But there is lingering bitterness in the black community that Officer Williams still has his badge, the Crawford family lawyers said.
They noted that Officer Williams was responsible for the only other fatal police shooting in Beavercreek history, that of Air Force veteran Scott Brogli in 2010.
Another grand jury concluded that Williams' shooting of Brogli was justified.
Crawford insisted that neither he nor anybody in his family is "anti-cop."
"It's ridiculous to think all cops are bad," he said. "I'm anti-bad cop. I'm anti-rogue cop."