Kirk Douglas, who died Wednesday at age 103, played an instrumental role in helping end the Hollywood blacklist against suspected communist sympathizers, along with the movie director Otto Preminger.
Douglas worked to have the screenwriter Dalton Trumbo credited for the 1960 film "Spartacus," in which Douglas starred. Trumbo was a member of the Hollywood Ten, a group of writers and directors cited for contempt of Congress for refusing to testify before the House Un-American Activities Committee.
Trumbo was involved in two films that year, "Spartacus," which came out in October, and "Exodus," directed by Preminger and released in December. Preminger told The New York Times in January 1960 that Trumbo was involved in his movie.
"In January, I think, he called my father and said, 'Take a look at The New York Times' — and there it was on the cover," Trumbo's daughter, Mitzi Trumbo, 74, said in a brief phone interview Wednesday from her home in the San Francisco Bay Area.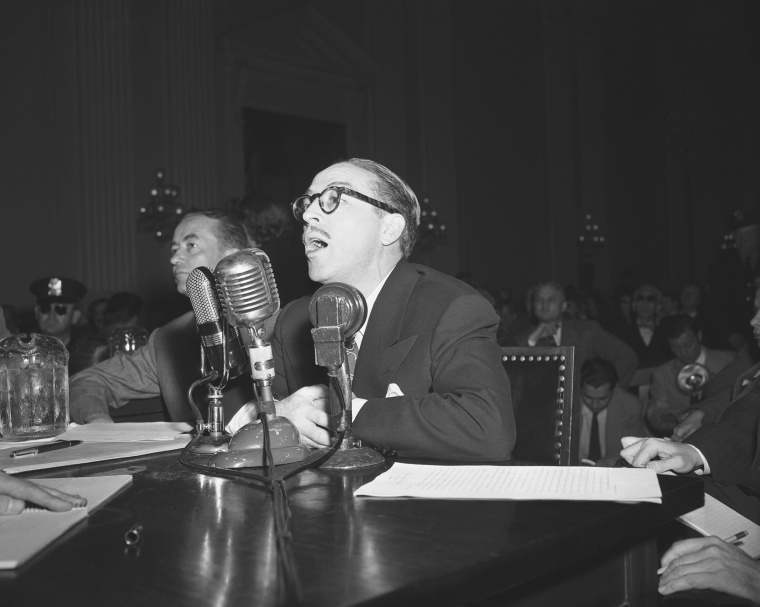 The Jan. 20, 1960, article, headlined "Movie Maker Hires Blacklisted Writer," appeared on the front page of The Times, according to an archived digital image. It called Preminger's acknowledgment "the first open defiance by a producer-director of Hollywood's 'blacklist.'"
Mitzi Trumbo said her father was also "extremely pleased" by the credit on "Spartacus."
"We felt that sharing this sort of distinction with Otto Preminger was important," she said, noting that it took more than the actions of Douglas and Preminger to end the blacklist against those believed to be or to have been communists or sympathizers.
"No single individuals, even those two, could have broken the blacklist," she said, adding that other writers and directors continued to be barred from working in Hollywood after Trumbo was acknowledged.
Download the NBC News app for breaking news
Trumbo was sentenced to 12 months in prison for refusing to testify in 1947 before the House Un-American Activities Committee, notorious in U.S. history for its investigations of people alleged to have communist or radical ties. He served 10 months.
After the committee called Hollywood actors, directors, producers and screenwriters to testify about alleged communist influence in motion pictures, the Hollywood Ten were imprisoned for contempt of Congress for refusing to do so.
The U.S. Capitol website, which has a copy of Trumbo's sentencing card online, quotes Trumbo as replying to the committee chairman's question — "Are you now, or have you ever been, a member of the Communist Party?" — with: "I believe I have the right to be confronted with any evidence which supports this question. I should like to see what you have."
Gabrielle Carteris, president of the Screen Actors Guild-American Federation of Television and Radio Artists, also known as SAG-AFTRA, said in a statement Wednesday that Douglas was "one of the last remaining legends of Hollywood's golden age" and that "he was also a powerful voice who helped end the blacklist in our industry."
Douglas was awarded the Writers Guild of America's Robert F. Meltzer Award in 1991 "in recognition of his action in 1960 to ensure that Dalton Trumbo received screen credit for writing 'Spartacus,'" according to the guild's website.
Trumbo died in 1976. His widow, Cleo, was invited to the 1991 Writers Guild award ceremony honoring Douglas but wrote back saying both Douglas and Preminger should be recognized, Mitzi Trumbo wrote in a 2012 article in Salon.
Cleo Trumbo, who died in 2009, wrote in a letter to the editor of the Los Angeles Times in 2002 that "no single person can be credited with breaking the blacklist."
"While it took men of principle and courage like Preminger and Douglas to at long last defy the Hollywood studios, it is my unwavering conviction that it was primarily the efforts of blacklisted writers themselves that caused the blacklist to be broken," she wrote, according to the newspaper.
Trumbo wrote under other names while he was blacklisted, including Robert Rich, which he used for "The Brave One" in 1956. "Rich" won the Oscar for best writing; Trumbo didn't receive the Oscar until 1975, the year before he died.
Trumbo also won an Oscar for "Roman Holiday," which came out in 1953, but credit was not given to him until 1992. Cleo Trumbo accepted his posthumous award in 1993, the Los Angeles Times reported.