A shooter opened fire inside an Ohio nursing home Friday, killing two employees and the town's brand new police chief, police said.
Dozens of law enforcement officers were dispatched to Pine Kirk Care Center in Kirkersville after panicked 911 calls.
Kirkersville Police Chief Steven Eric Disario, 36 — who had only led the Kirkersville Police Department for about three weeks — was killed by the shooter and two nursing home workers were also found dead, Licking County Sheriff Randy Thorp said.
The gunman is also dead, authorities said, but how he died was not immediately clear. He was not identified by police, but family members identified the gunman as 43-year-old Thomas Hartless, NBC affiliate WCMH reported.
Disario responded to a report of a man with a gun around 7:45 a.m., Thorp said during a press conference. After spotting the suspect, he engaged with the alleged shooter, Thorp said.
In his final radio communication, Disario reported that he had the suspect in his sights.
When deputies arrived on scene, they found Disario unresponsive in the street.
"It's a real hard day for all of us," Thorp said. "The deputies who pulled him to safety, if you will, are having a real hard time."
Disario was a father of six with a child "on the way," according to Thorp.
Hartless isn't new to law enforcement, according to Knox County Prosecutor Chip McConville. "We had two cases with him about six or seven years back," McConville told NBC News in a phone interview. Knox County is just south of Licking County.
McConville said Hartless spent time in prison after facing domestic violence and criminal damaging/endangering charges. Before that, Hartless completed 15 months in prison for aggravated assault and aggravated menacing — which had been knocked down from kidnapping and felonious assault charges. He successfully fulfilled a three-year stint on probation in 2014, McConville said.
"I remember this guy. He wasn't one of our frequent fliers," McConville said. The prosecutor said the abduction case involved Hartless allegedly holding a woman against her will inside a vehicle during county fair week.
Thorp said approximately 23 residents were in the building when the shooting occurred. They were removed so the scene so they could be processed, he said.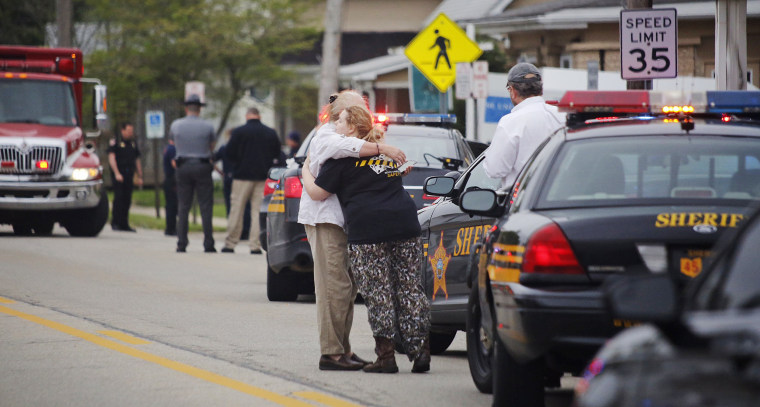 People in nearby houses were told by law enforcement to stay inside while authorities handled the situation.
A witness told WCMH that he heard gunshots and saw people fleeing from the building. People shouted that they needed police, the witness said.
At approximately 9:30 a.m., officers said the situation had "been contained."
Students who were en route to Kickersville Elementary School, which is near the nursing home, were diverted to Watkins Middle School, according to local reports.
The elementary school — about a quarter of a mile away — was on lockdown as a precaution while the police investigated.
Ohio Gov. John Kasich sent his condolences to the officer's loved ones.
"Ohio mourns the loss of Kirkersville Chief Eric Disario, who died in the line of duty. Join me in praying for his family, friends and colleagues, and for the others injured in this tragedy.