Gay rights supporters cheered a federal judge's decision in Texas on Wednesday to strike down the Lone Star state's same-sex marriage ban — with shouts of "Kissing Cowboys!" and "I am proud to be a Texan" — in what one described as a "landmark day" in the bid for lesbians and gay men to wed.
Their opponents, meanwhile, vowed to keep up the fight in what they called an "epic battle."
The decision by U.S. District Judge Orlando Garcia in San Antonio is stayed pending an appeal by the state. Texas Attorney General Greg Abbott said he will do so, meaning the case will go before the 5th Circuit Court of Appeals.
"I am proud to be a Texan right at this moment because we're not last. We're not the 50th ... to do this," said Joshua McIntire, 32, of Fort Worth, who married his husband, Nicholas, in California in 2008. "Today I feel like there's a chance some day that Texas might give back to me what I've given to it."
Nicholas McIntire, 30, said that though none of his fellow Texans had ever given him a problem about being gay, he thought winning the right to same-sex marriage in the state was a "pipe dream." But the recent string of bans to be struck down – Oklahoma, Utah, Virginia and now Texas – tells him "that we're going to win this ultimately," he said.
Some gay Texans were at work when they heard the news, such as Robert Conn, who shed a few tears over what he called a "landmark" day. Conn turned 50 on Wednesday, and said he couldn't have asked for a better birthday present.
"We want it to be in our state. I know Texas is a very conservative state but it's our home, it's the place we've lived all of our lives."
"I had to keep myself from just kind of breaking down and crying and I'm still doing that," said Conn, who has raised two children with his partner of 29 years, Loyd Powell. The couple, who live in Houston, hasn't gone out-of-state to wed elsewhere as their gay friends have, holding out for the day when they could marry in Texas.
"We want it to be in our state. I know Texas is a very conservative state but it's our home, it's the place we've lived all of our lives," Conn said.
For those at the heart of the lawsuit, their emotions ran high: "We have made do with the laws of Texas. We have made do for our family. I am gratified that this means my son will never have to make do," said Cleopatra De Leon of Austin, who challenged the ban with her wife Nicole Dimetman (the couple married in Massachusetts).
"This is so significant because really no kid should ever, ever -- like I did -- go to bed at night knowing they're gay and praying they don't wake up," said another plaintiff, Mark Phariss of Plano, who has been with his partner Victor Holmes for more than 16 years.
Meanwhile, opponents of the ban decried the ruling. Texas Values President Jonathan Saenz said it was "the most egregious form of judicial activism of our generation."
"This hollow victory and clear attack on morality and the rule of law will not stand in Texas," he said in a statement. "This is just the beginning of an epic battle that the Texas people will ultimately win in name of the only true and lawful definition of marriage; one man, one woman."
Brian Brown, president of the National Organization for Marriage, said they'd "seen a rash of these rulings in recent weeks" by "activist judges bound and determined to redefine marriage in defiance of thousands of years of human experience."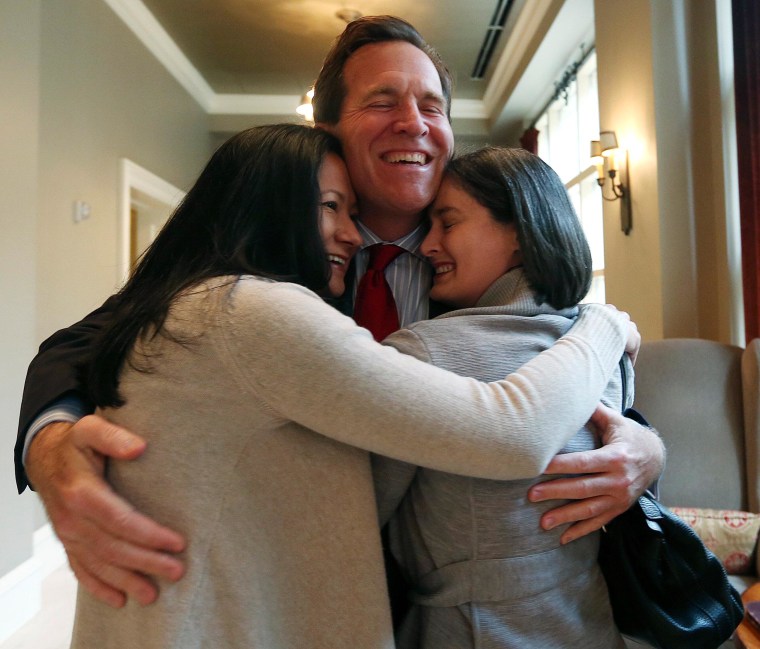 "It simply has to stop," he said in a statement. "The American people, and our leaders in Congress, need to step up and restore the powers of government to their proper balance."The openly-lesbian mayor of Houston, Annise Parker, said in a statement that the decision wasn't a surprise: "I have known all along that this is where we are heading in my home state and across the country. It is one more step in a long quest for equal rights that will end at the Supreme Court."
On social media, supporters rejoiced with Montgomery Maxton exclaiming on twitter, "Kissing Cowboys!" and Liv Moreno sharing that "I might cry a little. I can see hope here."
Opponents also noted their displeasure in the tweetosphere, but one, State Sen. Dan Patrick, a conservative Republican, apparently tweeted too fast — posting, "MARRIAGE= ONE MAN & ONE MAN," before changing it to "MARRIAGE= ONE MAN & ONE WOMAN. Enough of these activist judges. FAVORITE if you agree. I know the silent majority out there is with us!"
Are you a same-sex couple in Texas hoping to marry? How will the decision affect you? Share your story with reporter Miranda Leitsinger at miranda.leitsinger@nbcuni.com