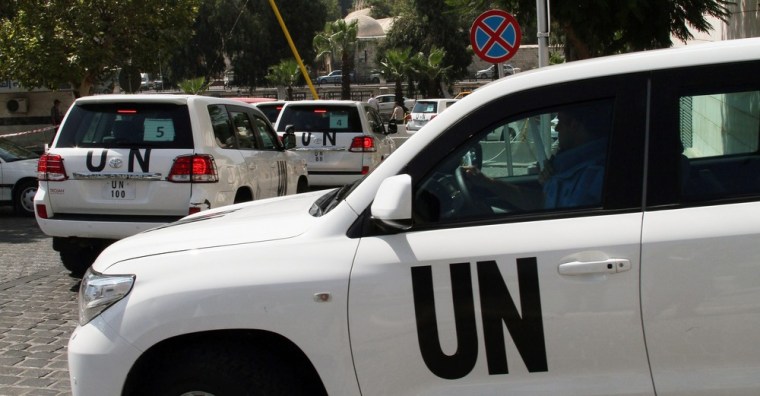 Here's a snapshot of some of the top stories we're following Monday: 
UN inspectors come under fire in Syria
A six-car convoy of United Nations inspectors promptly came under fire Monday after leaving a Damascus hotel bound for the scene of an alleged poison gas attack outside the Syrian capital last week. One of the vehicles was no longer serviceable, leading the team to retreat to a government checkpoint. Syrian President Bashar Assad denies use of the chemical weapons and says the allegations are political. Read it at NBC News.
Hero to be honored
U.S. Army Staff Sgt. Ty Michael Carter on Monday will become the fifth living recipient of the Medal of Honor to be rewarded for actions in Iraq or Afghanistan. Carter resupplied ammunition to fighting positions throughout a six-hour battle in Afghanistan in 2009, providing first aid to a battle buddy, killing enemy troops, and risking his life to save a fellow soldier who was injured and pinned down by overwhelming enemy fire. President Barack Obama will bestow the honor in a ceremony at 2 p.m. at the White House.
Rim fire rages on
Hundreds of firefighters dig trenches, clear brush and start back blazes to keep one of the biggest wildfires in California history raging north of Yosemite National Park away from mountain hamlets. The Rim Fire is only 7 percent contained and already has swallowed more than 130,000 acres -- including 15,000 acres within the park itself. Read it at NBC News.
Lost teacher
A California hiker has recovered a pair of eyeglasses that might belong to a Pennsylvania teacher who's been missing in the Sierra Nevada mountains for more than a month. The sister of Matthew Greene, 39, says a hiker found the glasses hanging on a sign at a trailhead. Greene, a popular math teacher at the school 65 miles north of Philadelphia, vanished while on a backpacking trip in California last month. He was due to return to begin a new school year Monday at Nazareth Area High School in eastern Pennsylvania. Read it at NBC News.
Fort Hood shooter
The Army psychiatrist convicted of carrying out the deadly 2009 attack at Fort Hood begins the sentencing phase of his trial Monday. Maj. Nidal Hasan could be sentenced to death, which his standby attorneys believe he wants. With fewer constraints than the guilt or innocence phase of the trial, some think Hasan will use the sentencing portion to call himself as a witness so he can speak his mind in court. The last time a soldier was put to death by the military was 1961.
Super Bowl prediction: Cold
Niners? Patriots? Packers? Parkas? Everybody is making their Super Bowl predictions, and the annual Farmers' Almanac predicts a blizzard will hit the Northeast before the Super Bowl at open-air MetLife Stadium in New Jersey. "We're using a very strong four-letter word to describe this winter, which is C-O-L-D. It's going to be very cold," said Sandi Duncan, managing editor. Read it at NBC News.
VMA roundup
Justin Timberlake may have brought "SexyBack" on MTV's Video Music Awards on Sunday night, but it was Miley Cyrus who turned things embarrassingly raunchy, pulling off moves during her performance that Hannah Montana would never even imagine. Read it at TODAY.
The Associated Press contributed to this report.