Good morning, happy Monday — and happy Martin Luther King, Jr. Day. Here are six of the top stories we are following this morning at NBC News:
1. Next stop for Denver Broncos, Seattle Seahawks is Super Bowl XVLII
Peyton Manning led the Broncos to a 26-16 victory over the Patriots in the AFC, while the Seahawks claimed the NFC title, taking down the 49ers in a 23-17 nail biter. The winners will face off Feb. 2 at MetLife Stadium in New Jersey. Read more in SPORTS.
But postgame, it was Seahawks cornerback Richard Sherman who grabbed the spotlight in a ranting TV interview that showed him every bit the sore winner. He responded:
2. New video shows two men claiming responsibility for deadly Russia bombings
Suicide bombers killed 33 people in the city of Volgograd in two attacks last December. Now, men with the Islamist organization Anars Al Sunna are warning of more attacks during the Winter Olympics in Sochi. Read more in NEWS.
3. More accusations surface of Chris Christie's shake-down politics
Hoboken Mayor Dawn Zimmer first told MSNBC that the N.J. governor's administration said it would only provide her city with more Superstorm Sandy relief funds if she supported a private development project. Christie's allies, including former New York Mayor Rudy Giuliani, say Zimmer is the latest to "pile on" the governor. Read more in POLITICS.
4. New winter blast set to freeze U.S. all over again
Bundle up. Forecasts show temperatures will plunge about 10 to 25 degrees below average Tuesday through Thursday through the Plains, Midwest and Northeast. Snowfall is also expected in some regions. Read more in NEWS.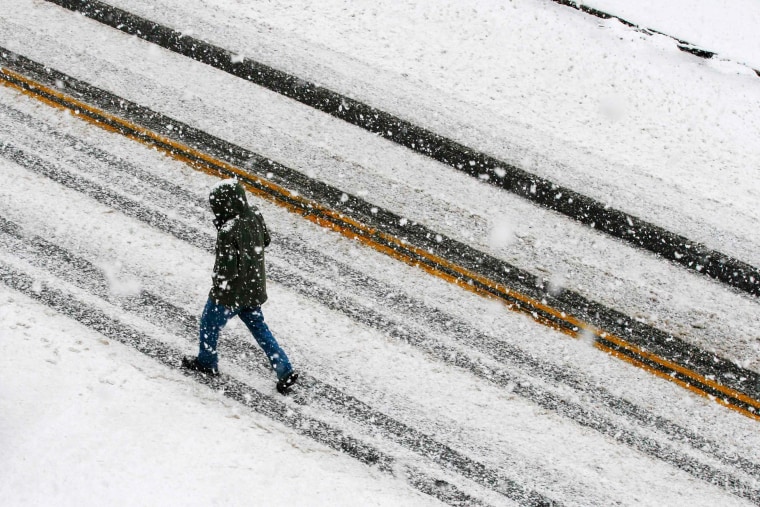 5. American missionary imprisoned in North Korea holds news conference
Kenneth Bae, who's been jailed in the rogue nation for more than a year, was allowed to appear before reporters Monday and plead for help. He said he has not been treated badly and hoped the U.S. can work with North Korea to attain his freedom. Read more in NEWS.
6. NBC's late night lineup gets jolt from Jimmy Fallon and Seth Meyers
Fallon, speaking at the Television Critics Association press tour on Sunday, said he's tweaking the "Tonight Show" name slightly when he takes over Feb. 17. Meyers, meanwhile, will replace Fallon on "Late Night" the following week. Read more in POP CULTURE.