Good morning, and happy Monday. Here are six of the top stories we are following this morning at NBC News:
1. Arrest warrant issued for Ukraine's president
A warrant was issued for the arrests of President Viktor Yanukovych and other officials for the "mass killing of civilians," Interior Minister Arsen Avakhov said on his official Facebook page. Yanukovych fled Kiev Friday as protests reached the climax of violence. He was last reported to be in Crimea, where he relieved his security and drove off to an unknown location. Read more in NEWS.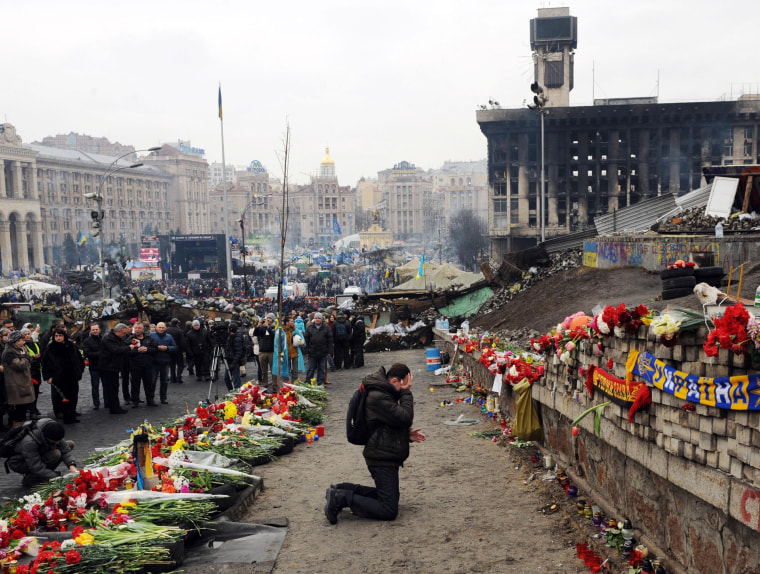 2. Eyes turn to Rio de Janeiro after closing ceremony
Once the spectacular closing ceremony ended in Sochi, Olympics-revelers had little reason to criticize Russia anymore and plenty of reason to cast a wary eye toward Rio De Janeiro, where the Summer Games in 2016 will be held. Delayed construction projects, dirty water and little time between the 2014 World Cup soccer tournament in the Brazilian city have some wondering if the city will be ready. Read more in NIGHTLY NEWS.
3. Jason Collins makes basketball history
Just hours after the Brooklyn Nets announced a contract with Jason Collins, he stepped out onto the court, becoming the first openly gay NBA player. He played 10 scoreless minutes, added two rebounds and committed five fouls in a Nets victory over the Los Angeles Lakers. Read more in NEWS.
Collins reflected on Twitter after the big day:
4. The cold makes a comeback
Some may have thought spring had descended upon the U.S. early in a peace-offering after a wicked winter. But the groundhog did predict a longer winter after all, and it's about to return. Temperatures will drop 10-30 degrees below average in the Northeast, Midwest and South. The official start to spring is a month away. Read more in NEWS.
Tell that to Minnesota ...
5. American killer dead after Israeli prison shootout
Samuel Sheinbein, an American who fled to Israel while authorities sought him for murder, shot six prison guards Sunday before Israeli forces killed him. Two guards were seriously injured, but Sheinbein was the only fatality in the standoff. Sheinbein admitted in 1997 to strangling a 19-year-old with a rope and striking him repeatedly with a sharp object. The teen's body was found burnt, dismembered and wrapped in trash bags near Sheinbein's home in Aspen Hill, Md. Read more in NEWS.
6. "Downton" not a downer in Season 4 closer
Unlike last season, Sunday's finale of "Downton Abbey" ended on a high note, which may have pleased fans. Still, some are less pleased with the way the season played out as a whole. Read more in ENTERTAINMENT.
... What's trending TODAY?
Thanks to the show "30 Rock," people picture Alec Baldwin conquering challenges with gusto in Midtown Manhattan. However, Baldwin is not in a New York state of mind, writing in a New York magazine essay that he's ready to leave his sometimes-dramatic life in the Big Apple for the West Coast.