Good morning, and happy Thursday. Here are six of the top stories we are following this morning at NBC News:
1. Tentative truce in Ukraine shattered by bloodshed
More violence early today, leaving at least seven people dead, has marred a short-lived truce in the country between the government and protesters. Reports of bloody attacks varied: Some said police opened fire from buildings, while the government said it was opposition snipers who first shot at police. Read more in NEWS.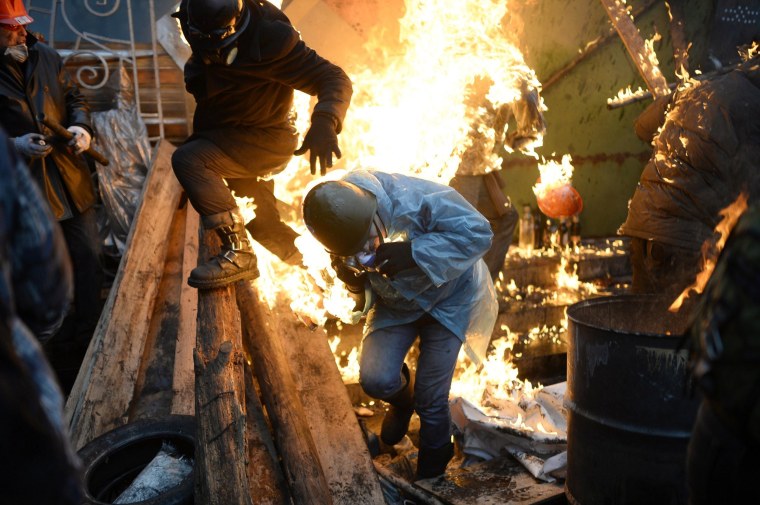 2. Women take the ice at Sochi hockey, figure skating finals
It's crunch time today for the U.S. women's hockey team as they battle for gold with bitter rival Canada, which has captured the last three Olympic titles. The final game is set for noon ET. Meanwhile, Americans Gracie Gold and Ashley Wagner are in the hunt for a medal in ladies' figure skating, but 2010 Olympic champ Yuna Kim of South Korea is poised to win her second straight title. The free skate finals start at 10 a.m. ET. Read more and watch events live at NBC OLYMPICS.
Wagner appears to be enjoying her time off the ice, too:
3. Homeland Security warns of shoe-bomb threat on planes
The Department of Homeland Security has told airlines to be more vigilant about potential shoe-bomb threats on flights into the United States, officials told NBC News. The bulletin urges screeners to use explosive trace detection swabs to check shoes that are worn and packed in carry-on bags. Read more in NEWS.
4. Winning Powerball ticket sold in California
Someone struck gold in the Golden State. A player matched all six numbers — 1, 17, 35, 49, 54 and a Powerball of 34 — in Wednesday night's drawing, and is set to take home an estimated $425 million (before taxes). The lucky ticket was sold at a Chevron station in Milpitas, in the heart of the Silicon Valley. Read more in NEWS.
5. Pair charged with beating baseball fan to plead guilty
Law enforcement sources told NBC News that the men accused of the vicious beating outside of Dodger Stadium in 2011 will plead guilty this morning. In a plea deal, Louie Sanchez, 31, and Marvin Norwood, 32, are expected to be sentenced to eight years and four years, respectively, for their part in pummeling the 44-year-old San Francisco Giants fan so severely he was left with brain damage. Read more in INVESTIGATIONS.
6. Facebook to purchase WhatsApp in $16B deal
The social media giant announced Wednesday it will buy the messaging service for $12 billion in stock and $4 billion in cash — a hefty sum for the popular app. With about 450 million active users, WhatsApp allows people unlimited texting on their phone, including internationally, for 99 cents a year. Read more in BUSINESS.
… What's trending today: Olympics edition
Much has been written about the lousy hotel accommodations in Sochi, but U.S. luger Kate Hansen may have a legitimate complaint: A wolf in the hallway.
The Olympian posted a video on YouTube of what appears to be a wolf — or at the least one of Sochi's infamous stray dogs — stalking the halls of her hotel room early Thursday.
She wrote on Twitter: Wolf in my hall?!? #SochiProblems #SochiFail