Good morning, and happy Thursday. Here are six of the top stories we are following this morning at NBC News:
1. Arizona's anti-gay bill gets nixed
Republican Gov. Jan Brewer announced Wednesday she was vetoing the controversial SB 1062, which would allow businesses to refuse service to gays based on religious grounds. Her decision was lauded by politicians, including Arizona Sen. John McCain, as well gay rights groups and celebrities. Read more in NEWS.
2. Judge calls Texas' gay marriage ban unconstitutional
Judge Orlando Garcia of the U.S. District Court in San Antonio said the ban demeans gay couples for "no legitimate region" — essentially striking down the current marriage law. But Texas Gov. Rick Perry has vowed to keep the ban in place, and the issue must now be heard in the Court of Appeals. Read more in NEWS.
3. Ousted Ukrainian President says he's 'legitimate'
Viktor Yanukovych, Ukrainian's leader who fled after last week's deadly protests, still considers himself the country's head of state, according to reports. A new government is establishing itself in the country as the southern Crimea region with ties to Russia comes under siege. Read more in NEWS.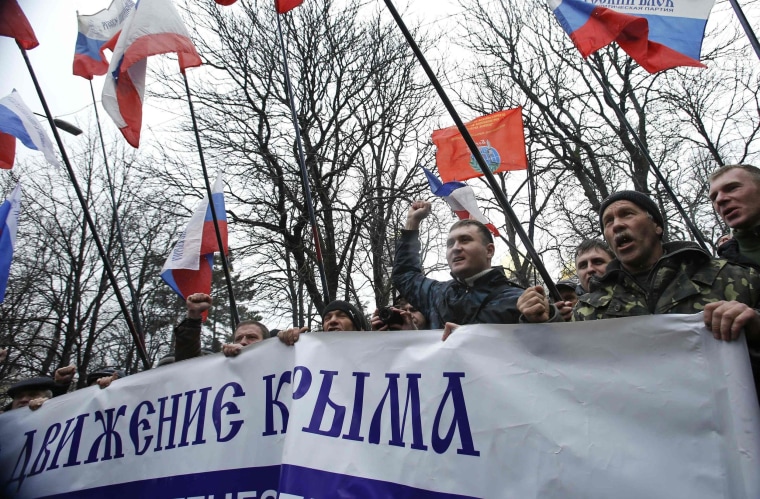 4. FBI mole who met bin Laden killed by al Qaeda
An FBI mole who had once provided valuable intelligence on al Qaeda was lured to work for the CIA. But al Qaeda operatives discovered his true identity, and it ended up costing him his life, NBC News has learned. Read more in INVESTIGATIONS.
5. Parched California sees rain relief
Back-to-back rain storms are pounding the Golden State in the "largest rain event" in three years, also bringing the possibility of dangerous landslides. Still, it's not enough to quench the drought California has been suffering this season. Read more in NEWS.
6. Boston Marathon bans backpacks
Organizers at this year's race said runners will not be allowed to bring in bookbags and handbags, and must put any belongings in clear plastic bags that will be stored into a gear-check area. The change comes after twin bombs were detonated last year at the race, killing three people and injuring more than 260. Read more in NEWS.
… What's trending today?
Think wagging your finger at Fido after he's done bad will make him feel ashamed? Not so, say new scientific findings.
Dogs lack shame, and their sad, puppy dog eyes are a reaction to your anger — not because they feel bad, The Associated Press reported.
Still, dog-shaming websites and social media accounts aim to put pups in their place.