The crash that killed Kobe Bryant and eight other people will likely spur the Federal Aviation Administration to begin requiring safety systems that currently are on only some helicopters that ply America's skies, two experts told NBC News.
They weighed in a day after a National Transportation Safety Board member investigating Sunday's crash said the doomed Sikorsky S-76B chopper was not equipped with a terrain awareness and warning system, known as TAWS, which alerts a pilot when an aircraft gets too close to the ground and that the FAA has resisted requiring for all helicopters.
"This crash is getting a lot of attention because Kobe Bryant was killed," said David Hoeppner, a retired engineering professor at the University of Utah and a longtime gadfly of the helicopter industry. "I expect the NTSB will come out with a terrific report that will have recommendations for the FAA for safety improvements, like requiring a terrain awareness warning system for all helicopters."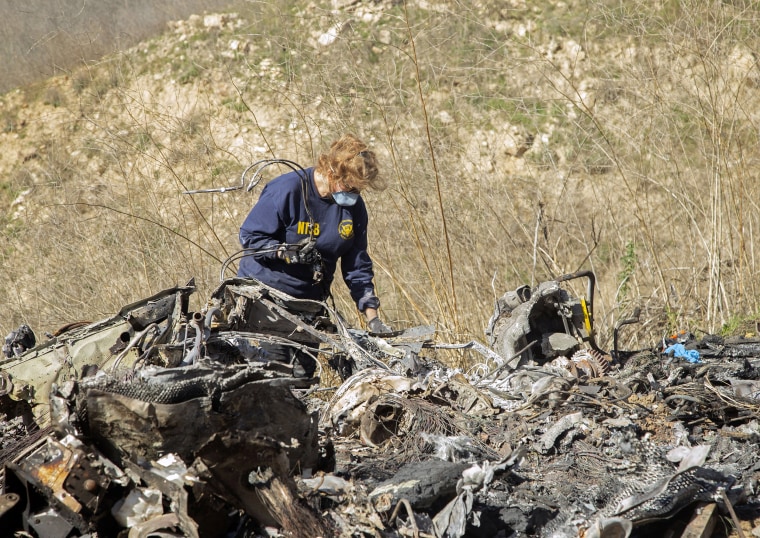 Helicopter manufacturers and operators won't be happy because "it costs money to do," he said.
The FAA only began requiring TAWS for ambulance and other medical helicopters about six years ago because there was public pressure to do something after a spate of deadly crashes, Hoeppner said.
"We have a system in the USA and the world that is constantly evolving but, like much in nature's systems, an event or group of events must occur to get homo sapiens to do the obvious and the right thing," he said in a follow-up email. "As you are well aware our systems works on money and 'greed'… For the life of me I can't understand why the FAA did not require it for all helicopters."
"There's another player here and that's insurance companies," added Jerry Kidrick, a retired Army colonel who flew helicopters from Alaska to Iraq and who now teaches at Embry-Riddle Aeronautical University in Prescott, Arizona.
"There was enough public outcry in the EMS world to force some changes," Kidrick said. "The FAA stepped in and said we're going to mandate some things and one of them was the TAWS system."
Jennifer Homendy, a member of the NTSB, told reporters Tuesday that she couldn't say whether having TAWS on board could have prevented Sunday's crash. "Certainly, TAWS could have helped," she said.
Kidrick said he's not certain "a terrain warning system could have prevented this crash." He noted that the pilot told air traffic controllers in his last radio message that he was climbing to avoid a cloud layer.
Homendy said the helicopter was flying at an altitude of 2,300 feet when it lost contact with air traffic controllers and then plunged into a hillside at a rate of more than 2,000 feet a minute.
Kidrick questioned whether there was a serious risk assessment done before the chopper took off in fog so thick that the Los Angeles Police Department grounded its helicopters until Sunday afternoon.
"The hard part is turning to somebody and saying, 'I don't think we can do this today'," Kidrick said. "I think you're going to have to take a car."
Bryant, his teenage daughter Gianna, and seven other people were killed when the helicopter crashed in Calabasas, near Malibu, while en route to Camarillo Airport in Ventura County, near Bryant's Mamba Sports Academy.
The pilot, Ara Zobayan, 49, had 8,200 hours of flying time and was deemed "instrument rated," meaning he should have been capable of flying in low-visibility conditions, relying on information from the helicopter's gauges, according to the FAA.
The NTSB is investigating the cause of the crash, and the bodies of the dead have all been recovered from the wreckage on the rugged hillside.
Asked why the FAA balked at requiring TAWS for all helicopters, spokesman Ian Gregor referred to regulatory records that confirm the agency instituted the requirement for air ambulances and other medical helicopters.
But those same records indicate the FAA appears not to have considered requiring TAWS, also referred to as HTAWS, for all helicopters.
"Extending the HTAWS requirement to the entire commercial helicopter population would be outside the scope of the rulemaking," the FAA ruling from 2014 states.
The NTSB lamented later that year that the new FAA rule "does not require operators to install TAWS on all existing and new US-registered turbine-powered rotocraft certified for six or more passenger seats, as recommended."
The NTSB called that an "unacceptable action."
The NTSB's call for all helicopters to be equipped with TAWS was prompted by the March 2004 fatal crash of a Sikorsky S-76A with 10 people aboard in the Gulf of Mexico. The chopper was similar to the one Bryant was on.
There are a number of reasons why a helicopter operator might choose not to install TAWS or any other new safety systems, Dan Sweet, of the Helicopter Association International, said.
"One of the largest questions would be whether it makes economic sense to add the equipment to an aircraft when its routine missions don't require it," Sweet said in an email to NBC News.
The fatal accident rate for helicopters in the U.S. was 0.82 per 100,000 flight hours in 2019, according to the U.S. Helicopter Safety Team, which tallied 24 accidents claiming 55 lives.