ARDMORE, Pa. — Before he was a Laker, Kobe Bryant was an Ace.
And a day after the NBA legend was killed with his daughter and seven other people in a helicopter crash outside Los Angeles, the home of the Aces — Lower Merion High School outside Philadelphia — was in mourning.
This was where Bryant took his first steps toward superstardom, where his prowess on the basketball court caught the eye of NBA scouts and propelled him to a professional career straight out of high school.
This was where, all morning long Monday, a shrine of flowers, jerseys, Lakers caps, a Bryant bobblehead doll or two and dozens of basketballs grew outside the gym that bears his name, which he helped fund.
"He would come back every year or so with gym shoes and other gear for the team," said Neil Gilmour, whose grown sons played basketball at the school. "This was his alma mater. He didn't go to college. He was too good a basketball player."
Gilmour then removed the maroon LM cap he was wearing and laid it and a bouquet of purple flowers on the shrine.
"I had to come and pay my respects," he said.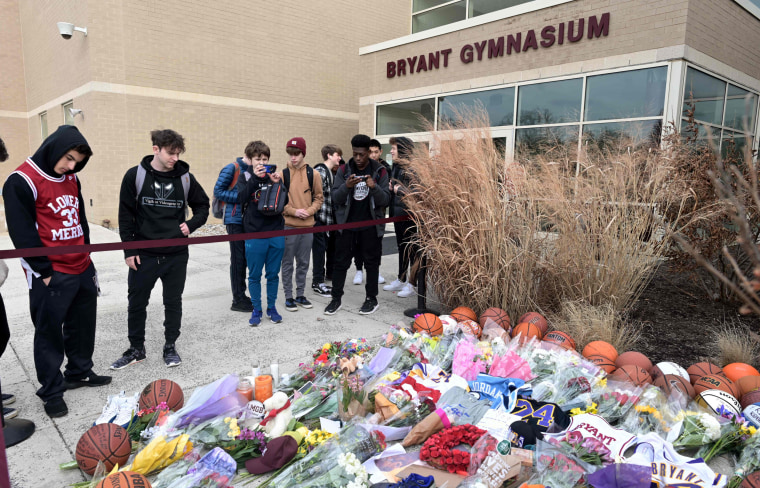 LeRoi Leviston, who coaches basketball at nearby Malvern Prep, called Bryant an "icon."
"He was the reason I fell in love with basketball," he said, his voice cracking a little.
As Leviston spoke, somber students walked past, glancing over at the shrine and the mourners gathered there.
"We all wore black to honor Kobe," James Simples III, a senior and a member of the basketball team, said later. "People don't really know how to react."
Alexis Hunter, a junior member of the girls basketball team, said most of the school is still in shock.
"We walk past his trophy case every day," she said at a news conference Monday. "We didn't think he would go so soon."
Hunter's teammate Bridget McCann, a junior, said they're also mourning Bryant's 13-year-old daughter, Gianna, who was also a basketball player.
"She was going to be a star, and she didn't have to be a guy to follow" in Bryant's footsteps, she said.
Amy Buckman, a spokeswoman for the school district, said the district had counselors on hand to help students who might need comforting.
"We had 33 seconds of silence for Kobe this morning," Buckman said. "Why 33? That was the number on his jersey."
Bryant landed at Lower Merion after his family moved back to the United States from Italy, where his father, Joe Bryant, played professional basketball.
By the time he graduated in 1996, Bryant had led the school to a state championship and made an enduring mark on Lower Merion High School. And the experience left a mark on him, too.
"Lower Merion and everything associated with it made me who I am," Bryant said in 2016, according to USA Today.
Two pictures of Bryant are displayed on the walls of the gymnasium he helped build, and there is a 1,000-point banner that bears his name (he scored 2,883 points for his high school team) that is kept in a safe place rather than on display.
So enduring is Bryant's legacy that when the Aces fall behind, rival fans taunt them with chants of "You need Kobe."
"He's been the star here for a long, long time," Gilmour said. "And now he's gone. It's such a tragedy."
Download the NBC News app for breaking news
Ryan Brooks graduated in 2006 and played on the basketball team that won the state championship that year.
"I remember before the game, Kobe called us and told us to put everything out on the floor," he said.
Steve Meehan, class of 2008, said Bryant visited quite often and sometimes could be seen cheering on the team from the bench. He said one of the coaches used to say, "Kobe was us, and we are him."
Guy Stewart is a year older than Bryant and played on the team with him. He said they forged a friendship and remained in touch.
On the court, Bryant was "super competitive," he said. "Off the court, he was funny and down to earth."
"Such a huge loss for everybody," Stewart said, tears glazing his face.