At the request of Kobe Bryant's wife, Vanessa, she will be given some of the items left by thousands of fans at the makeshift memorial for the NBA legend at the Los Angeles Lakers' Staples Center.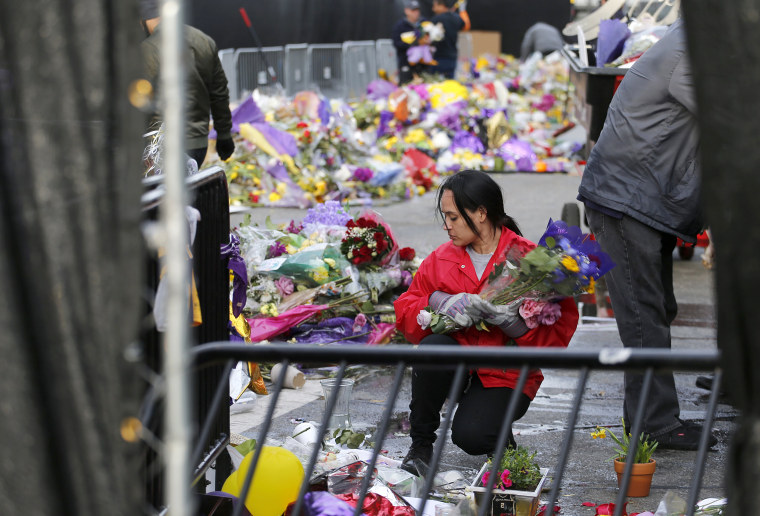 Lee Zeidman, the president of Staples Center, L.A. Live and Microsoft Theater, said in a tweet Monday that the dismantling of the memorial to Bryant and his 13-year-old daughter, Gianna, who were among nine people killed in a helicopter crash, began at 4 a.m. Among the items were 1,353 basketballs that were boxed.
"Truly amazing the outpouring of love from the City of Angels in honor of the 9 who lost their lives 1/26/20," Zeidman tweeted.
A 40-yard trash bin filled with flowers from the memorial will be made into mulch and spread throughout the landscaping around L.A. Live and Staples Center, he said.
Additionally, 14 banners, 25,000 candles, 5,000 letters, signs and flags, 500 stuffed animals and hundreds of shoes were also collected.
On Feb.1, Zeidman thanked those who had come to downtown Los Angeles to "peacefully and respectfully" pay homage to Bryant and Gianna. Zeidman said fans could rest assured that the tributes left would be delivered to the Bryant family.
Over the weekend, Vanessa Bryant shared a photo of an illustration of Gianna on her Instagram account and asked the public to help identify the artist behind it.
She has since updated the photo caption to include a credit to the artist: "Seeing my babygirl smile and happy again with a basketball 🏀 under her arm, wrapped in 💜💛love just warmed my heart. Thank you for this. @_vivalareina thank you!! My Gigi.❤️ #Mambacita"
Kobe and Vanessa Bryant are also parents to Natalia, 17, Bianka, 3, and Capri, who was born in June. The couple met 20 years ago and would have celebrated their 19th wedding anniversary this year.