WASHINGTON — President Trump's son-in-law and senior adviser, Jared Kushner, failed to disclose what lawmakers called a "Russian backdoor overture and dinner invite" involving a banker who has been accused of links to Russian organized crime, three sources familiar with the matter told NBC News.
An email chain described Aleksander Torshin, a former senator and deputy head of Russia's central bank who is close to Russian President Vladimir Putin, as wanting Trump to attend an event on the sidelines of a National Rifle Association convention in Louisville, Kentucky, in May 2016, the sources said. The email also suggests Torshin was seeking to meet with a high-level Trump campaign official during the convention, and that he may have had a message for Trump from Putin, the sources said.
Kushner rebuffed the request after receiving a lengthy email exchange about it between a West Virginia man and Trump campaign aide Rick Dearborn, the sources said.
Kushner responded to the email by telling Dearborn and the handful of other Trump campaign officials on the email that they should not accept requests from people who pretend to have contacts with foreign officials to aggrandize themselves, according Kushner's lawyer, Abbe Lowell. Dearborn currently serves as a deputy chief of staff in the White House.
"Pass on this," Kushner responded, according to a letter Lowell sent to the Senate Judiciary Committee Friday evening. "A lot of people come claiming to carry messages. Very few we are able to verify. For now I think we decline such meetings."
However, Torshin was seated with the candidate's son, Donald Trump Jr., during a private dinner on the sidelines of a May 2016 NRA event during the convention in Louisville, according to an account Torshin gave to Bloomberg. Congressional investigators have no clear explanation for how that came to be, according to sources familiar with the matter.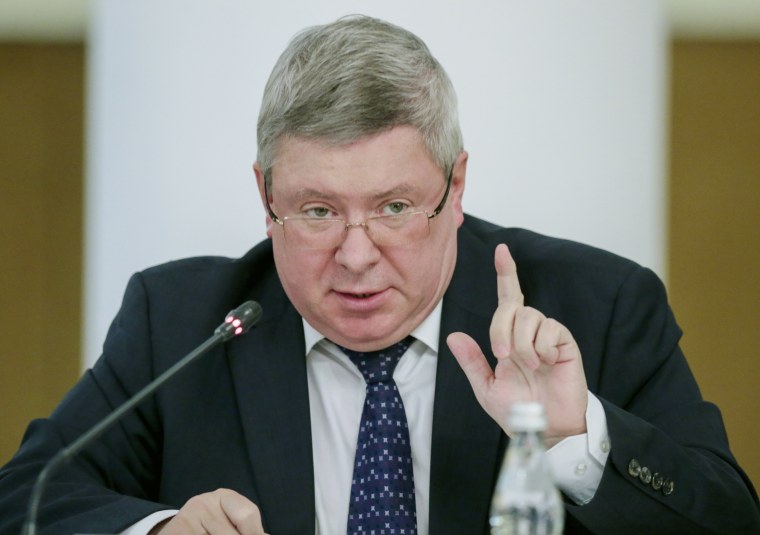 Alan Futerfas, lawyer for Donald Trump Jr., confirmed to NBC News that his client spoke with Torshin at the dinner, but he said the men were not sitting together.
"Donald J. Trump Jr. was attending an NRA convention and having dinner when an acquaintance asked him to say hello to Torshin and made an introduction," Futerfas said. "They made small talk for a few minutes and went back to their separate meals. That is the extent of their communication or contact."
Futerfas said the men didn't talk politics, but instead talked about guns.
The White House did not respond to a request for comment.
Congressional committees and special counsel Robert Mueller are investigating Russia's interference in the 2016 presidential election and possible collusion between the Trump campaign and Moscow.
Spanish anti-corruption officials have identified Torshin as a "godfather" in the Russian mafia — something Torshin has denied.
The disclosure is the latest example of a senior Russian official seeking to make high-level contacts with the Trump campaign.
It comes after the top Democrat and Republican on the Senate Judiciary Committee sent Kushner a letter this week accusing him of failing to disclose a series of documents pursuant to requests by Congressional investigators. Lowell said Kushner had responded to every request.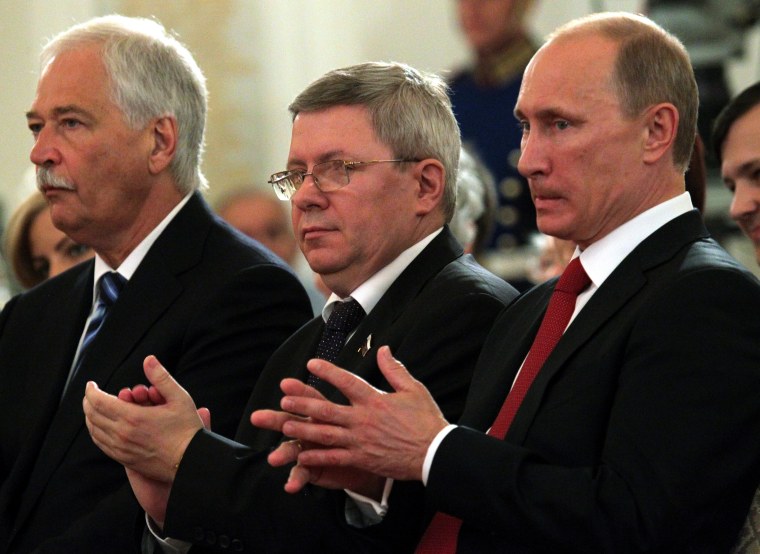 The source familiar with Kushner's document production said his team made clear to the committee that they were starting with documents he's provided to other congressional committees and were going to subsequently exchange other information.
One source familiar with Kushner's testimony before congressional intelligence committees said he specifically denied, under oath, that he was familiar with any attempts by WikiLeaks to contact the campaign. But, according to the source, Kushner was sent an email by Trump Jr. about his conversations on Twitter with WikiLeaks, which were first disclosed by the Atlantic this week. Kushner forwarded an email about the WikiLeaks conversations to communications director Hope Hicks, the source said. A second source familiar with Kushner's testimony did not dispute that account.
Lowell said in the letter to the judiciary committee chairman and ranking member Friday that the WikiLeaks document has been mischaracterized.
"Mr. Kushner had no contacts with that organization and was, along with others, forwarded an email from Donald Trump Jr. that has been widely reported and disseminated. There is no new document concerning Mr. Kushner," Lowell said.
"As to the document from Mr. Trump Jr., Mr. Kushner was one of many people to whom one email was sent, and he did not respond," Lowell said in the letter.