A strike by tens of thousands of Los Angeles teachers will continue for a second day on Tuesday as district officials called in substitute teachers, certified administrators and other staffers in their effort to keep the nation's second-largest district open.
With no new negotiations scheduled Monday night, a second day of pickets and a mass rally were scheduled for Tuesday, said the United Teachers Los Angeles union, or UTLA.
"So here we are on a rainy day in the richest country in the world, in the richest state in the country, in a state as blue as it can be, in a city rife with millionaires, where teachers have to go on strike to get the basics for our students," Alex Caputo-Pearl, the union's president, said Monday at a rally outside John Marshall High School.
Braving rain on Monday, thousands of teachers carrying umbrellas and signs saying "on strike for our students" stood in picket lines Monday demanding smaller class sizes; more nurses, counselors and librarians; higher wages for educators; and what they characterize as more accountability for charter schools.
Picket lines appeared at 900 schools across the city after negotiations collapsed last week. Police estimated that 20,000 teachers and their supporters rallied outside City Hall before marching to Los Angeles Unified School District headquarters.
"It's time to double down and make sure Day 2 is even better," Caputo-Pearl said at a gathering of teachers on Monday night.
He gave preliminary organizing plans through at least Thursday, saying, "We've got to escalate, escalate, escalate."
The school district said it had called in hundreds of substitute teachers, administrators and other certified staffers to keep classes open.
Superintendent Austin Beutner said attendance was good at some schools and "not so good" at others. In a statement, the school district said about 141,000 students showed up on Monday, well below half, but that 54 schools hadn't reported attendance. Using another metric, it said school bus ridership was about 40 percent of normal.
The union says it is taking a stand against what it calls the privatization of public education through charter schools. The number of charter schools has shot up in California from 809 in 2009 to 1,323 this year. Charters now educate about 10 percent of the state's public school students, according to the California Charter Schools Association.
California ranks 41st in the nation in per-pupil spending, and even though the state has a surplus of nearly $9 billion and L.A. Unified has $1.86 billion in reserves, the average high school class size in the district has grown to 42 students.
"Educators do not want to strike," Caputo-Pearl said as he was joined by other educators, students and representatives from teachers' unions. But they felt they had to to fight for the proposals they were demanding for their students, he said.
"California should be leading, not languishing," he said.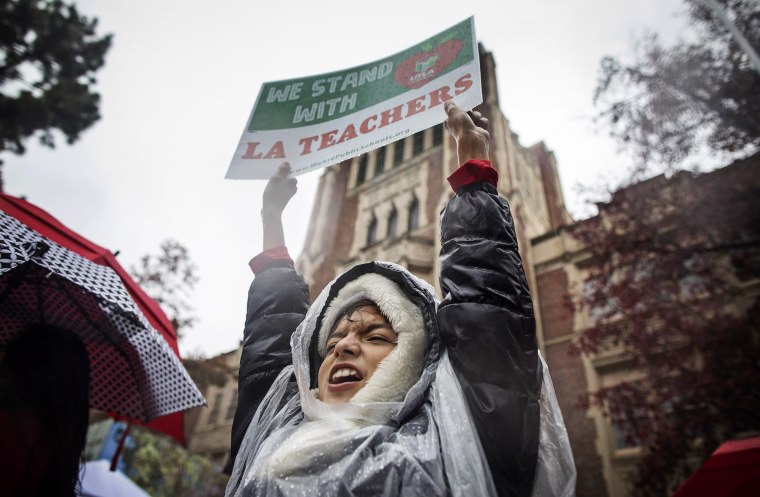 The school district has defended its bargaining position.
"We all want lower class size. We all want more nurses and counselors and librarians in our schools," Beutner told NBC News. "It's an issue of how much we actually have to pay all those salaries."
The strike is the latest in a string of teacher walkouts and demonstrations since last year, which includedactions in Arizona, North Carolina, West Virginia, Colorado, Washington state, Oklahoma and Kentucky.
"The eyes of the nation are watching, and educators and nurses and public employees all throughout the country have the backs of the educators and the students and the parents in L.A.," said Randi Weingarten, president of the American Federation of Teachers, the second-largest teacher's labor union in the United States.
In a statement Sunday, the union said that even with $1.86 billion in reserves, the school district "says it does not have the money to improve our schools to include lower class sizes, accountability for charter schools and a real reinvestment in school safety, vital staffing and educational programs."
"Since 2008, the cost of living in L.A. has increased 27 percent yet the district offers stagnant wages and healthcare," the statement said.
Los Angeles Mayor Eric Garcetti, who has no authority over the school district, said he was "immensely proud" of the teachers for "standing up for what I believe is a righteous cause." He said he had been talking to both the district and the union, and he called on the two sides to get back to the negotiating table.
Schools are open during the strike, and student absences blamed on the strike aren't considered excused, the school district said Monday. A rule marking a student as truant if he or she racks up three unexcused absences still applies, it said.
"One of the things that we're aware of is that part of our funding formula is around the average daily attendance," Frances Gipson, the district's chief academic officer, said in an interview.
"When students are not here, that can be an unexcused absence depending whether its a health issue or et cetera, so this could exacerbate the funding crisis as we think about the funding that does come to the district," she said.
Garcetti said the city was also offering extended hours and free lunch at 37 recreation centers during the first day of the strike. School meals will be served throughout the strike, the district said in a statement Sunday, while early education centers will be open only to special-needs students and preschools will be closed.
Danielle Silva reported from New York. Alex Johnson reported from Los Angeles.