Two people were killed and dozens more were injured after a speeding rental bus carrying construction workers crashed into a fire truck at the scene of an earlier crash on a Louisiana highway Sunday, state police said.
The 7:17 a.m. crash on Interstate 10 westbound in St. John the Baptist Parish threw three firefighters over a guardrail, sending them plummeting 30 to 40 feet into water below, state police said.
St. John the Baptist Parish Fire Chief Spencer Chauvin, 36, died, and a passenger in another car that was also struck was killed, Louisiana State Police spokeswoman Melissa Matey said. Three others in the car that was struck were injured, one of whom was in critical condition.
"This is a very sad day for all first responders in Louisiana," Louisiana State Police Superintendent Col. Mike Edmonson said in a statement. "Our thoughts and prayers are with the St. John the Baptist Fire Department."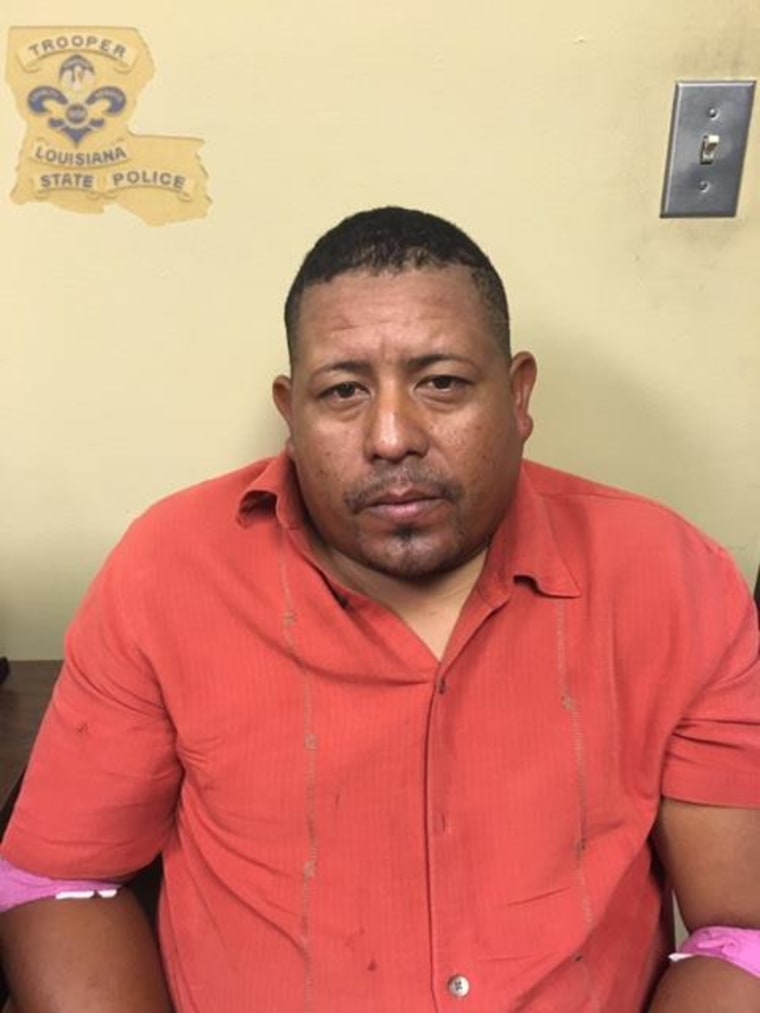 Authorities planned to charge the bus driver, Denis Yasmir Amaya Rodriguez, 37, with two counts of negligent homicide, reckless operation and other crimes, Matey said. Additional charges were expected.
She said that Rodriguez, a Honduran national, was in the country illegally and was driving without a license.
A message left with the company that owns the vehicle, Kristina's Transportation LLC/AM Party Bus, was not immediately returned.
The bus, which was headed to Baton Rouge on Sunday morning, was carrying construction workers, officials said.
The earlier crash happened at around 6:40 a.m. local time (7:40 a.m. ET) when a 2005 Nissan Titan lost control and hit a guardrail and was in the right lane and shoulder of the highway, state police said. The driver suffered minor injuries.
Firefighters and a state police vehicle were responding to that crash when the the 2002 Eldorado National private party bus, which police said was traveling at a high rate of speed, hit the fire truck and other vehicles, police said.
The bus hit the left side of the fire engine stopped in the right lane, then hit the rear of a Toyota Camry, and then veered to the right and hit the three firefighters standing near the right guardrail, state police said.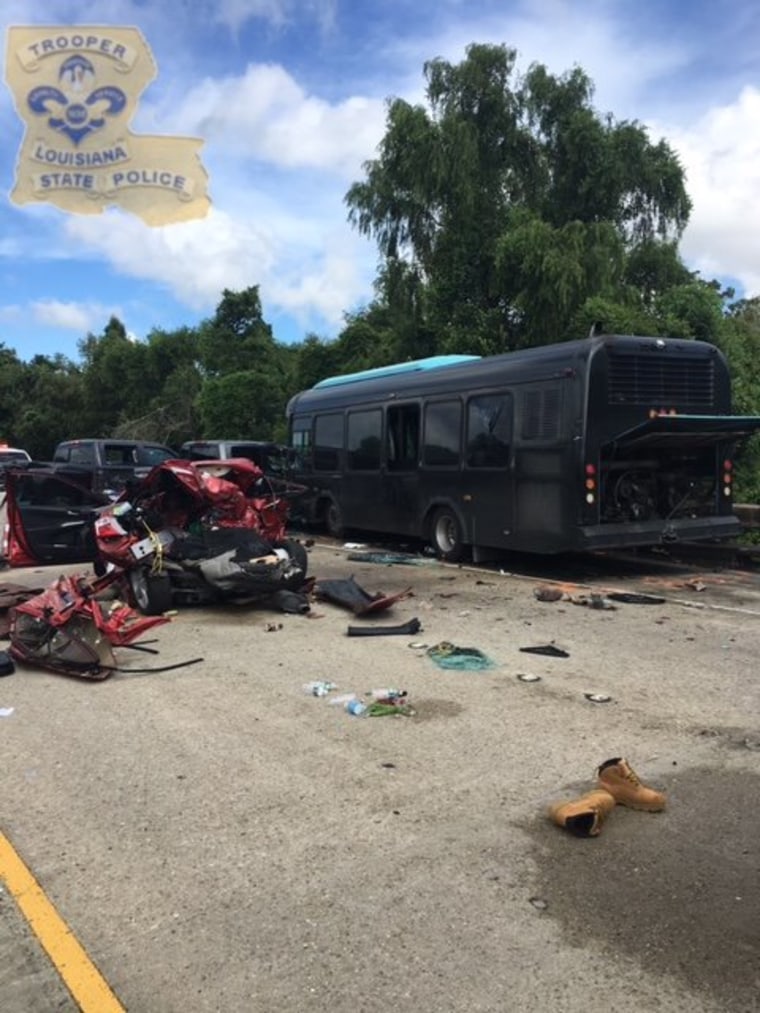 Forty-one people were transported to local hospitals, Acadian Ambulance Service said, including Chauvin, who was pronounced dead, Matey said.
The two other firefighters — William Mack, 35, and Nicholas Sale, 32 — were hospitalized with moderate and critical injuries. Twenty-four bus passengers were taken to local hospitals with minor and moderate injuries, Matey said.
A rear-seat passenger in the Camry, Jermaine Starr, 21, was declared dead at the scene, Matey said. The driver of the Camry and another rear seat passenger were hospitalized with serious injuries, and the front seat passenger was in critical condition, police said.
In a statement Sunday afternoon, St. John the Baptist Parish President Natalie Robottom described Chauvin as "one of the bravest and most dedicated firefighters that I know."
"This was a horrific accident," Robottom said. "This type of loss will affect the entire department and they will have our full support as they deal with the grief of losing a comrade."
"It is heartbreaking, especially after this same group of individuals helped to guide St. John the Baptist Parish safely through Hurricane Isaac, the February tornado and the flood event last week."
CORRECTION: This story initially said the passengers on the bus were flood relief workers. They were construction workers unrelated to flood relief efforts, state police said.