Although there has been a recent rash of passenger train accidents, the number of accidents involving Amtrak is trending downward. The company has even gone so far as to install the latest so-called Positive Train Control technology on all of its trains and tracks it owns — but there are miles that the railroad service must use that it doesn't control.
Sources told NBC News that there was no Positive Train Control, or PTC, on the tracks in South Carolina where an Amtrak train collided Sunday with a CSX freight train, killing two Amtrak workers. They said the system likely would have prevented the crash.
Experts believe the installation of PTC may further reduce such accidents, particularly if it is installed on the more than 100,000 miles of train track that Amtrak doesn't own or operate. Most of the tracks the passenger train service owns and operates are in the Northeast Corridor.
"The accident trend downward [for Amtrak] is definitely there, and, of course, positive train control will help eliminate a lot of these class of accidents: either the overspeed or the collision-type accidents," said Allan Zarembski, director of the University of Delaware's Railroad Engineering and Safety Program.
In support of the engineer operating the rail, PTC technology operates like a GPS system that connects trains with the tracks they run on. It helps to prevent train-on-train collisions, high-speed derailments — like the fatal crash in Washington in December — and other accidents.
In Sunday's collision in South Carolina, "they might already have PTC down there, but a switch system involved didn't have PTC equipped yet," said Russell Quimby, a former investigator for the National Transportation Safety Board, or NTSB. "It might have prevented it if they had it. It's meant to prevent mainline trains and passenger trains from colliding."
Two Amtrak employees, Michael Kempf and Michael Cella, were killed in Sunday's accident. Kempf's brother, Rich Kempf, said his sibling anticipated he would one day be involved in a train accident.
"He told me, he said, 'One of these times something's going to happen, and I'm not going to walk away from it.' He actually told me that,'" Rich Kempf said.
The Rail Safety Improvement Act of 2008 — inspired by a September 2008 Los Angeles crash that killed 25 people and injured more than 100 — mandated that PTC systems be installed on all tracks that carried mainline trains by the end of 2015. It was thought that the system would help prevent accidents on high-exposure tracks where trains often carry passengers or hazardous material.
The automatic braking technology will be the focus of a meeting of the House Transportation Subcommittee on Railroads, Pipelines and Hazardous Materials on Feb. 15. Lawmakers on both sides of the aisle have called for its implementation.
Congress has twice extended the deadline after the train industry lobbied against it. By the end of 2018, 81 percent of railroads are projected to have PTC installed, according to the Federal Transit Administration. Congress has further allowed railroads to apply for a two-year extension until Dec. 31, 2020.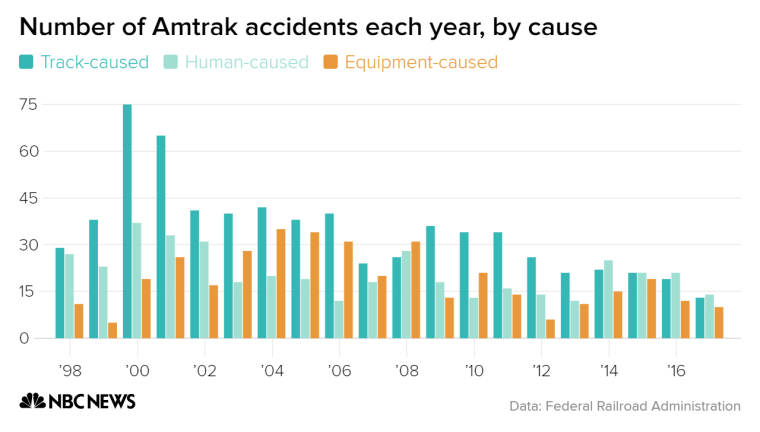 The NTSB, meanwhile, has had the issue of PTC on its list of "Most Wanted Safety Improvements" since 1990.
But Quimby said it's a little more complicated than adding a new bit of tech.
"It's like trying to keep up with your cellphone or your computer," he said. "They're trying to keep up with that. There's a sudden surge and a limited number of vendors who can provide the hardware and some of the software, and they couldn't get it installed or equipped fast enough."
"It's a big project," he added. "It's kind of like the Manhattan Project: If you get something in the line and it goes kaflooey, it's going to mess everything up."
A battle continues to brew on Capitol Hill between Democrats and President Donald Trump over a potential infrastructure bill. Democrats have blocked Trump's nominee to head the Federal Railroad Administration, claiming that the administration is blocking an integral rail tunnel that connects New York and New Jersey.
Also in the background is Trump's proposed budget, which would cut $630 million from Amtrak, claiming it would allow the passenger rail service to "focus its resources ... on better managing its successful corridor services that provide transportation options within more densely populated regions."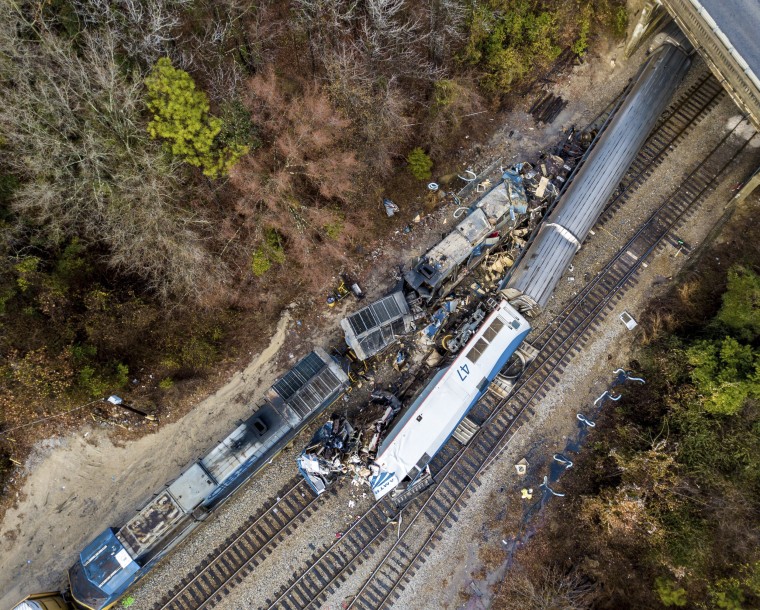 Most of Amtrak's operating budget comes from train fare that states pay Amtrak to provide passenger trains, but experts saying cutting its federal dollars could be risky.
A lot of the threatened federal money goes toward infrastructure and equipment, Zarembski said. "It shouldn't affect basic safety, but it could affect upgrades in infrastructure and how it affects issues like ongoing maintenance of the infrastructure," he said.
Quimby said potential train riders shouldn't be discouraged. Passenger trains are still one of the safest ways to travel, he said.
"Even though we've had this recent number of Amtrak accidents recently, relatively speaking, passenger trains are really quite safe," Quimby said. "Compared to cars, on land, trains are the best thing to be in in a collision."
"They can take a whack," he said.