For two weeks in 1994, Joseph Rodriguez barely slept.
The Brooklyn-born documentary photographer was assigned to cover the Los Angeles Police Department for The New York Times Magazine. It was a rare opportunity, one that offered an unheard-of level of access as the department was looking to rehabilitate its image in the three years since the beating of Rodney King.
Of the hundreds of images Rodriguez made, only a handful were published in the final spread. Now, nearly three decades later, a much wider selection is on view in an online exhibition at the Bronx Documentary Center through March 26 and is published in a hardcover book, "LAPD 1994."
The images offer a stark look at the fraught nature of policing, especially for a department as embattled as the LAPD was in 1994. Rodriguez found himself both in the precinct and going on all manner of calls, from domestic violence disputes to gang busts.
"Whenever you get access like that, you have to take advantage of it because it rarely comes around," Rodriguez said.
A complicated and nuanced portrait emerges of the department and its fractured relationship with the community. Rodriguez embedded with the Rampart division, which would become embroiled in a corruption scandal a few years later.
There are quiet moments laced with tension, as seen in one image made from the back of a police cruiser during a routine patrol of children responding to an officer who's fully in shadow. In another, an 11-year-old boy complains at the front desk in the 77th Precinct because he doesn't want to be with his parents. His relaxed posture suggests that it may not be his first time there.
Other photographs are freighted with violence. One of the most searing images in the exhibition forms a direct connection with last year's wave of protests. Two officers are restraining a man in a hallway in the precinct. One officer is kneeling on the man's legs. The other is kneeling on his neck similar to how former Minneapolis police officer Derek Chauvin kneeled on George Floyd's neck.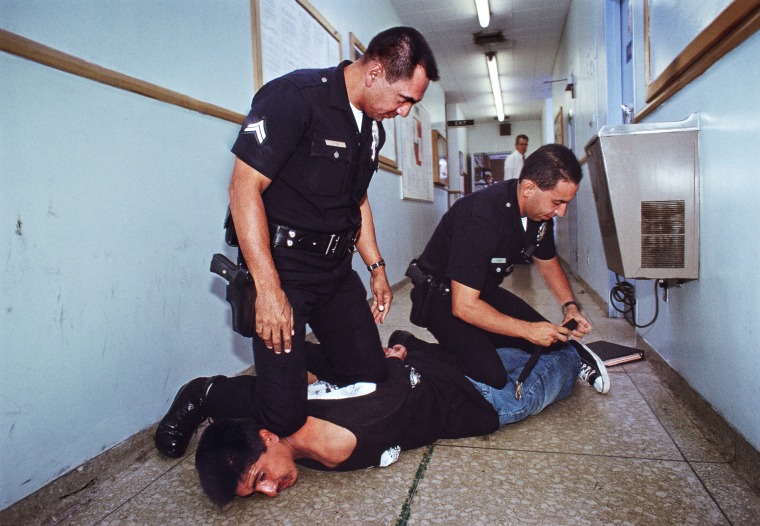 It's a startling image for how seemingly routine it is, especially when considered in light of the events of last year. Given that it was made inside a precinct and would not have been seen immediately, in the way bystander video of Floyd's killing was seen, it may not have catalyzed the same response. Yet, the image and the rest of Rodriguez's work from that time exists in a long tradition of documentary photographers working on stories about the police, like Jill Freedman's "Street Cops" and most of Weegee's work on crime in New York in the early 20th century.
"It's this balanced view of what was happening during that time," said Cynthia Rivera, one of the curators of the exhibition.
That balanced approach has the potential to frustrate people on either side of the often contentious conversation about policing and police reform, but Rodriguez's mission, as he sees it, is to photograph what's in front of him, no matter how messy, brutal or complicated.
"I am not an activist," Rodriguez said. "I am a humanist."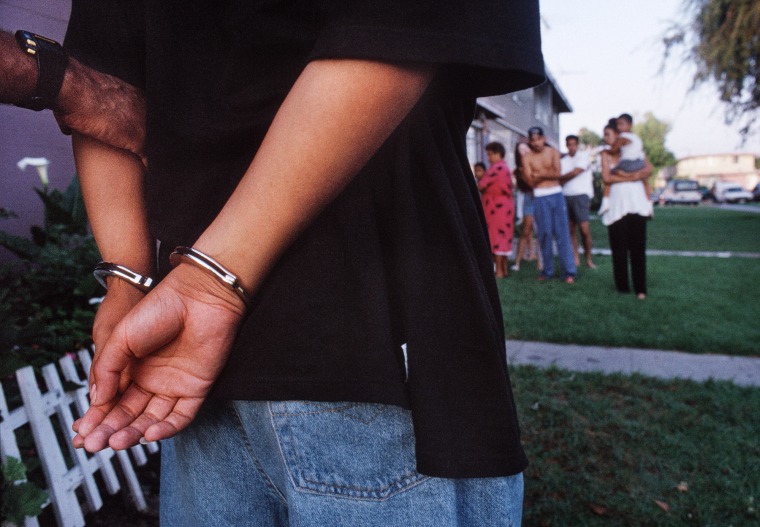 It's that humanist bent that makes "LAPD 1994" a crucial historical document as it presents both the cops and L.A. residents as people. In some images, it's clear how much of a toll the work is taking on officers. The cases that seemed to weigh the heaviest dealt with domestic violence. A particularly affecting photograph shows children looking at their mother, her face swollen from her husband's strikes after she did not give him money for groceries.
"The most painful moments for me were the women that were just devastated," Rodriguez said. "There were meltdowns for some of these cops."
In other photographs, their work is routine to the point of indifference as in the image of a handcuffed woman crying out on the floor as an officer stands smiling over her, his attention directed elsewhere.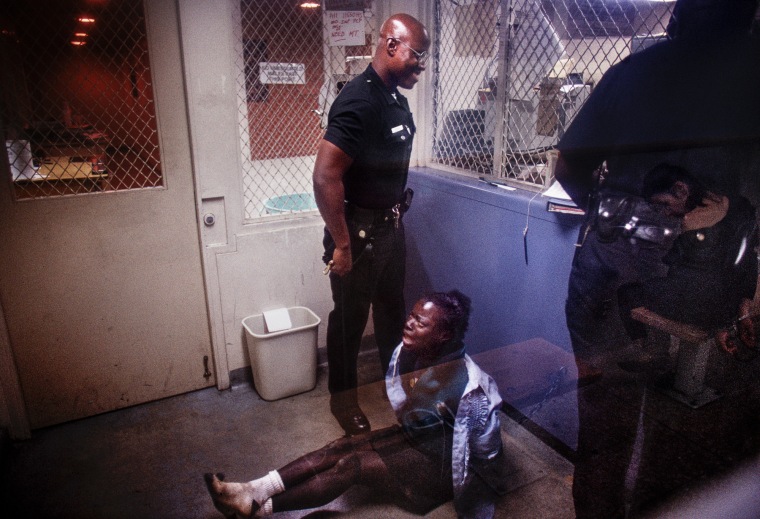 These pictures have staying power not just for what they show, but for how they were made. Rodriguez made them with Kodachrome film, a long since discontinued film stock that was famous for its brilliant colors and infamous for its fussy precision. The slightest error in exposure would render the negative unusable.
For Rivera and Bronx Documentary Center founder Mike Kamber, Rodriguez's photographs are important for what they make possible. Conversations about police reform have been happening for decades, and "LAPD 1994" provides another opening for that conversation.
"This can help serve as a foundation," Kamber said. "This shows you how we got to where we are today."