A large truck was seen driving at full speed into a crowd of protesters Sunday on a bridge in Minneapolis, sending people running for safety.
The Minnesota Department of Public Safety called it "very disturbing actions by a truck driver on I-35W, inciting a crowd of peaceful demonstrators."
The truck driver was injured and is under arrest, the department said. It doesn't appear any protesters were hit by the truck, according to the department.
The truck was swarmed and video from the scene showed someone on the hood as it moved.
Minnesota Gov. Tim Walz called the incident "horrifying" and said the truck driver had illegally entered the closed freeway. He was injured after being pulled from the vehicle, Walz said, and his motive was unknown.
Walz said officials don't have any confirmed reports of other injuries. Social media suggested some could have been transported privately, but the public safety commissioner said they are not aware of any injured protesters being at local hospitals.
Download the NBC News app for full coverage and alerts on this story
Just before 6 p.m. a crowd of pedestrian protesters gathered on an Interstate 35 highway bridge, and witnesses said the driver began spraying some sort of substance out of the vehicle.
Minneapolis police spread out across the highway blocking all lanes of traffic with their vehicles and state police worked to clear the bridge of protesters.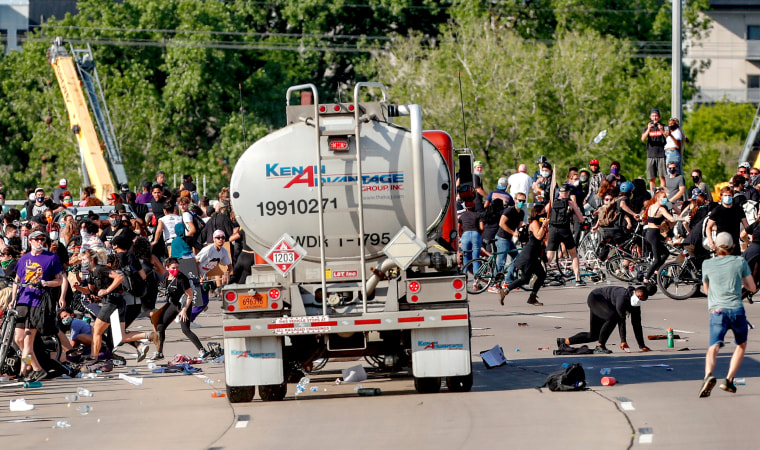 Walz said that the incident could have been a tragedy with many people killed.
Minnesota Department of Public Safety Director John Harrington said there had been a crowd of around 5,000 to 6,000 protesters and they moved to the freeway.
The freeway was shut down to keep protesters safe, he said. The truck drove through at high speeds and was chased down by protesters and stopped.
Minnesota Commissioner of Corrections Paul Schnell said later Sunday that the driver was attacked by people in the crowd, but there was a "large number" of people who stepped in to protect the driver.
Miles Kipper told NBC affiliate KARE11 of Minneapolis that he was among those who rushed to protect the driver.
"I'm a rugby player so being in a scrum is not something I'm a stranger to," Kipper said. "And it felt very much like an angry scrum with a team of really angry people punching and kicking and screaming bloody murder."
He and others rushed to the driver's defense and they formed a line to protect him. "This isn't what the movement's about," Kipper said. "We can't hurt this guy. If we kill him, we're screwed."
From transportation camera footage, it appears the truck was on the freeway as it was being closed, Harrington said.
"But that does not in any way absolve the driver from driving through a crowd of people at speed," Harrington said.
The incident is under investigation. The governor said he wants the truck driver charged to the fullest extent possible.
"I don't know what his intent was," Harrison said. "But there's just no way for me to see that as being anything other than one of the most dangerous things I have ever seen."
Full coverage of George Floyd's death and protests around the country
Schnell, the corrections commissioner, said some estimated the truck was traveling at around 70 mph.
Trucking company Kenan Advantage Group Inc., based in North Canton, Ohio, said the driver is one of its independent contractors.
"Our hearts go out to all those who are grieving the events of this past week," the company said in a statement. "We will be cooperating fully with the investigating authorities in the days ahead."
In a separate incident in Oklahoma on Sunday, a truck carrying a horse trailer also drove through a crowd of protesters on a highway overpass in Tulsa, hitting two people and causing minor injuries, said Oklahoma Public Safety spokeswoman Sarah Stuart.
A third person who was standing on an overpass wall either fell or was pushed after the truck plowed through the demonstration and the crowd parted, she said. The man fell roughly 20 feet and was taken to a local hospital in critical condition, she said.
Stuart said state troopers were still interviewing the driver, who she said was with his family and became scared after protesters surrounded his car before authorities closed the road. He had not been charged with a crime in the incident, she said.
One of the protesters, Nella Tarcetti, 30, said the event was "extremely peaceful" when the man drove through a crowd that authorities estimated may have been 2,000 people or more, Stuart said.
Tarcetti said the driver appeared to have a gun on his dashboard.
"There was people screaming for their kids, little kids crying, people crying," she said. "it was chaotic. It was really scary."