Officials in Oregon are preparing for a "mass fatality incident" as deadly wildfires continued to burn, the state's emergency management director, Andrew Phelps, warned late Friday as firefighters continued to battle massive blazes.
"There are going to be a number of fatalities, folks who just couldn't get warning in time and evacuate their homes and get to safety," Phelps told MSNBC.
Thousands of structures have been destroyed, he said, adding that officials were "preparing for a mass fatality incident."
In Oregon, 36 fires have charred 863,794 acres, according to state data Friday. Thousands have been evacuated from their homes, and at least eight people have died since late August because of the fires, according to an NBC News count.
Marion County Sheriff Joe Kast said Friday evening that searchers had found two victims of the Beachie Creek Fire near Salem. The Almeda Fire, one of the most destructive in the state, is being treated as suspected arson.
Dozens of people were still missing and more than 40,000 Oregonians have been evacuated, Gov. Kate Brown said Friday. About 500,000 are in different levels of evacuation zones, either having been told to leave or to prepare to do so, she added.
However, there was some hope that relief may be on the way.
Cooler weather is in the forecast, and there's a chance of rain for Washington and Oregon early next week. More favorable weather in the area of California's record-setting August Complex Fire, about two hours' drive north-northwest of Sacramento, is expected over for the weekend.
Highs in the 80s, onshore breezes and higher humidity could offer relief in Northern California in the coming days, the National Weather Service said. Temperatures have been cooler than expected because smoke has blocked out the sun, said Scott Rowe, a meteorologist with the National Weather Service in Sacramento.
But the extended fire forecast for fall, which starts Sept. 22, was ominous.
"A continuation of peak season activity into September is expected across much of the West as drought conditions continue to take hold," the National Interagency Fire Center said in its September outlook.
Across the West and Alaska, nearly 28,000 firefighters and support personnel are battling 100 large fires that have burned more than 4.5 million acres, according to the National Interagency Fire Center.
Download the NBC News app for breaking news
In Washington, 10 large fires were burning Friday, state officials said. One death has been reported, according to an NBC News count. Fire destroyed 80 percent of the small town of Malden on Monday, wiping out its post office, fire department, City Hall and library, sheriff's officials said.
Gov. Jay Inslee blamed climate change for the extreme and devastating fires.
"These are not just wildfires, they are climate fires," he said Friday at a news conference.
California's governor, too, points to climate change.
"California, the West Coast of the United States, that includes Washington and obviously Oregon, are experiencing what people predicted would occur in 2040, 2050, but we're experiencing it today," Gov. Gavin Newsom told "NBC Nightly News" on Friday.
His state is experiencing the largest wildfire in its history: the August Complex Fire. It merged this week with the Elkhorn Fire, becoming the largest wildfire in California history, officials with the U.S. Forest Service said.
The wildfires in the Mendocino and Shasta-Trinity national forests in Northern California officially were put under the umbrella of the August Complex Fire, which originated with a series of lightning strikes on Aug. 17, early Friday, said Anne Grandy, a spokeswoman for the forest service.
The newly expanded blaze was roughly 25 percent contained, or surrounded, according to forest service daily fire reports.
The August Complex Fire is the product of more than 37 separate fires that ignited last month, boosted by triple-digit temperatures and dry offshore winds over Labor Day weekend.
On Thursday, the August Complex supplanted 2018's Mendocino Complex Fire, which burned more than 459,000 acres, as the largest in state history. It is being managed by two federal teams and one from the California Department of Forestry and Fire Protection, Grandy said.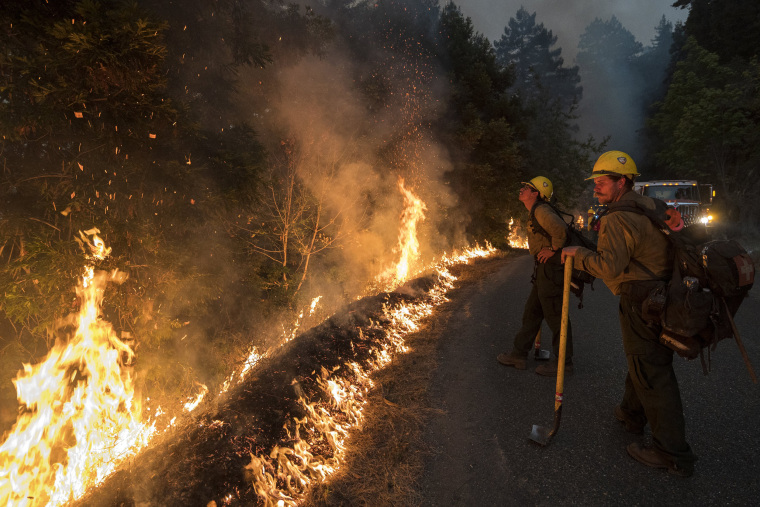 Additionally, 233 service members from Joint Base Lewis-McChord in Washington state were assisting with the firefight, the National Interagency Coordination Center said in a statement. They were working as hand crews and mop-up teams away from the flames, Grandy said.
"It's not the most glamorous work, but it's really important work," she said.
More than 1,400 firefighters were assigned to the August Complex Fire, which has damaged or destroyed 26 buildings and caused one death, a firefighter whose vehicle overturned last month.
Since last month, at least 19 deaths have been linked to the California wildfires, according to an NBC News tally. Crews across the state are battling more than two dozen major wildfires.
The U.S. Forest Service closed all 18 national forests in California on Friday, making more than 20 million acres of national parkland off-limits to the public.
CORRECTION (Sept. 13, 2020, 3:49 p.m. ET): A previous version of this article misstated the name of a California agency managing the August Complex Fire. It is the California Department of Forestry and Fire Protection, not California Department of Forestry and Fire Prevention.