A woman who says disgraced gymnastics doctor Larry Nassar molested her as a child testified Friday that he turned games of hide-and-seek in the basement of his home into abuse sessions.
"Almost every time I was there for a couple of years, something occurred," the woman, a former family friend, said during a preliminary hearing before a judge ordered Nassar to stand trial on state sex-abuse charges.
Nassar, 53, is also charged in federal court with possession of child pornography — more than 37,000 images, including Go Pro video he allegedly made himself.
Separately, more than 60 former patients have filed police complaints alleging that Nassar, a sports medicine doctor, molested them under the guise of pelvic procedures.
Nassar — who was the longtime team doctor for USA Gymnastics and has treated many of America's Olympic gymnasts — also faces a growing mountain of civil suits.
He's been fired by USA Gymnastics and Michigan State University, where he had his practice, and both institutions have been roiled by accusations that they mishandled accusations against him that date back decades.
Nassar has pleaded not guilty to the criminal charges, and his lawyers have said any procedures he performed were medically sound.
During Friday's hearing, Nassar sat stone-faced in a black-and-white striped jail jumpsuit as his accuser cataloged her interactions with the doctor, who was seen as a pillar of the community until the first allegations against him surfaced in the fall.
She recalled a time when she was about 6 years old when he exposed himself in a dark basement room and told her, "If you ever want to see it, just ask."
Nassar would engage her in games of hide-and-seek, and she would often crawl under a sink in a side room. He would come in and use a lotion to masturbate, she said.
"The smell still makes me sick," she said.
When she was a bit older, Nassar would sit next to her under a blanket on a couch in front of the television, sometimes while her older brother was nearby, she said.
He would rub his genitals on her bare feet, chatting with her and her brother "like it wasn't even happening," she said.
On other occasions, Nassar would put his finger into her vagina, she said.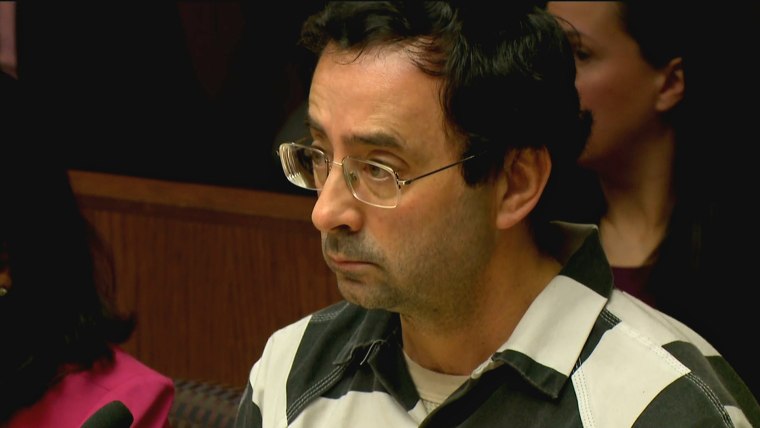 The prosecutor asked how many times that happened.
More than once?
"Yes."
More than twice?
"Yes."
More than three times?
"Yes."
Could she say exactly how many times it happened.
"No," she said. "But often."
She described how she trusted Nassar, who was close to her parents, and did not know how she should respond.
"I was just confused," she said. "I really didn't know what to think of it. He was an adult."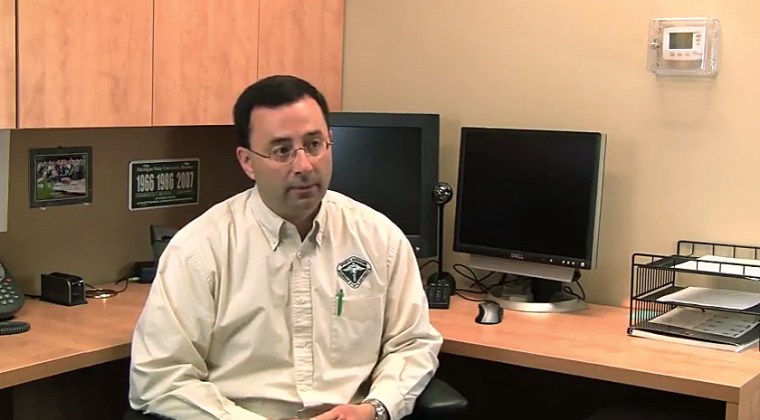 When she was in sixth grade, she said, she confided in a friend who told her she had to tell her parents. She said her mother "went gaunt" and her father started grilling her and "they made me feel like I had done something terrible."
She said she felt like her parents didn't believe her. At one point, they arranged a meeting with Nassar and afterward her father browbeat her into saying she had lied, she recalled. He insisted she apologize to the doctor but she refused, she said.
The two families continued to visit each other, she said, and she frequently babysat for the Nassars when she was in high school and college. There was no more abuse after she turned 13, she said.
The woman was composed on the stand until she was asked about the Nassars' three children. "I loved them," she said, breaking down. "I still love them."
She said that before she left for college, during a fight with her father, she told him she had not lied about Nassar.
"He crumpled," she said, adding that she and her father were able to speak about what had happened after that. Her father committed suicide in March 2016.
She said she did not report the childhood abuse until the fall, when the first allegations against Nassar emerged in an Indianapolis Star investigation, with the accounts of two ex-gymnasts who had been treated by him.
Nassar's lawyers attacked her credibility, suggesting that she had manufactured the incidents in which Nassar penetrated her because those were the only alleged crimes that were still outside the statute of limitations.
But the judge pointed out that his accuser had testified that she was unaware of the statute of limitations when she spoke first to a an attorney who was a family friend and then to the Michigan State University police detective heading the investigation.