Former gymnastics doctor Larry Nassar was sentenced Monday to another 40 to 125 years in prison by a Michigan judge who said she didn't believe his claim of remorse.
Nassar, who is accused of molesting 265 girls and women over two decades under the guise of medical treatment, delivered a monotone apology in Eaton County Court, saying the victim impact statements he heard over nine days of hearings "impacted me to my innermost core."
But Judge Janice Cunningham revealed that just days before, during a jailhouse pre-sentencing interview, Nassar said his admission during plea hearings that his invasive bare-handed pelvic procedures had no legitimate purpose was inaccurate.
"I am not convinced that you truly understand that what you did was wrong and the devastating impact that you have had on the victims, families and friends," the judge said. "Clearly you are in denial, you don't get it, and I do not believe there is a likelihood you could be reformed."
Barring appeals, Monday's proceeding marks the end of the current criminal cases against Nassar and caps an extraordinary outpouring from more than 200 ex-patients who gave searing impact statements during nine days of hearings.
Although Nassar's fate is sealed, the fallout is far from over. The U.S. Olympic Committee, USA Gymnastics, Michigan State University and even the FBI face lingering questions about whether they could have done more to stop Nassar, and several investigations are under way.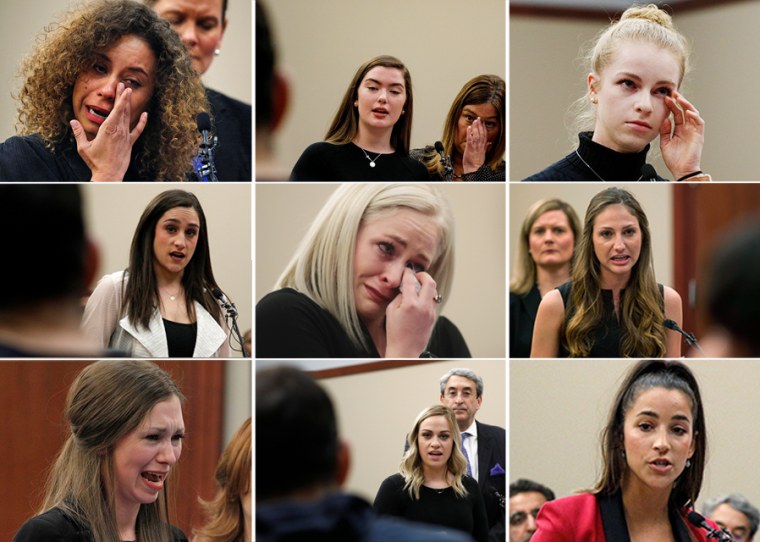 "I am grateful the criminal proceedings are finished," said Rachael Denhollander, whose accusation in September 2016 sparked the scandal. "I am greatly disappointed that we have finished the criminal proceedings without seeing any responsibility taken by the institutions that let this happen."
Related: Eight times Larry Nassar could have been stopped
Victims say they reported Nassar as far back as 1997 and were dismissed, and prosecutors and the judge said that should be a wake-up call for everyone.
"It is unfathomable to think about the number of victims that would have been spared had authorities acted upon the complaints they received years ago," Cunningham said.
The sentence Nassar got was a foregone conclusion; Cunningham said at the outset that she planned on following the plea agreements that Nassar made last year.
And it didn't change the fact that he is all but certain to die in prison: He was previously sentenced to 40 to 175 years in Ingham County for molesting seven girls and to 60 years in federal prison for possession of child pornography.
The charges in Eaton County stem from sexual abuse that occurred at Twistars gym, where Nassar was a fixture for years, preying on budding gymnasts with his reputation as a healer who could get any injured athlete competition-ready.
"This nice-guy doctor thrived at a place like Twistars, where cruel, harsh and abusive coaches were the norm," Povilaitis said.
"This grown adult man took sexual pleasure in the exploitation and humiliation of those young girls and teenagers," she said. "Not only did he commit those depraved acts of penetration but he liked it."
"Did he really think he was going to get away with it, abusing so many over so many years?" she added. "Maybe he did think he could beat the odds — and for years he did.
"He was believed over these children."
The question of what Nassar believes is still open.
When he was first publicly accused in September 2016 — after an investigation by the Indianapolis Star — he claimed the "treatments" he performed, often on adolescents, were an accepted medical procedure.
However, after he was caught with tens of thousands of images of child pornography and accused of molesting a family friend starting when she was six years old, Nassar pleaded guilty in all his cases.
During his plea hearing, he had to make an allocution in which he admitted he penetrated the victims for sexual and not medical purposes. But in a letter to the Ingham County Court Judge Rosemarie Aquilina last month, he denied that was the case, while complaining about having to listen to so many victims.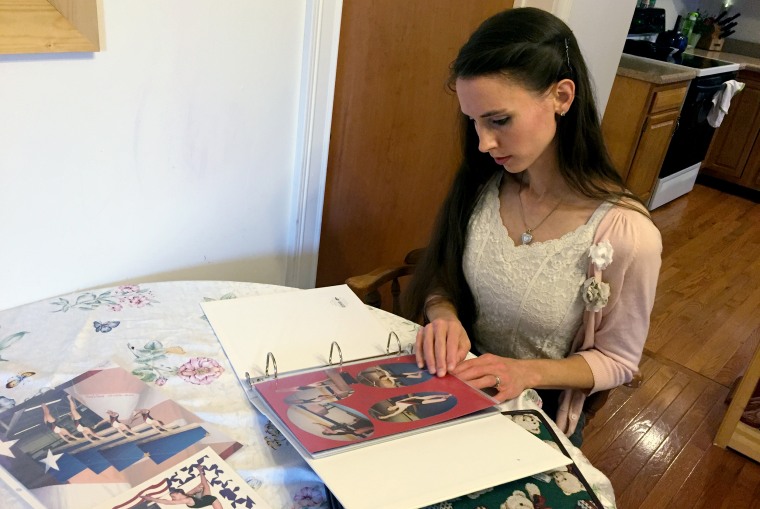 By the time of the Ingham County sentencing, Nassar appeared contrite again, apologizing and telling the victims he was moved by their accounts of abuse. Days later, though, defense lawyer Shannon Smith went on a radio show and said she didn't believe many of the girls had been molested and that Nassar was using a legitimate technique.
In a statement issued by a second lawyer, Nassar disavowed her remarks and said he stood by his plea agreements. It's noteworthy, however, that he did not explicitly say in court on Monday that he had done anything wrong.
"The words expressed by everyone that has spoken, including the parents, have impacted me to my innermost core," he said. "With that being said, I understand and acknowledge that it pales in comparison to the pain, trauma, and emotions that you all are feeling.
"It is impossible to convey the depth and breadth of how sorry I am to each and everyone involved. The visions of your testimonies will forever be present in my thoughts."
Judge Cunningham, however, had the last word.
"You have lived an idolized life. You were a prominent doctor in our society. You were the member of an Olympic team. You have been pampered and lived a high-class lifestyle," she told Nassar.
"The result will be spending rest of your life in a small prison cell. I'm sure that is unthinkable to you. But you will be left to sit there with only the memories of destroying your own family. And I do not believe you will have the ability to shut out the words of the children and the young women and the adults who trusted you, and you let down."