Disgraced gymnastics doctor Larry Nassar is disavowing comments from one of his attorneys, who said "a huge part" of her does not believe everyone who testified against him was molested.
In an interview with a Detroit radio station that is sure to stir outrage, defense attorney Shannon Smith suggested that some of 150-plus girls and women who gave impact statements against Nassar actually received legitimate medical treatment.
"There is a huge part of me that does not believe that every one of those girls was victimized by him," Smith told WWJ950 radio.
"While there may be some that were victimized ... there are others that have come to believe they were victimized because of the way the case, in a way, spun out of control," she added.
Her comments are already drawing ire from some of Nassar's accusers and their attorney, John Manly, who told NBC News that Smith "is a vile human being for saying that."
And even Nassar himself distanced himself, saying he did not authorize them, stands by his guilty pleas and has been deeply affected by the victim statements.
"I have heard each and every impact statement made by the victims in my cases," he said in a statement released by another attorney. "Their words have been meaningful, they have pierced my soul and I will carry their words with me for the rest of my life. I am sorry about this distraction at a time when the attention should be on the statements of these victims."
After Nassar was first publicly accused of penetrating female patients with ungloved hands, his attorneys said it was part of a recognized medical technique used by osteopathic physicians. Many who knew him as a respected sports medicine specialist at Michigan State University and the team doctor for USA Gymnastics defended him.
Then the FBI found child pornography — tens of thousands of images — on computers Nassar tried to trash. He pleaded guilty to possession of them and then pleaded guilty in two Michigan counties to sexually abusing 10 girls, nine of them under the guise of medical treatment.
The procedure used on the victims in the cases where Nassar pleaded guilty has been described identically by the other accusers, who cases stretch back over two decades.
Over the course of the 16-month scandal, the number of accusers has swelled from two to 265, with some saying they were in denial that they had been molested until they heard other women describe what Nassar had done to them.
In the interview, Smith seized on that.
"There were girls who had perfectly normal lives that never questioned the medical treatment done by Larry Nassar — and there is a legitimate medical treatment that involves touching sensitive areas and even penetrations," she said.
"Some of those girls, to be quite frank, they didn't even know what to think because they never felt victimized. He was never inappropriate to them. And because of everything they've seen, they just feel like they must have been victimized. And I think that's really unfortunate."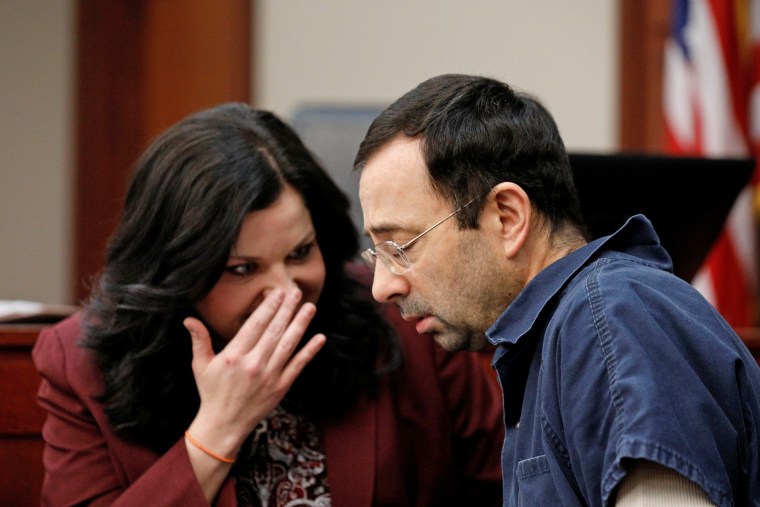 "I have a very hard time believing that my client could have even possibly assaulted that many people day in and day out in front of their parents, and that every single one of those things was a crime, but he was such a manipulator he got away with it," she added. "I just can't imagine that's true."
Some of the girls' parents have said Nassar positioned himself in such a way that they could not see he was penetrating them. Other girls have said that Nassar repeatedly gave them his "treatment" without a parent or another medical professional in the room.
Manly, the victims' lawyer, said Smith's spin was a belated attempt to minimize the damage done by Nassar after the public statements by his former patients — including Olympic gymnasts — captured the nation's attention.
"When people like this speak, I'm always gratified because it shows how evil they truly are," Manly said. "The awful thing is it revictimizes these women and their families and I think that's what it was meant to do."
He said that while Nassar was entitled to a robust defense, if Smith believes he isn't guilty she should have taken the case to trial.
As part of his plea agreements, Nassar agreed to let any accuser give a victim impact statement, though he then complained to one judge that it was too difficult for him.
And before his statement reacting to Smith's comments, he had written in a letter to the judge that his contact with the accusers was medical and not sexual and that the pornography could have been downloaded by someone else.
He was sentenced last week in Ingham County to 40 to 175 years and faces a similar sentence when victims are done giving statements in Eaton County.
Smith said she has received death threats for defending Nassar but has no regrets.
"I have no problem representing someone like Larry Nassar," she said.