The fallout from the Larry Nassar sex-abuse scandal continued Friday with Michigan State University athletic director Mark Hollis stepping down, saying he believed it would help the victims heal.
But the school's basketball and football coaches, whose programs were the subject of an ESPN investigation published just hours after Hollis' resignation, said they had no plans to resign. "I'm definitely not retiring," the school's men's basketball coach, Tom Izzo, said Friday night after his team defeated the Wisconsin Badgers 76-61.
Hollis' resignation came days after the NCAA announced it has opened an investigation into MSU's handling of allegations against Nassar, who had his sports-medicine practice at the Big Ten school and was also the Olympics team doctor for USA Gymnastics.
It also follows the under-fire resignation of MSU President Lou Anna Simon, and comes as student protesters are demanding members of the Board of Trustees leave, as well.
"This was not an easy decision for my family, and you should not jump to any conclusions based on our decision — listen to facts," Hollis said in a statement.
"I am not running away from anything, I am running toward something. Comfort, compassion and understanding for the survivors and our community; togetherness, time and love for my family."
Hollis said he did not know about any allegations against Nassar until they became public in September 2016, and he said he was not informed of a 2014 investigation by MSU into one woman's accusations — which determined Nassar had not molested her.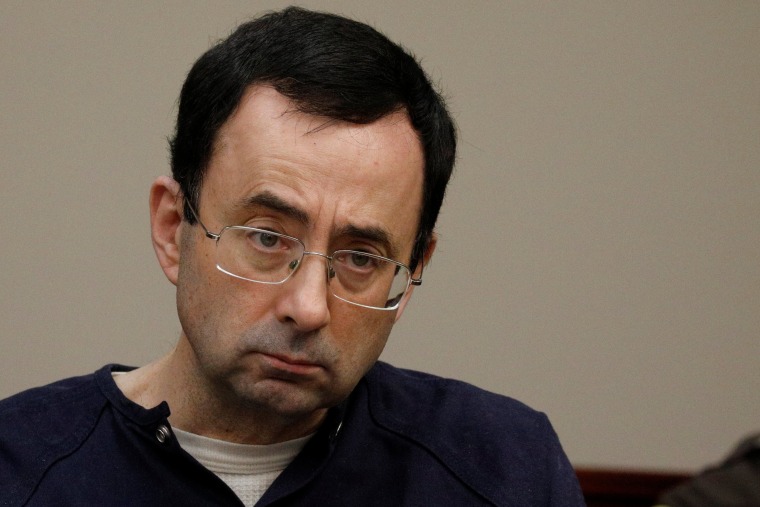 "At the same time, there is so much pain and so much healing that needs to be done. In a small way, [my wife] Nancy and I believe that this may help that process."
He said he was not asked to retire and that some of the MSU coaches told him he should not leave. "I believe this was the right time," he said, citing testimony by Nassar's accusers at an extraordinary sentencing hearing as the impetus for his decision.
Hollis, an MSU graduate who had been athletic director since 2008, said he would cooperate with any investigations.
Shortly after his announcement, ESPN's Outside the Lines published an investigation that detailed incidents in the basketball and football programs and what it called "a pattern of widespread denial, inaction and information suppression of such allegations by officials."
Responding to the report, Michigan State's football coach, Mark Dantonio, denied during a brief news conference Friday that he was resigning, the Detroit Free Press reported. In a statement quoted by the newspaper, Dantonio added that he did not improperly handle allegations of sexual assault, calling the accusations "completely false."
"Every incident reported in that [ESPN] article was documented by either police or the Michigan State Title IX office," he said, according to the Detroit Free Press. "I have always worked with the proper authorities when dealing with cases of sexual assault."
Izzo declined to discuss the report, saying he was aware of it but "I'll hold judgement on that until I really get a chance to sit down and look at everything."
"We will cooperate with any investigation going forward, as we have always done," he said. "It's still our top priority in this healing process, is for our courageous survivors," he said at an earlier point in Friday's post-game remarks.
Hollis' departure is the latest shakeup from the investigation into Nassar, who has pleaded guilty to molesting 10 girls but is accused of sexually abusing more than 150 women and girls under the guise of medical treatments.
Criticism of Michigan State and USA Gymnastics mounted in the wake of an extraordinary sentencing hearing for Nassar where most of his accusers gave victim impact statements.
Among the other developments in the last two weeks: