LAS VEGAS — Mariah Hillman rolled down the window of her minivan just after daybreak, ready for a six-hour stakeout in the parking lot of a Las Vegas apartment complex.
Her mission: To rescue a pigeon she had nicknamed Coolamity Jane, last spotted wearing a red, plastic cowboy hat.
In December, videos of hat-wearing pigeons in Las Vegas went viral, made national headlines and gave way to a deluge of memes — someone even created a song about the birds. To Hillman, 47, who runs Lofty Hopes, a Las Vegas-based pigeon rescue organization, the hats glued to pigeons were not a joke, but a form of animal cruelty. She became determined to find the pigeons and remove the hats.
While the internet frenzy has waned, Hillman's dedication to rescuing the pigeons has not. She has spent hours nearly every day for more than a month looking for them. She trapped two of the pigeons, nicknamed Cluck Norris and Billie the Pidge, and brought them to a veterinarian to cut off their hats, but Coolamity Jane has eluded her.
On a recent Friday morning, Hillman leaned back in the front seat of her minivan with Edgar, a rescue pigeon and her stakeout companion, perched on her shoulder.
"Maybe today will be the day," she said. "We'll see."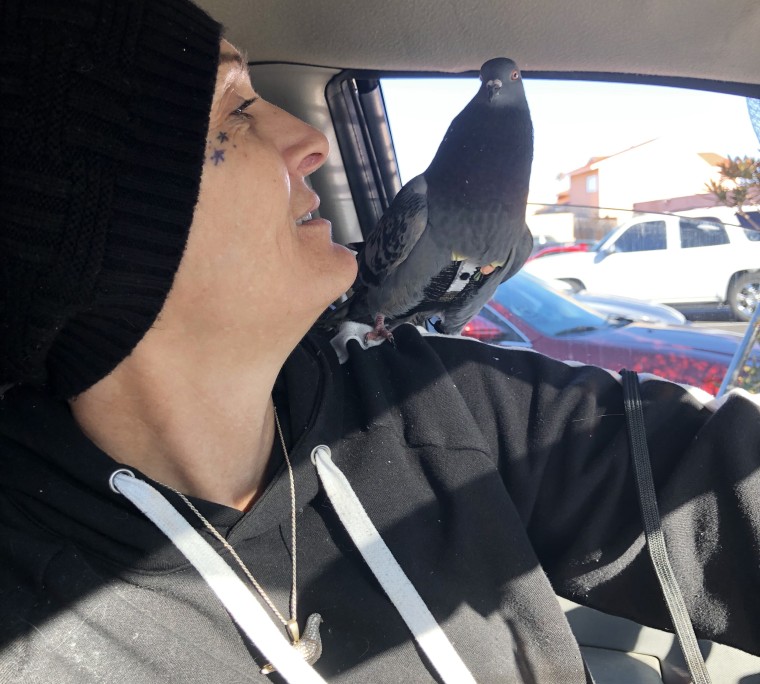 Searching for clues
It's unclear how harmful the hats are for the pigeons; they may impair the birds' ability to fly and see predators, Dr. Robert Groskin, executive director of the Association of Avian Veterinarians, said. He added that removing the hats may also be painful for the birds.
"I don't understand why anyone would do anything like this," he said of those responsible. "It's certainly potentially abusive."
Hillman has suspicions, which she said she's shared with police.
The Las Vegas Metropolitan Police Department did not respond to requests for comment. Previously, the department told reporters that the hats did not appear to be a police matter.
(This week, a pigeon wearing a sombrero was spotted in Reno; it's unclear whether there is a connection to the Las Vegas birds, but Hillman is advising a woman in Reno on how to catch them.)
Hillman learned that the cowboy hat-wearing pigeons had been spotted near the University of Las Vegas in mid-December, a few days after the original videos surfaced. She knew pigeons generally return to the same places to find food, so she drove around the area for a few days, handing out her business cards and asking people to call if they spotted the birds.
At night, she studied the videos, searching for clues on where they were taken. A couple days later, while driving in the area, she noticed a gated apartment complex with eaves matching the home in one of the videos. She drove into the complex and almost immediately saw one of the pigeons, Cluck Norris.
She nabbed him a week later using a wire cat trap, a red bungee cord and bird feed. The next day, she captured Billie the Pidge the same way.
"Never in a million years did I think I would be chasing down pigeons wearing cowboy hats," Hillman said, laughing. "I also never thought I would be running a pigeon rescue."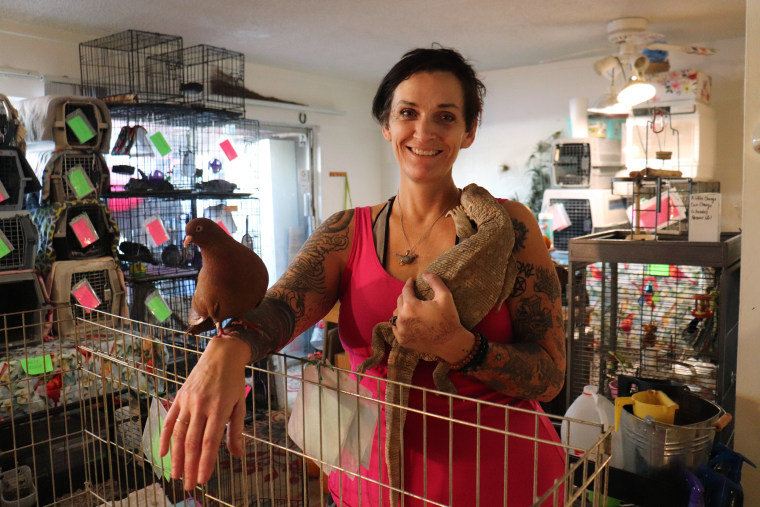 'Overlooked and forgotten'
Hillman started Lofty Hopes with her daughter, Cheyane Frankenberg, 30, in late 2018. A former hospice care worker, Hillman had to go on disability about seven years ago because of a back injury and seizures. She knew she'd wanted to do some kind of animal rescue, and she was drawn to pigeons because she sees them as underdogs.
"Pigeons are really overlooked and forgotten," Hillman said. She noted that they delivered messages to American soldiers on World War I battlefields. "They remind me a lot of homeless people in the sense that so many of them were also war veterans and now people treat them as a nuisance rather than with kindness."
What began with Frankenberg and Hillman nursing two baby pigeons back to health on their kitchen table quickly grew into a full-scale operation, with an intake system for rescues, six volunteers and about 250 pigeons housed at Lofty Hopes' headquarters: the first floor of the pair's two-story apartment.
Lofty Hopes also has two paid employees, Frankenberg's daughters, Scarlette 9, and Violette, 7. They get $1 per day.
"They clean cages, help feed the animals and even know how to wrap a broken wing," said Frankenberg, who works as a cat care manager at the Nevada Society for the Prevention of Cruelty to Animals.
Hillman and her daughter knew very little about pigeon rescue and rehabilitation when they started out; they learned through other rescue organizations, their veterinarian, and trial and error.
Most of the pigeons are housed in cat carriers, stacked floor to ceiling against the walls. An index card with information about each bird, including its name, where it was found and its injuries, hangs from each makeshift cage. The birds' ailments include malnutrition, broken wings and "string foot," a condition in which string, wire or hair gets caught on the pigeon's feet, cutting off circulation to its toes.
On the patio are four aviaries housing pigeons that have recovered and will soon be released at a volunteer's home an hour outside Las Vegas; pigeons with permanent injuries are taken to a sanctuary in Phoenix.
As word spread, Lofty Hopes also began taking in other animals from shelters that had run out of space. The apartment is home to two parrots, a duck, a chicken, a quail, a rabbit, guinea pigs, two iguanas and a chinchilla.
Even with care, not all the pigeons can be saved. Billie the Pidge, the second cowboy hat pigeon captured, died this month. Hillman said he appeared sick as soon as he was captured.
The organization's resources have been stretched thin lately with the addition of daily stakeouts for Coolamity Jane. "But who else is going to do it?" Hillman said. "Not that many people care about pigeons."
'She's out there'
Just before 8 a.m. during the recent Friday stakeout, Hillman spotted a flock of birds perched on a rooftop and thought Coolamity was with them. She rushed to get a closer look, but it was a false alarm.
"I'm just seeing pigeons in cowboy hats all the time now," she joked, walking back to the van.
Hillman has come close to trapping Coolamity several times, but she said the bird has learned to walk around the trap to find bits of food, rather than underneath it. Hillman has tried setting up her trap in different parts of the parking lot or moving her car — which she believes the bird now recognizes — but she worries Coolamity has become wise to her tactics. She sees the bird, still wearing the cowboy hat, now faded to pink, every few days.
By about 12:30 p.m., the flock that often accompanies Coolamity had come and gone twice. Coolamity was nowhere in sight. Hillman decided to pack up the trap and call it a day.
"She got me again," Hillman said as she placed her gear in the van. But Hillman said she would be back the next day. "She's out there and I'm going to find her."