A Las Vegas couple who shot to death two police officers, a civilian and themselves — after telling a neighbor they were headed to an "underground world" — had an anti-government, anti-police ideology with militia and white supremacist overtones, authorities said Monday.
Investigators believe ex-con Jerad Miller and his wife, Amanda, acted alone during Sunday's blood-thirsty rampage, but they are investigating possible links between the pair and militants who converged on rancher Cliven Bundy's property during his armed standoff with federal rangers.
"At this time, we believe this is an isolated act," Assistant Sheriff Kevin McMahill said at a briefing.
The duo left calling cards of their world view on the bodies of the slain cops: a "Don't Tread on Me" flag, a note that read "The revolution is beginning" and a swastika meant to equate police with the Nazis, McMahill said.
The couple's ideology was no secret, yet a neighbor who saw them set off on foot Sunday morning with a red shopping cart carrying weapons and ammunition was not alarmed enough to call police.
"I thought they were talking out of their neck," Kelly Fielder told NBC Los Angeles.
She said Jerad Miller, 31, had two guns and bullets and Amanda, 22, had a .38 caliber handgun in her purse and a rifle.
"We gotta do what we gotta do," Jerad Miller told Fielder, adding that they were departing for an "underground world" and needed protection.
Amanda Miller then embraced Fielder and said, "I am so sorry."
Police believe the couple walked the four miles to CiCi's Pizza, where Officers Alyn Beck, 42, and Igor Soldo, 32, were having lunch in a booth.
As the duo strode by the cops' booth, the husband pulled out a handgun and shot Soldo once in the back of the head, killing him instantly. Beck began to react, and Jerad Miller opened fire, hitting him in the throat. HIs wife then pulled out her pistol and shot him several more times, police said.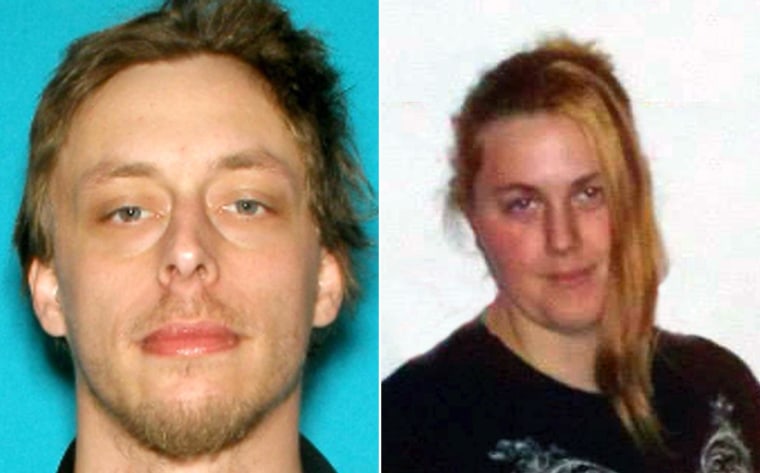 The suspects pulled the officers out of the booth to the floor and stripped them of their weapons and ammunition.
The swastika and the Revolutionary War-era Gadsden flag, which depicts a coiled snake and the words "Don't Tread On Me," were left on Beck. The note was pinned to Saldo.
The shooters then walked out of the pizzeria, grabbed the backpacks they had left outside and headed across the road to a Walmart.
Barging through the front door, Jerad Miller fired off one round, announced "a revolution" and told everyone to leave, while his wife hung back, putting their bags in a store cart.
"They just said, 'The revolution's begun,' they said that they shot some officers, and basically get out of the store if you don't want to get hurt," said Tyrone Ellis, who works at the store.
Standing near the registers was Joseph Robert Wilcox, 31, of Las Vegas, who happened to have a concealed weapon and decided to intervene "immediately and heroically," McMahill said.
But Wilcox didn't realize Amanda Miller, now inside the store, was with the armed man and he walked right by her on his way to end the attack. As he passed her, she pulled out a gun and shot him in the ribs, killing him.
When cops arrived at the store, they found the suspects fleeing toward the rear. The officers split into two five-man teams, and one of them made contact with the Millers.
A gunfight ensued, and both suspects were wounded. An officer monitoring the pair on a surveillance camera saw them build a barricade with merchandise they had grabbed while running through the Walmart.
As police waited for SWAT teams, Amanda Miller fired several rounds into her husband and then "ended her own life with one gunshot to the head," McMahill said.
Police said Jerad Miller has a criminal record for car theft. He and his wife had lived in Washington State and Indiana before moving to Las Vegas in January.
Fielder portrayed Jerad Miller as the dominant partner in the relationship — "He was a very controlling person" — and suggested his wife was not happy about his anti-government rhetoric.
Fielder said he had expressed a desire to overthrow the government and kill police officers and put swastikas on their bodies — statements that Fielder did not take seriously.
The couple had traveled with Fielder to the ranch where Cliven Bundy led an armed standoff with federal rangers, but Fielder said she didn't stay.
"They said they were going to go to an underground world and they needed protection."
She said she traveled in April with the Millers to Mesquite, Nev., where hundreds of armed protesters gathered after the federal government decided to round up rancher Bundy's cattle in a dispute over grazing rights.
NBC's Reno affiliate, KRNV, interviewed Jerad Miller at the protest in April and he said he felt sorry "for any federal agent that wants to come in here and push us around or anything like that.
"I really don't want violence toward them, but if they're gonna come bring violence to us, well, if that's the language they wanna speak, we'll learn it," he said.
A spokesman for Bundy said he did not remember the couple.
Fielder, who considered Amanda Miller her "best friend," said she did not think the couple — who liked to dress up like the Batman character, The Joker, and his sidekick Harley Quinn — posed an actual threat.
In retrospect, Fielder said, she wishes she had alerted the authorities when they set off from Spruce St. armed to the teeth and making cryptic statements.
"They said they were going to go to an underground world and they needed protection," she said.
"I should have called the cops right then."
NBC News' Mike Taibbi contributed to this report.