LAS VEGAS — Roshy Rivera was hiking at the Grand Canyon with two of her co-workers last week when she found out they'd all just lost their jobs.
As the sun turned the mountains golden that Tuesday afternoon, she and her co-workers received a text message from the owners of Casa Di Amore, the Las Vegas restaurant where Rivera, 37, had worked as a bartender for 12 years. The message said that Nevada's governor had just ordered the closure of all nonessential businesses, such as casinos, dine-in restaurants and bars, for 30 days amid the growing coronavirus outbreak. Casa Di Amore was going to shut down.
"I will be in contact with more info soon," the owner said in the text. "PLEASE STAY SAFE."
Rivera felt numb. She had heard about some casinos shutting down, about major conventions being canceled. But when she'd left for the hiking trip a couple of days earlier, Casa Di Amore still had plenty of customers. Everything had seemed fine.
Now, she worried: How would she make her mortgage payments? How long could she make do with her savings? Would the restaurant reopen in 30 days, and would everyone get their jobs back?
She immediately headed back to Las Vegas with one of her co-workers, arriving at about 12:30 a.m. Wednesday. Hungry, the two looked for somewhere to get a bite — it was usually still prime time in Vegas. But nothing looked open.
"Everything was just dark," Rivera said. "Everything that should have been lit was dark."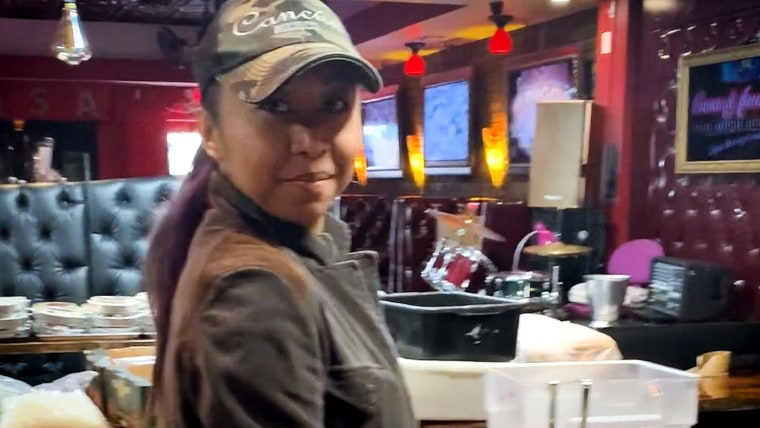 An 'unprecedented' shutdown
The pandemic has caused a wave of restaurant, bar and casino closures across the country, as state officials from California to Vermont have scrambled to reduce large gatherings of people to limit the spread of COVID-19, the disease caused by the coronavirus. According to the American Gaming Association, at least 973 commercial and tribal casinos — or 98 percent of all gaming properties in the United State — have closed, directly affecting about 649,000 casino gaming employees.
Nevada Gov. Steve Sisolak's statewide order last Tuesday shutting down casinos and restaurants for 30 days — which police began enforcing Friday — came after health officials reported the state's first coronavirus death, a Clark County man in his 60s. As of Monday afternoon, there were 245 reported coronavirus cases in the state and four deaths.
Full coverage of the coronavirus outbreak
The impact of the sweeping closures was felt immediately in tourism-reliant Las Vegas. It's a city where card dealers, servers, bartenders, housekeepers and others keep the 24/7 revelry running for about 40 million visitors a year. By early Wednesday morning, after the governor's order, barricades were placed outside casino doors. Cash machines were emptied. Slot machine screens were turned off. Tables had been wiped down and bar stools stored.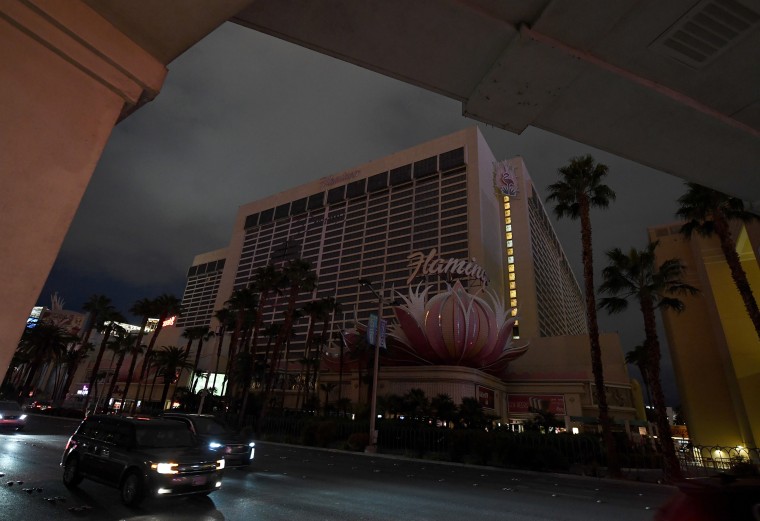 Now, thousands of workers like Rivera, tip earners living paycheck to paycheck, are struggling to figure out how they will financially survive the pandemic's wide ranging effects.
According to the Las Vegas Convention and Visitors Authority, about 367,900 jobs were supported by tourism in southern Nevada, equal to 37.6 percent of the workforce, in 2018. In the third week of March, 6,356 initial unemployment claims were filed in Nevada, nearly triple the number of the previous week and the largest week-to-week spike in claims since 1987, when record-keeping began, state officials announced Saturday. The Nevada Department of Employment, Training and Rehabilitation increased its hours to accommodate the influx.
"We're trying to get everyone the help that they need," Rosa Mendez, a spokeswoman for the agency, said. The last time the Las Vegas Strip closed was in 1963 during President John F. Kennedy's funeral. That lasted for about 15 hours. Not 30 days.
"It's unprecedented," said David Schwartz, a gambling historian and a professor at the University of Nevada, Las Vegas. "We've never seen anything like this before."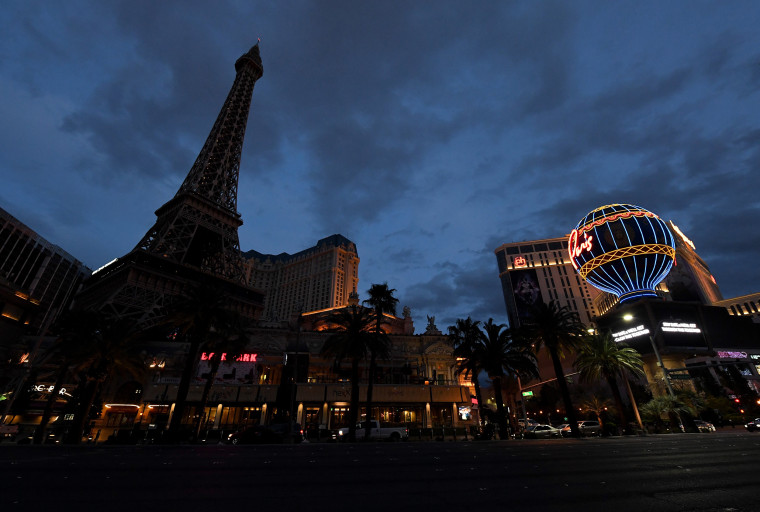 Ripple effects
Las Vegas is a city known to persist through tough times. There was no shutdown during the terror attacks of Sept. 11, 2001. The city's tourism industry took a financial hit during the 2008 recession, but powered through. After the October 2017 mass shooting at the Route 91 Harvest festival — the deadliest in U.S. history — casino doors stayed open.
Tourism began to slow in February amid international travel bans because of the coronavirus, but even in early March, tourists still flocked to take pictures in front of the Eiffel Tower replica at the Paris Las Vegas Hotel and Casino and the Fountains of Bellagio. Gamblers still sat at the tables throwing down cards, rolling dice and collecting chips. People danced in the multistory nightclubs, drinking until the wee hours of the morning.
The effects of the pandemic started to grip Sin City by the second week of March, when major conventions, like the National Association of Broadcasters — which drew about 90,000 attendees in 2019 — canceled. By the end of the week, almost all conventions through May had been called off, and many were not rescheduled.
"My industry is reliant on people being able to gather and that's exactly what people aren't able to do right now," said Kalyn Augustin, 37, a senior video technician at the Las Vegas office of a large event management company.
He received a call last Tuesday morning that he and other employees would be placed on a 90-day furlough, with a chance to be rehired afterward. By that afternoon, Augustin, whose wife is 15 weeks pregnant, was at Max Pawn. The shop's owner, Michael Mack, had begun offering 120-day interest-free loans on items brought in by customers. Augustin put down his Rolex watch for $1,600 in cash.
"I've got to do something, so I can make my mortgage payment next month and not just burn through my savings," he said.
Download the NBC News app for full coverage of the coronavirus outbreak
Some casino operators, such as Wynn Resorts Ltd and MGM Resorts International, had already announced temporary closures ahead of the governor's Tuesday order.
Gemma Reyes, 27, manages La Cave, a restaurant in Wynn Las Vegas. As she walked to the restaurant on her last day of work before it closed March 15 , she was stunned to see the casino floor and luxury stores nearly empty.
"I could have easily just done cartwheels in there," Reyes said.
While the company that owns La Cave is still paying her during the temporary shutdown, the future is uncertain. "I'm just trying to keep positive right now," she said.
'No one knows what's going to happen'
As Michael Campagno wrote a note to his 48-person staff at Casa Di Amore early last Wednesday, he was still in shock over the shutdown. The letter included a list of resources, information on unemployment compensation and health care benefits and a recommendation letter for future employment.
Casa Di Amore is an old-school Vegas staple with cozy leather booths, vintage photos of the Rat Pack, live music every night and hearty pasta dishes. The restaurant's customers include tourists and locals, many of whom have been eating there since it opened 18 years ago.
Several of Campagno's employees, like Rivera, had worked at the restaurant for more than a decade. He and his wife, Alex, knew their children, went to their weddings and celebrated their birthdays.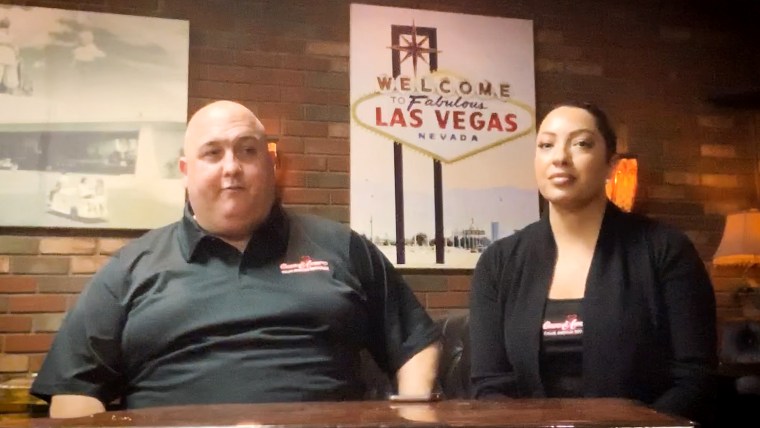 "It feels horrible right now," said Campagno, 48, who's owned the restaurant for 15 years. He wished he could pay his workers during the closure, but he can't afford it. He tried to reassure the staff that he could hire them all back when the restaurant reopened, but the future is uncertain. "It feels like you're just telling your staff, your family, 'OK, you're on your own.'"
A few miles from the restaurant, Stephan Othic stood in his front yard pulling out weeds Wednesday afternoon, trying to distract himself. Normally, Othic, 50, would have been putting on his black slacks and red vest, getting ready to start his serving shift at Casa Di Amore, where he'd worked for nine years. He'd already applied for three positions at grocery stores and was working on his unemployment claim.
"No one knows what's going to happen," he said, his voice cracking. "I just care about that place and everybody there."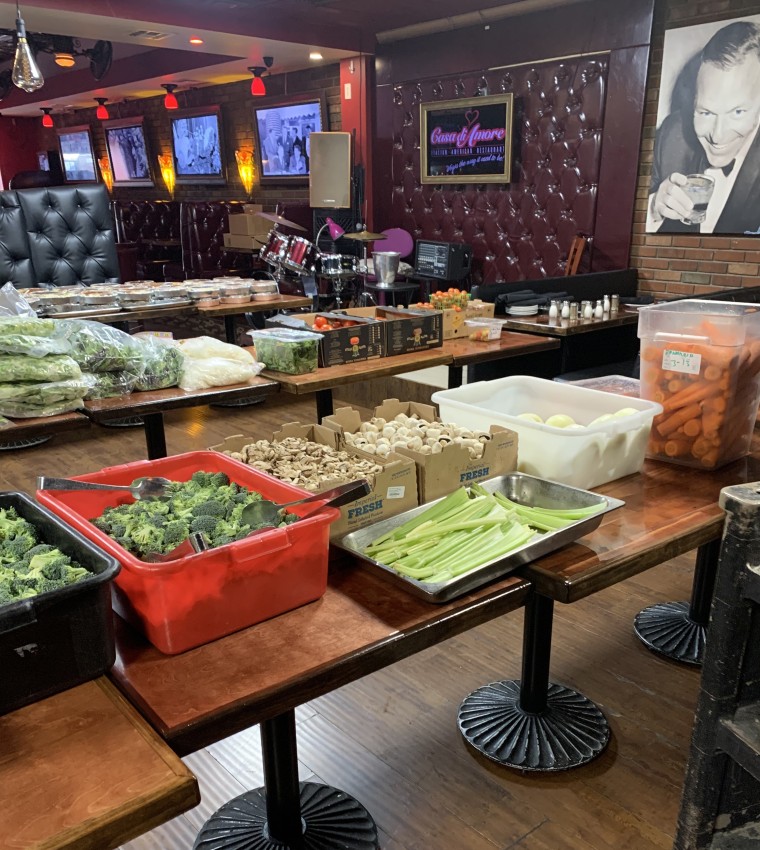 There would be one last chance to see his co-workers. Earlier that week, before the closure was announced, the restaurant had received its weekly food order. Not wanting it to go to waste, the Campagnos decided to give the food away to their staff.
By Thursday morning, the restaurant's dining room had been transformed into a makeshift food bank. Boxes of bell peppers, onions, spinach, tomatoes and spring salad sat on the tables, along with stacks of aluminum to-go trays filled with pasta and sauce. In the kitchen, there were cartons of eggs and jugs of milk.
"We want to do the most we can do for them," Alex Campagno, 38, said as she fought back tears. "I just wish it was more."
Many of the staff came by that afternoon to pick up food, but also to check in with one another, to chat and have a laugh.
They all knew it might be a while before they were together again.