Heather Melton's husband Sonny found land in Tennessee where the two would build a home and start a new phase of married life together. But Sonny never got to live there.
Instead, he is buried on the land.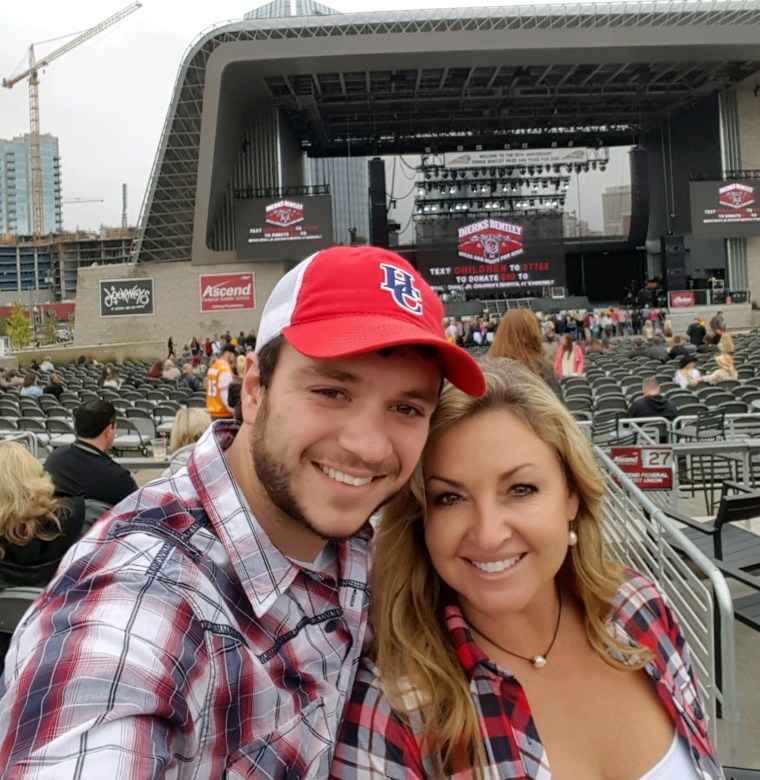 He died shielding her at the massacre at a country music concert in Las Vegas last year, one of the 58 victims in the deadliest mass shooting in modern U.S. history.
"I moved in about two months after he was killed," she said. "He found the land and it was kind of really symbolic of us starting our life together."
"That's why I made the decision to bury him here because I felt like he never got a chance to live here and I just felt like this is where he belonged," said Melton, an orthopedic surgeon.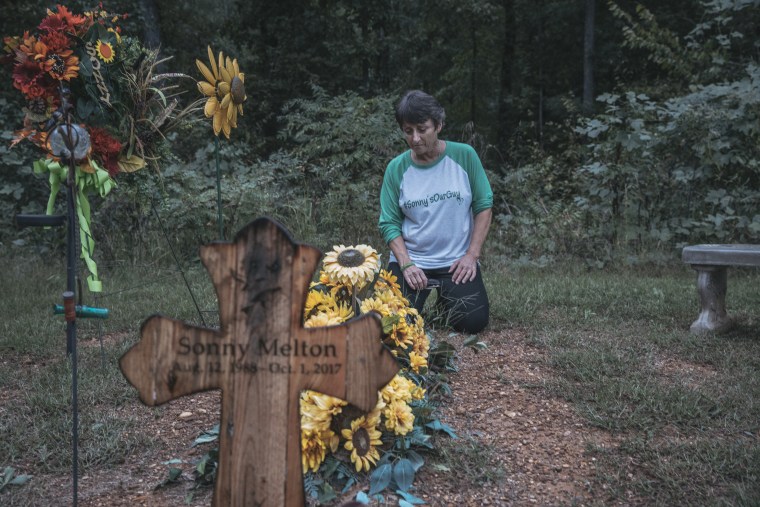 One year later, survivors and family members of the victims at the Route 91 Harvest country music festival on Oct. 1, 2017, are still healing, physically and emotionally.
"There's always something that's going to remind you that you're missing your soul mate," Melton, 49, said. "In some ways it seems like it's hard to believe it's already been a year and then in other ways it seems like an eternity without him."
Sonny, 29, was a registered nurse who worked in the same hospital as Melton. He was well-liked by his patients and the staff and a caretaker to Melton's three children from a previous marriage.
Melton said Sonny saved her life, protecting her from the barrage of bullets raining down on concertgoers as they tried to escape the venue.
"He just wrapped his arms around me and I almost immediately felt him get shot," she said.
Sonny's loss was felt not only by her family and his, but by the community around the small town of Big Sandy, Tennessee, where he was beloved, she said.
"That one bullet that killed Sonny, it took something of me, too. It didn't just kill him, it really devastated an entire community," she said.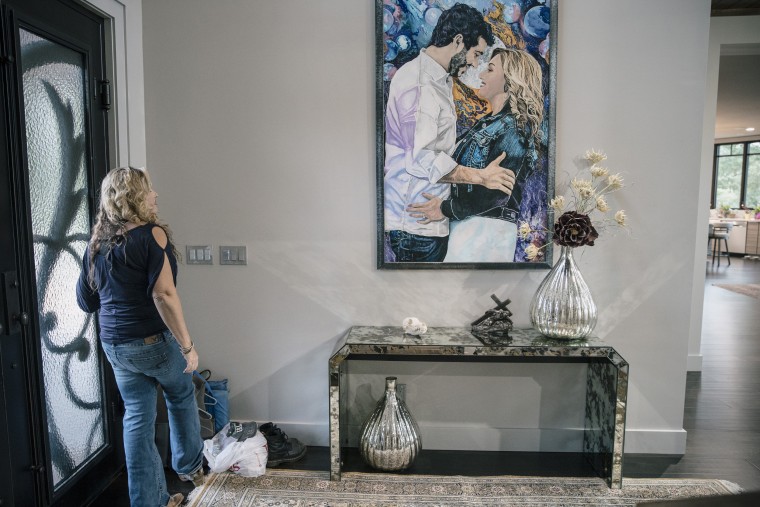 The path to healing once again seemed out of reach for the Melanson family after Rosemarie, a mother of four who was shot in the chest. The bullet pierced through her lung, esophagus, spleen, liver and other organs.
Two of her daughters always attended the festival together and one had bought Rosemarie, 54, tickets as a Mother's Day present.
She has been essentially hospitalized ever since and just underwent a 12th surgery and developed another complication.
Paige Melanson, 26, Rosemarie's daughter, said the doctors had told the family she would need a year to recover from her injuries.
"Here we are, almost to the day a year at this point, and she's still in the hospital," she said.
She said the complications from this surgery were particularly difficult for the family as Rosemarie had started to seem more like her normal self.
"She really started to, like, show signs of her that we haven't seen in a very long time," she said. "My mom was back."
The Las Vegas hospital where she is being cared for was a "second home" for her husband, Steve Melanson, 60, who sleeps at the hospital every night.
He said that while the latest complications felt like "the light has dimmed at the end of the tunnel" his wife was still fighting on.
"Rosemarie's never given up. She's still fighting, but she's not giving up," he said.
Recently, Rosemarie began to show signs of improvement and this past Thursday she was finally able to go home.
"After having minor setback after surgery on September 4 she is and continues to heal," her husband wrote to family and friends on Facebook. "After almost a year in the hospital she has again proven to all of us that God has been listening all along answering everyone's prayers in his time."
"As the one year anniversary approaches we will not look back rather focus ahead and celebrate her life of survival along with all the other survivors and pray quietly for their continued recovery and health at the same time honor and remember those who lost their lives," he added.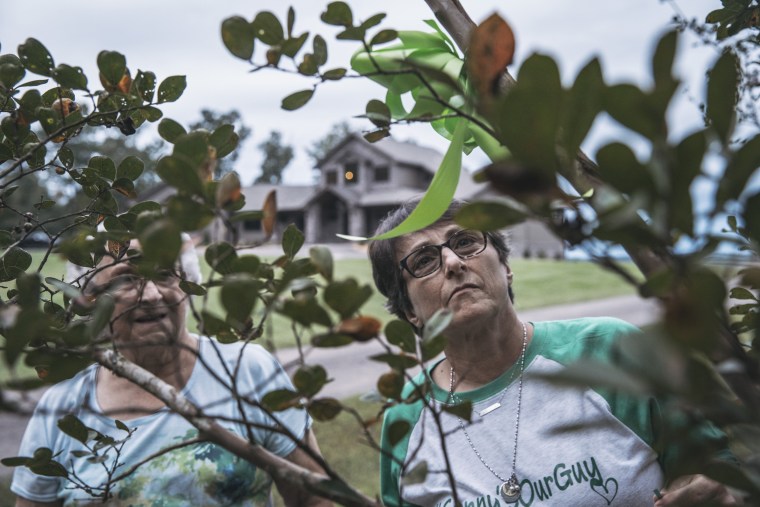 Mike Cronk, 49, who survived the shooting and aided his best friend who was wounded, said it gets harder every day knowing the grim anniversary was approaching.
"Initially, I was angry but I kind of knew I really wasn't going to get the answers I wanted," he said.
Cronk, a retired schoolteacher from Tok, Alaska, said after the shooting he found himself unable to work and do things such as go to his children's basketball tournament.
"For this last year, I just have no desire to be around people," he said, adding it was too overwhelming to deal with his emotions.
After his friend Rob McIntosh was shot, Cronk used his pickup truck as a makeshift ambulance to transport the wounded. One of the wounded he tried to help died along the way, a young man Cronk later learned was named Quinton Robbins.
Cronk said he's been in touch with Robbins' uncle to let them know he was not alone when he died.
"Somebody was with him the whole time, I was holding his hand. He did not die alone," he said.
Jason McMillan, a sheriff's deputy in California, was left paralyzed from the waist down after a he was shot in the chest. The bullet is still lodged on his spine.
"As soon as it happened, I fell on the ground and I couldn't move my legs at all right away," he said.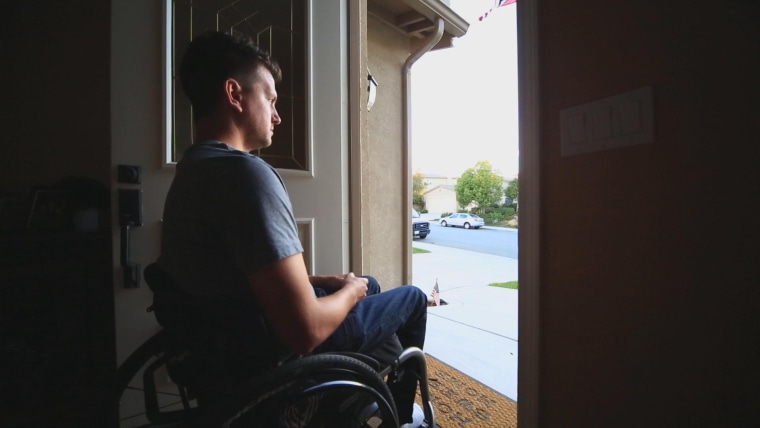 After he was shot, McMillan's fiancé Fiorella Gaete dragged him to the other side of the stage to get him out of the line of fire, where fellow concertgoers were loading the injured into pickup trucks to take to the hospital
He then spent five days in a medically induced coma and more than two months in hospitals, first being treated in Nevada and then with rehabilitation specialists at a hospital in Colorado.
McMillan, 36, said he struggled to come to terms with his new reality when doctors first brought him the wheelchair he would have to learn how to use.
"That was like a prison sentence to me. I didn't want to look at it," he said.
But over time and with continued therapy, McMillan came to see the wheelchair as representing something else, a new freedom.
"I gained a lot of freedom back, because when you're stuck in bed, you can't even sit up without assistance," he said.
McMillan said his doctors have told him that because it was an incomplete injury, there was still a chance he could eventually progress to how he was before.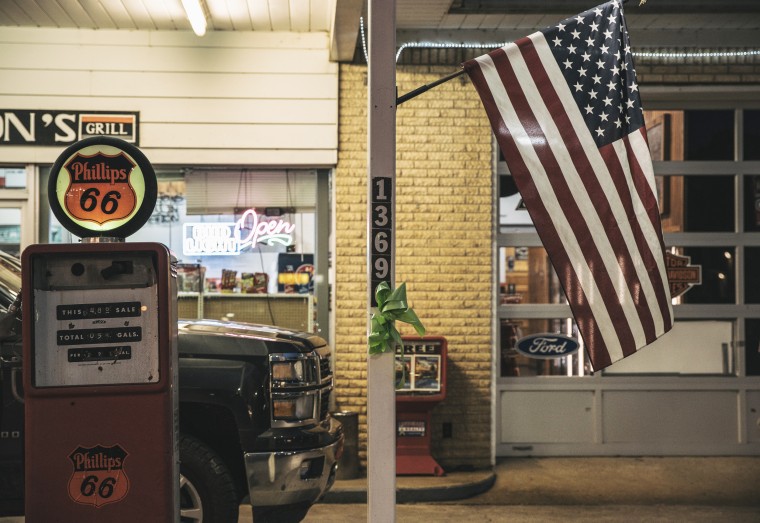 "There's no certainty. I could stop progressing today, and this could be where I'm at, or I could go all the way back to 100 percent. Or I could drop back down," he said.
The injury has left McMillan with ongoing nerve, muscle and joint pain, hypersensitivity and the pain from having the bullet still lodged in his spine.
"Sometimes it feels like I'm getting stabbed, stabbed in the back," he said.
But even as he has adjusted to a new normal, McMillan said every day was a reminder of the shooting.
"I don't need any further reminder of that day than this wheelchair. I remember it every single day multiple times a day," he said.