A woman with a toddler in her car repeatedly plowed into pedestrians on the crowded Las Vegas Strip on Sunday night, killing one person and injuring dozens more in what police say was a deliberate assault.
Las Vegas Deputy Police Chief Brett Zimmerman said the incident was "not an act of terrorism" but appeared to be intentional.
Las Vegas Sheriff Joe Lombardo on Monday identified the suspect as Lakeisha Holloway, 24. She is originally from Oregon, Lombardo said, but he added that authorities were "having difficulty obtaining her background."
The Las Vegas district attorney said Holloway will be charged with one count of murder with a deadly weapon. Authorities are also considering charges of charges of child abuse and neglect, as well as attempted murder, he said.
Holloway had been in Las Vegas for a week as a homeless person, Lombardo told reporters Monday. The unidentified 3-year-old child who was in her car was not hurt in the crash and was taken to a county emergency shelter.
The person killed in the crash was identified by the Clark County Coroner's Office on Monday as 32-year-old Jessica Valenzuela. She was from Buckeye, Arizona, according to Colleen Downey, a spokeswoman for the coroner's office.
Police said the driver swerved onto the sidewalk two or three times on the Strip at around 6:40 p.m. (9:40 p.m. ET) along a stretch of the Strip near the Paris Las Vegas and Planet Hollywood hotels. Both hotels offered sympathies to the victims in statements following the crash.
The Strip reopened at 6 a.m. Monday morning.
The 1996 Oldsmobile with Oregon plates drove off from the scene and was found parked at another hotel, according to police.
Police did not identify the driver, but said it appeared she recently had moved to the area.
"This is a huge tragedy that has occurred on our Strip," police Lt. Peter Boffelli said.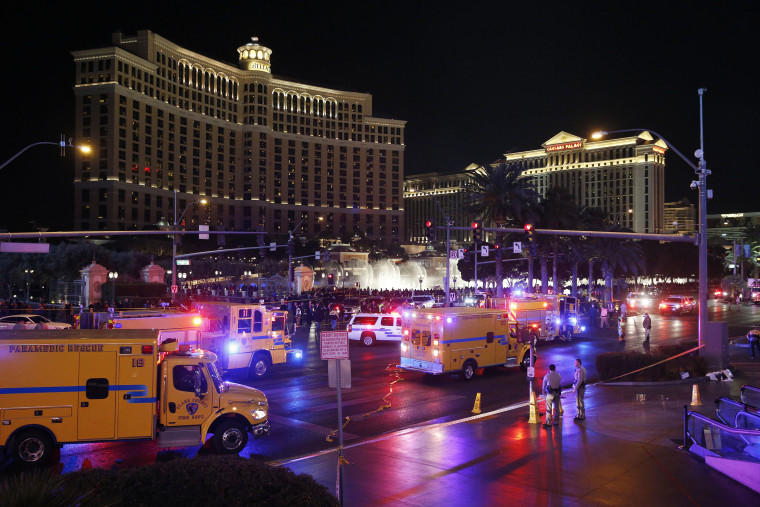 At least six of the injured were transported to hospitals in critical condition, but all were stable early Monday morning, Las Vegas police said. Authorities initially said 37 people were injured, but they later said 26 people had been transported to three hospitals.
Four of those injured were members of Pacific University's men's wrestling team, according to the Oregon school. Three of the injured students, who were in Las Vegas for a competition with teammates and coaches, were transported to the hospital, according to a statement from the school. Two were treated and released, and one was kept overnight Sunday, the statement said.
The driver hit pedestrians in two areas, according to police, which said witnesses described the car speeding up and slamming into a second group of people after the initial strike.
Rabia Qureshi, a tourist from Wisconsin, told NBC station KSNV that the car looked like "a bowling ball and the human bodies were like pins."
"You think it's a show, because you're in Vegas," Qureshi said. "But then I saw some people fly in the air."
Qureshi's husband, Atif, a surgeon, stopped their car and dashed out to lend assistance.
"The first thing that came into my mind was that I should be out there helping them," Atif Qureshi said.
Another witness, Sofie Kitterød, told NBC News that she saw 10 people being taken away in ambulances.
"What we've heard is that a car drove up on the sidewalk by Planet Hollywood and continued past Paris Hotel," Kitterød said. "There are many ambulances on both sites."