Call it a Christmas miracle.
After walking 26 miles in the snow along a desolate stretch of the Grand Canyon over 36 hours, a Las Vegas woman is now safe at a Utah hospital and recovering from exposure.
Karen Klein was enjoying a holiday vacation with her husband and 10-year-old son when their car got stuck in mud near the North Rim of the Grand Canyon in Arizona late last week.
Klein said she'd decided to be the one to go get help because her husband had recently been in an accident.
Outdoorsy and athletic, she thought she could brave the elements herself.
"I said, 'I'll go, I'll just walk up to the main road. I'm a runner,'" Klein recounted Monday.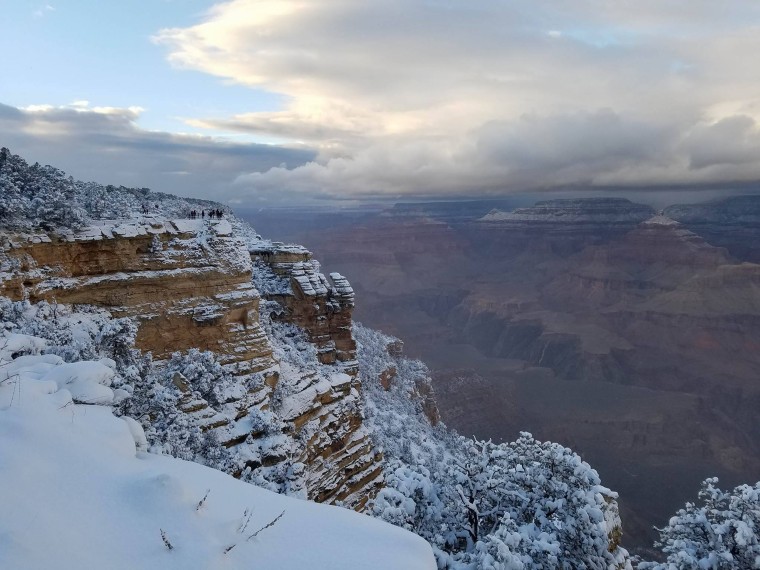 Unaware that the area is closed to vehicle traffic during the winter, Klein decided to walk to the nearest main road in hopes of flagging down a passing car.
Hours later, she found herself alone in the dark.
Over the next 36 hours, she ended up trekking almost 30 miles of snow-covered ground with no cell service, no snow boots and nothing but a small pack of cheerios to eat.
"I didn't think I would be out that long," Klein told NBC News, adding that in retrospect, she and her husband should have done a better job at planning.
"As far as places being closed, we just didn't realize that these roads were closed and these visitor centers were closed," Klein said. "We didn't investigate that deeply."
For shelter, Klein at one point wedged herself beneath an evergreen tree, but was afraid to fall asleep and freeze to death.
"I kept myself awake. I just talked to myself and rocked back to stay warm," she said.
Klein ate aspen and evergreen twigs and melted snow for food and water. But after walking for miles, she had pulled a muscle near her hip and lost a shoe due to compacted snow. In order to move her leg, she said, she had "physically pick it up and put it forward."
"I could only move it 10 steps at a time," she said, before getting "very exhausted and sore."
At last, Klein came across an uninhabited residence for park rangers and broke the glass with her elbow to get in. She didn't know it at the time, but when she hadn't returned to the car, her husband and son walked in the opposite direction until they got cell service and were able to call for help. A search and rescue team discovered Klein in the residence she had broken into.
Throughout the ordeal, Klein said she turned to her "solutions-oriented" nature and "maternal instinct" to survive.
She remembered thinking: "I can't leave my son without a mom. I'm can't leave my husband without a wife. I'm not letting my parents bury me."
She said she now feels lucky to be alive and doing well, save for some frostbitten toes. She hasn't lost any yet, but said it's a "sit and wait situation."
All in all, it could've been much worse.
"In the grand scheme of things," said Klein, "I keep thinking: 'You know what? It's a few toes. Don't worry about it.'"