John Glenn, a war hero who became the first American to orbit the Earth and later served four terms in the U.S. Senate, has died in his home state of Ohio. He was 95.
Glenn's death was announced Thursday by officials at Ohio State University, where he was being treated at James Cancer Hospital. Glenn had experienced a number of health problems in recent years, including a stroke he suffered two years ago after having had heart valve replacement surgery.
"We are saddened by the loss of Sen. John Glenn, the first American to orbit Earth. A true American hero," NASA said. "Godspeed, John Glenn. Ad astra [to the stars]."
The author Tom Wolfe wrote that Glenn, once a small-town American, became "the last true national hero America has ever made."
But that's not the only title Glenn earned during his career. As a Marine fighter pilot, while flying 149 combat missions during World War II and the Korean War, he was given the nickname "Old Magnet Ass" for his ability to draw enemy fire and keep his plane flying with huge holes blown into its exterior. He was awarded the Distinguished Flying Cross six times.
Most Americans remember Glenn for having taken to space in 1962. Dubbed Friendship 7, Glenn's space capsule circled the Earth and put the United States on equal footing with the Soviet Union in the space race.
PHOTOS: John Glenn's Life in Pictures
Glenn joined Mercury 7, America's first class of astronauts, after setting the transcontinental speed record as a test pilot. He said he aimed to be the first man in space, but he was relegated to a backup role behind Alan Shepard.
A Russian cosmonaut beat them to it, but Glenn got the Americans' lead role on Feb. 20, 1962, riding a Mercury-Atlas rocket from Cape Canaveral, Florida.
Upon seeing the Earth from 100 miles for the first time, Glenn famously remarked: "Oh, that view is tremendous!" America's New Frontiersman then traveled around the globe three times at 17,500 mph, spending five hours in space.
Glenn's re-entry was particularly shaky, and his capsule nearly burned up in the atmosphere, but when he came down in the ocean 800 miles southeast of Bermuda, the country cheered.
Glenn was met by President John F. Kennedy, with whom he became friends. Later, he would pursue a political career. His first two attempts at the U.S. Senate failed, but he won a seat from Ohio in 1974. A liberal Democrat, he served four terms and retired in 1999. He briefly ran for president in 1984.
Glenn's body will lie in state at the Ohio Statehouse for one day, and a public memorial service will be held at Ohio State University. He is to be buried in a private service at Arlington National Cemetery. No dates have been announced.
"John Glenn is, and always will be, Ohio's ultimate hometown hero, and his passing today is an occasion for all of us to grieve," Ohio Gov. John Kasich said. "As we bow our heads and share our grief with his beloved wife, Annie, we must also turn to the skies, to salute his remarkable journeys and his long years of service to our state and nation."
Those a bit younger might remember Glenn's return to space in 1998, while he was still in the Senate. Then 77, Glenn was a payload specialist on the shuttle Discovery, becoming the oldest person to make the trip.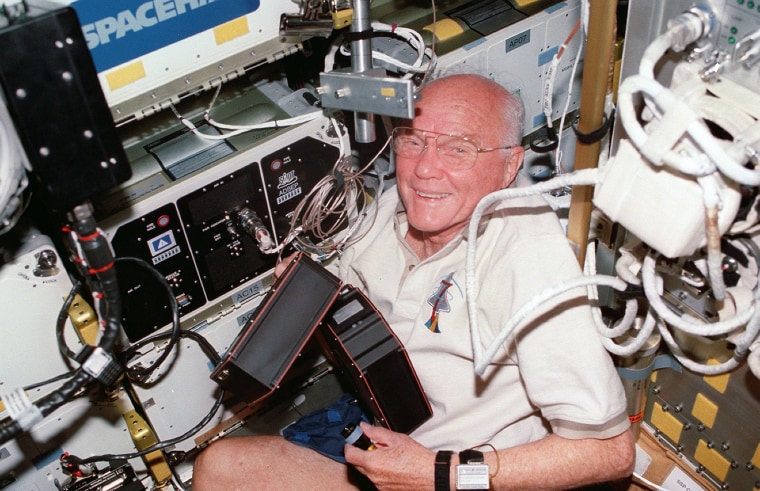 More recently, Glenn received the Congressional Gold Medal in 2011.
President Barack Obama called Glenn a friend and a pioneer, saying in a statement:
"John spent his life breaking barriers, from defending our freedom as a decorated Marine Corps fighter pilot in World War II and Korea, to setting a transcontinental speed record, to becoming, at age 77, the oldest human to touch the stars. John always had the right stuff, inspiring generations of scientists, engineers and astronauts who will take us to Mars and beyond — not just to visit, but to stay."
He added: "The last of America's first astronauts has left us, but propelled by their example we know that our future here on Earth compels us to keep reaching for the heavens. On behalf of a grateful nation, Godspeed, John Glenn."
President-elect Donald Trump said: "He will be missed."
"Today we lost a great pioneer of air and space in John Glenn," Trump tweeted. "He was a hero and inspired generations of future explorers."
At Ohio State University on Thursday Trump added a few more thoughts.
"I met him on two separate occasions," the president-elect said. "Liked him, always liked him. He was indeed an American hero."