For three days this week, University of Chicago graduate students went on strike to demand the school voluntarily recognize their union.
Hundreds of people turned out to protest, chanting "recognize our election" and holding signs with slogans like "Workers' Rights are Human Rights."
Sen. Bernie Sanders even encouraged his supporters in the area to attend the action.
Claudio Gonzáles, who is pursuing a doctorate in mathematics at the University of Chicago, was among them. "Our health care is inadequate," Gonzáles told NBC News. "I have a chronic condition, and I should be able to see a doctor regularly for it, but I can't afford it."
Gonzáles and his peers have been actively organizing for more than two years, and at this point, they're sick of the university ignoring their demands. They say they are faced with inadequate health care, high rent, a wage that hasn't kept up with the cost of living, irregular pay, and unaffordable child care. And they aren't alone.
Since the National Labor Relations Board (NLRB) ruled in favor of Columbia University graduate students in 2016, reversing a 2004 Brown University decision and granting graduate students at private colleges bargaining rights, graduate students at schools from Harvard to Fordham to Georgetown have taken up unionization efforts.
College courses used to be taught almost exclusively by tenure-track and tenured professors, but as universities have cut costs and corporatized, they are relying more and more on adjuncts and graduate students, Cedric de Leon, a professor and director of the Labor Center at the University of Massachusetts, Amherst, said.
"Graduate students are cheap labor" de Leon said, so schools capitalize on them.
At some universities, more than 15 percent of courses list graduate students as primary instructors and some undergraduates spend half of their instruction hours with graduate teaching assistants. Graduate students around the country, who on average make $33,000 a year, feel like the universities aren't fairly compensating them for the vital work they do.
As a result, we've seen a "renaissance" at private universities of unionizing by graduate students, de Leon said.
In 2018, graduate students at Brandeis University, in Waltham, Massachusetts, got a pay raise through a union contract they secured. And at American University, in Washington, D.C., after the school voluntarily recognized a graduate students union in 2017, the union is working to secure better health care for its members, among other things.
But as many private universities continue to push back on unionization efforts, the NLRB announced in May that it will soon be revisiting the Brown ruling, setting new guidelines on whether or not graduate students at private universities are considered workers. The Republican-majority board is expected to rule against unionization efforts, potentially stifling the growing movement.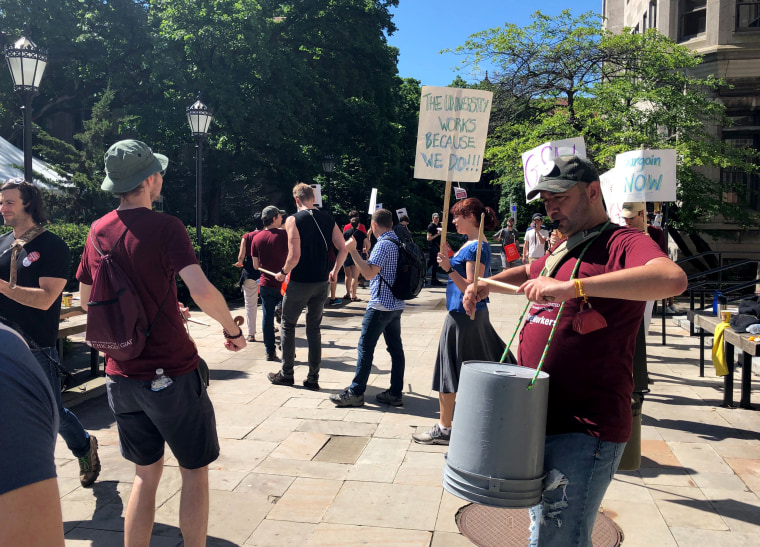 Gonzáles knows he is a student, but he also thinks he is a worker, and says the two aren't mutually exclusive. The challenges that he and other students face aren't that different from those that workers around the country in nonuniversity settings are up against, he believes.
Almost one-third of doctoral students at the University of Chicago cited financial challenges as a roadblock to academic success, and seven percent reported running out of food without the ability to buy more, according to a report conducted by the university, which reports an $8.2 billion endowment.
Natalia Piland, a student pursuing a doctorate in evolutionary biology at the University of Chicago, says when she's in the field for her research, she sometimes works up to 15 hour days, and as a Latina, the university asks her to do a lot of unpaid diversity-related labor. She thinks a union would be the best way to address her grievances with the school.
"The university often asks me to recruit for diversity, equity, and inclusion initiatives, host students, and write things up for promotional materials," Piland said. "I'm happy to do it in the sense that I want the community to be diverse, but it's work that takes away from my time, and it's work that doesn't get asked of white men."
The University of Chicago Graduate Student Union said that in their bargaining survey, 30.7 percent of respondents said they had done work that they didn't bill to avoid incurring overtime.
Piland and Gonzáles see collective power as the solution to graduate students' very material problems. Gonzáles also said the university is "infamous for being the crucible for inequality" in its host neighborhood, the Southside of Chicago, and wants to use union power to fight back.
The university sees it differently.
"The University continues to believe that graduate students are students first and foremost, and that direct engagement among graduate students and faculty is the best path to improving graduate education," the University of Chicago said in a statement. The school said it "invests" about $500,000 per doctoral student over the course of their studies, and doesn't think a union is necessary to improve life for its students, something it says it is already committed to doing.
Elissa Cohen is at a school that took a different approach. A doctoral student in economics at American University, Cohen's union was voluntary recognized by her school in 2017, shortly after the students voted for it in the wake of the NLRB's 2016 Columbia decision.
Cohen, like Gonzáles and Piland, says there's no question that graduate students are workers. She gets a W-2. She has to show up to work at certain times. She has responsibilities, like any worker does. Even more, she says American University couldn't exist without people like her.
"Graduate workers perform vital roles and in many ways are the lifeblood of universities. We teach classes and provide supplementary and individualized instruction," Cohen said.
As tenure-track jobs have steadily declined, universities have grown more dependent on part-time labor from adjuncts and graduate students. Getting a doctorate used to put a graduate student on the path to a stable job and a healthy wage; now they're often on track to become part-time faculty, a quarter of whom report being on some kind of public assistance.
"Without us, certain types of work would not be possible," Cohen said, adding that if universities didn't have the graduate students, research functions — the very thing on which schools pride themselves — would be "hamstrung."
Whether or not the university agrees with Cohen is beside the point, William LeoGrande, associate vice provost for academic affairs at American University, said.
"We were just obeying the law," LeoGrande said of the union recognition process. It was pointless for the university to challenge the basis of the decision after the 2016 Columbia ruling, he said. So the school made its case — that graduate students are predominantly students and their employment was part of their education — and the students made theirs. "The graduate students won," he said.
It took around 18 months to negotiate the first contract, so LeoGrande says it hasn't been going on for too long, but said "so far, it's worked well" and described the relationship between the union and the administration as "collegial."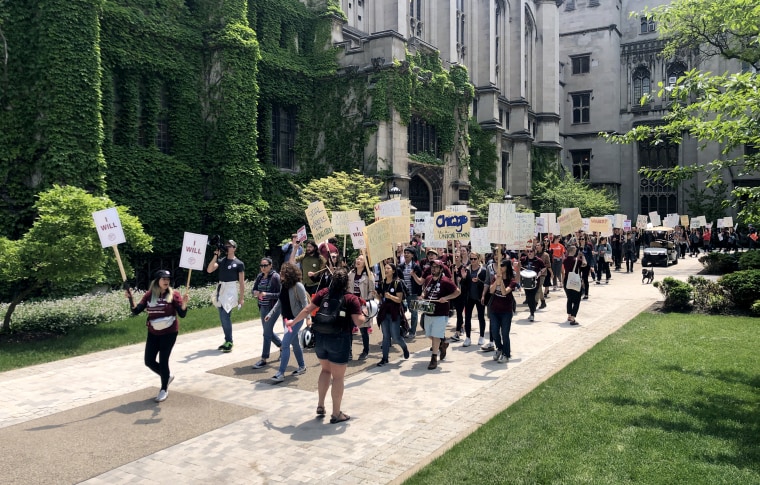 But the NLRB rulemaking announcement could shake things up, especially for students at schools that haven't yet recognized their unions.
"Graduate students have been unionizing for decades," de Leon explained. The first wave of unionization efforts at public universities came in the 1960s and the 1970s, and graduate students at large public universities, such as the University of California system and the University of Michigan, already have union representation.
The 2016 Columbia decision is one of the things that led to the rise of efforts at private universities, but de Leon said there is another important factor. "We live in a historical moment where youth are involved in social movements around the world," he said, citing Occupy Wall Street and Black Lives Matter. "There is a movement culture afoot."
Risa Lieberwitz, a professor of labor and employment law at Cornell University School of Industrial and Labor Relations, said there are a couple reasons a private university might choose to voluntarily recognize a graduate student union, such as if the law supports the right to unionize, or if the majority of students have voted to unionize and they want to respect the majority — which is the case at the University of Chicago, where students voted by a two to one majority to unionize.
Another reason, Lieberwitz said, is instead of being in a "hostile relationship" in which the university refuses to recognize the union, "it could actually improve the relationship" to say yes to the union.
Lieberwitz says when universities opt not to recognize a graduate student union, it is not only "an issue of money but also a question of control."
"Employers often want to maintain as much unilateral control over working conditions as they can," she said. Recognizing collective bargaining power, Lieberwitz said, recognizes that the graduate student and administration relationship is a "participatory process."
De Leon said he feels pretty certain the NLRB is not going to make a "pro-union" rule change, and LeoGrande said if the ruling is against the unions, "we will sit down with the union and talk about what our future relationship will look like."
While Gonzáles, Piland, and their peers at the University of Chicago are monitoring the NLRB's rulemaking, Gonzáles says they won't back down, no matter what the labor board says. "We will not stop organizing until we win."