The television reporter who claims Harvey Weinstein exposed himself in front of her says the Hollywood giant ordered her to "just stand there and be quiet" while he masturbated.
The encounter happened a decade ago, said the reporter, Lauren Sivan, and is the latest accusation of misconduct against Weinstein. Sivan was in her 20s at the time, anchoring for a cable channel, News 12 Long Island, and she said she told friends about it when it happened — but was hesitant to go public before now.
"I didn't know what going public would do for me," Sivan, who is now an anchor for Fox 11 in Los Angeles, told Megyn Kelly on Monday on "TODAY."
But Sivan says she decided to share her story following a New York Times report last week that detailed decades of accusations of sexual harassment by the powerful producer. Actress Ashley Judd is among those who spoke to The Times.
Sivan first spoke to the HuffPost about the incident, which she said happened after she met Weinstein and others at Manhattan's Cipriani restaurant. She said Weinstein pulled a chair up to her and was "complimenting me, telling me how impressed he was with what I do."
Related: Hollywood Mogul Harvey Weinstein Fired Amid Sexual Harassment Allegations
"It was this really warm conversation," Sivan told Kelly. "I was just a local reporter at the time, and to be able to talk to this huge Hollywood mogul at the time — it felt great."
The group then went to a restaurant Weinstein owned, where he offered to give her a tour of the kitchen, Sivan said. Instead of finding a bustling kitchen when Weinstein and Sivan got down there, Sivan said there were just a couple people sweeping — who Weinstein shooed away. Sivan said "red flags" went up.
"That's when he cornered me in this vestibule and leaned in and tried to kiss me, which I immediately rebuffed, and said, 'Whoa, whoa, whoa, I had no idea what this was, I'm sorry, I have a very serious boyfriend and I'm not interested,'" Sivan said. "I thought it would end there."
Instead, Sivan says, Weinstein refused to let her leave.
"That's when he blocked the entrance," she said, "And said, 'Just stand there and be quiet.'"
Shocked, Sivan said she "stood there dumbfounded" as Weinstein exposed himself and began masturbating.
"I could not believe what I was witnessing. It was disgusting and kind of pathetic, really," she said. "But more than the disgusting act itself, which of course was gross, the demeaning part of it all — that just 20 minutes earlier, he was having this great conversation with me, and I felt so great and flattered by it."
Weinstein was fired from the studio he co-founded on Sunday. He has not responded to NBC News, which has not confirmed the allegations published by the New York Times. In a statement issued last Thursday following The Times article, Weinstein has said, "I appreciate the way I've behaved with colleagues in the past has caused a lot of pain, and I sincerely apologize for it."
Hollywood fixture Meryl Streep, who has worked with Weinstein on several blockbuster films, slammed the producer in a statement Monday.
"The disgraceful news about Harvey Weinstein has appalled those of us whose work he championed, and those whose good and worthy causes he supported. The intrepid women who raised their voices to expose this abuse are our heroes," Streep said in a statement to the HuffPost.
Streep, who famously joked that Weinstein was a "God" at the 2012 Golden Globes awards, called his alleged actions "inexcusable."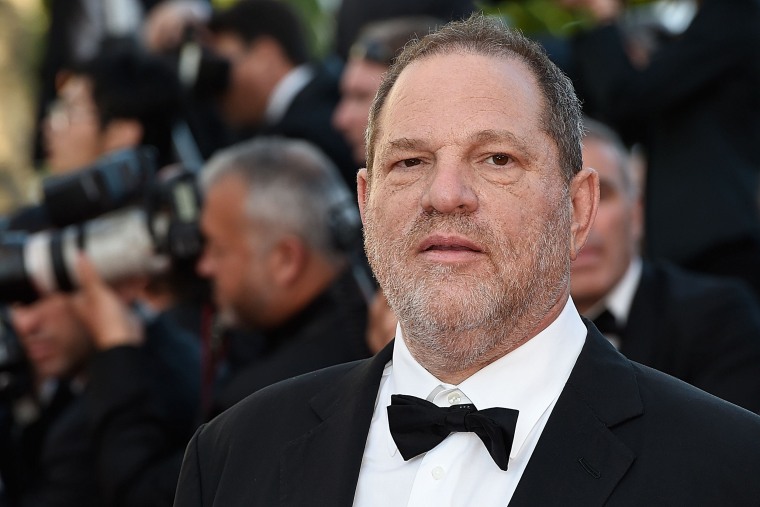 "The behavior is inexcusable, but the abuse of power familiar. Each brave voice that is raised, heard and credited by our watchdog media will ultimately change the game," her statement said.
Sivan said she wasn't surprised other women had similar stories.
"I was lucky enough to never have to deal with him again. I didn't work with him, I didn't need anything from him," she said.
Other women, particularly actresses, had more at stake, she added.
"You have to understand, he was a titan in Hollywood. He could ruin people's careers if he didn't like you."
Speaking with NBC News after her appearance on Megyn Kelly TODAY, Sivan reflected more on why she didn't go to authorities or speak publicly about her allegations before.
"He's a huge, powerful man, and I don't think any woman wanted to be the one woman to come out, out of fear of retribution," she said. "In my case, I didn't want to be known as the girl he exposed himself to."
CORRECTION (Oct. 9, 1 p.m.): An earlier version of this article misstated Sivan's job status. She is currently a Fox 11 reporter in Los Angeles; she is not a former television reporter.