A river of molten lava from Hawaii's erupting Kilauea volcano could be on course to collide with a geothermal power plant, which provides about 25 percent of electricity on Hawaii's Big Island.
On Tuesday, officials said that efforts to plug the Puna Geothermal Venture's plant's 11 wells were successful, but that no test for what could occur if lava made contact with the wells.
"The well field at PGV is essentially safe," Hawaii Emergency Management Administrator Thomas Travis said during a press conference on Tuesday afternoon, local time, according to NBC affiliate KHNL. "The well field is as safe as we can get the well field. The probability of anything happening if lava enters the well field is very, very low. They should feel pretty comfortable that there should be no untoward events from Puna Geothermal, assuming the lava doesn't change its pattern or flow."
Ten wells were "quenched," which cools them with enough cold water to counter the pressure of volcanic steam coming from below, said Hawaii Gov. David Ige.
The last well was plugged with mud, because it had remained hot despite the infusion of water. Metal plugs in the wells, which run as deep as 8,000 feet underground, are an additional stopgap measure.
"All wells are stable at this point," Ige said.
But lava had already destroyed an old warehouse near the facility on Tuesday, local officials said.
"Fissures near Puna Geothermal Venture are active and producing lava slowly flowing onto the property," County of Hawaii Civil Defense said in a statement. "This activity has destroyed the former Hawaii Geothermal Project site," it said, referring to the warehouse.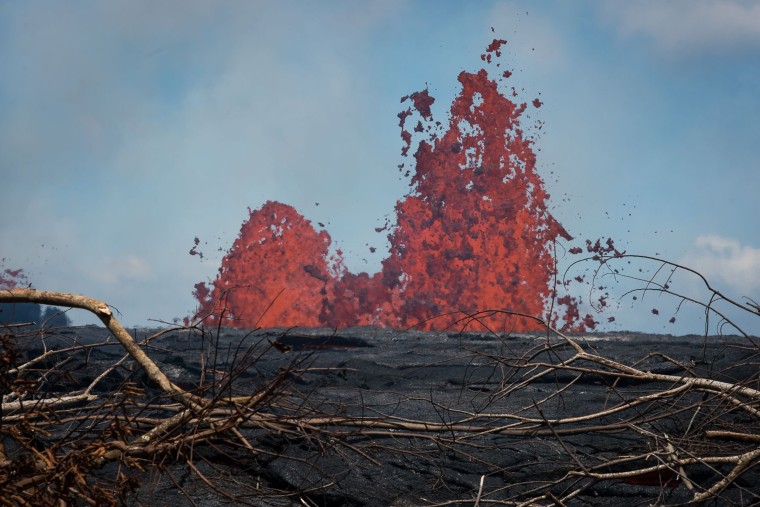 Although workers plugged the wells, if the lava does make contact with the geothermal plant, greater problems could occur. The worst scenario, according to Hawaii News Now, is that lava enters the wells and releases toxic gases into the air.
Twice lava has come within approximately 300 to 600 feet of the plant, Travis said.
If the gas — hydrogen sulfide — is released, residents will be notified and would need to be removed from the area, Ige said.
Puna Geothermal, owned by Nevada's Ormat Technologies, was shut down shortly after Kilauea began spewing lava on May 3. The plant harnesses heat and steam from the earth's core to spin turbines that generate power.
A flammable gas called pentane is used as part of the process, though officials earlier this month removed 50,000 gallons of it from the plant to reduce the chance of explosions.
About 3 miles to the east of the plant on the coast, noxious clouds of acid fumes, along with steam and fine glass-like particles billowed into the sky as lava poured into the ocean from two lava flows.