With the summer travel season looming, two lawmakers have floated an idea for shortening the epic waits at airport security that travelers will love — waive the fees for checked baggage.
This will cut down on the amount of carry-on luggage fliers haul on planes and speed up inspections at the notoriously slow Transportation Security Administration checkpoints, U.S. Senators Edward Markey and Richard Blumenthal wrote in a letter to a dozen major U.S. airlines.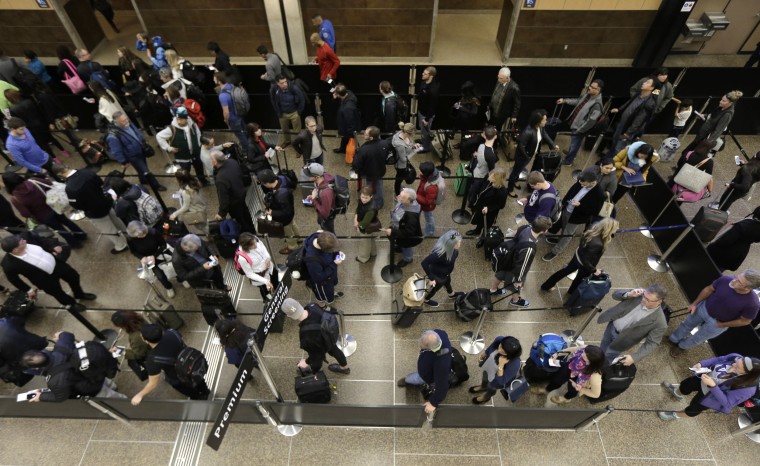 "We call on airlines to take a smart, common sense step to help thwart this growing problem: stop charging checked bag fees during the coming summer months, the busiest travel season of the year," Massachusetts's Markey and Connecticut's Blumenthal wrote. "Without charges for checking their bags, passengers will be far less likely to carry them on, which snarls screening checkpoints and slows the inspection process."
The senators, both Democrats, came up with the proposal after the TSA chief Peter Neffenger reported last year an "an increase in checkpoint screening of baggage due to fees charged for checked bags."
Related: Congress Rips TSA for Long Lines, Abuse, 'Smurfing' Bonus Practices
"TSA has informed us that checkpoints serving carriers that charge baggage fees see 27 percent more roller bags than checkpoints serving carriers that do not charge such fees," the senators wrote.
The airlines began charging the fees in 2007 "as fuel prices peaked, demanding $20 for the first bag and even more for the second," they wrote. "These practices have proliferated since then, even with fuel prices plummeting, and are now standard operating procedure at nearly every airline."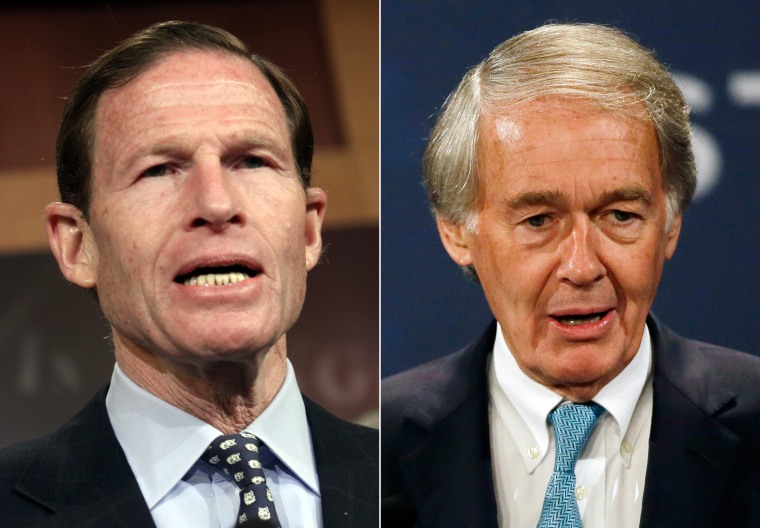 Jean Medina of Airlines for America, which speaks for the industry,turned thumbs down on the senators' proposal.
"We have seen NO data to suggest charging customers to check a bag equates to a 27 percent increase in the number of carry-on items," Medina said in a statement. "The majority of customers who check a bag do not pay to do so. Further, the model of charging customers for services they use and value, like checking a bag, date back to 2008; this is not a new phenomenon."
The TSA was created during the Bush Administration in response to the 9/11 attacks. However, years later the agency has been racked by allegations of mismanagement and travelers routinely complain about poorly-trained screeners doing intrusive searches and about lines so long the carriers warned passengers to arrive up to three hours before takeoff.
Last month American Airlines, which charges $25 for the first checked bag, $35 for the second, and $150 for additional bags, accused the TSA of not doing enough to make sure passengers make their flights and warned the situation will get worse come summer.
"The lines at TSA checkpoints nationwide have become unacceptable," American spokesman Ross Feinstein said in a statement. "The result: our customers are waiting in TSA lines greater than one hour."
Related: American Airlines Hits Out at 'Unacceptable' TSA Lines
During the spring-break week of March 14-20, nearly 6,800 American Airlines passengers missed flights because of checkpoint delays, with the worst cases occurring in Los Angeles, Miami, Atlanta, Dallas and Philadelphia.
Meanwhile, Neffenger at a contentious House Oversight and Government Reform Committee hearing Thursday said the TSA is experimenting with a "travel light" lane exclusively for passengers carrying a single carry on back like a purse or briefcase.
Rep. Gerry Connolly, D-Virginia, said something needs to be done to speed up the process.
"We're not dealing with cattle, we're dealing with people," he said. "We should make it as easy as possible without compromising security."
Related: TSA Whistleblowers Fault 'Lord of the Flies' Culture at Agency
Waits at TSA checkpoints have gotten so bad that the airlines have launched a #iHateTheWait campaign asking travelers to share photos of long lines and some airports are threatening to fire the TSA and hire private security.
Defenders of the TSA counter that the reason the waits are so long is because the agency has 7 percent fewer screeners due to federal budget cuts. At the same time, the number of people flying is expected to jump 12 percent this year alone.
Many of the Republicans who pushed for the creation of the TSA during the Bush years have been pushing for privatizing airport security — something that is already being done at a number of small regional airports and at San Francisco International Airport. And experts said this could happen if the TSA fails to gets its act together.
"I think this could be the TSA's summer to really prove themselves," said Jeff Price, an aviation security and safety expert and a professor at Metropolitan State University of Denver. "This is really the first year a lot of airports are seriously looking at what's called 'opting out' of TSA security, out of TSA's inability to get screening lines shorter."