The push to put a woman on the $20 bill gathered steam Tuesday, when the House joined the Senate in considering a measure that would order the Treasury to get the process started.
Rep. Luis Gutiérrez, D-Illinois, introduced the "Put a Woman on the Twenty Act" on Tuesday, six days after Sen. Jeanne Shaheen, D-New Hampshire, introduced a similar bill.
Both bills would direct the treasury secretary to put together a panel of citizens to recommend a historic woman to replace Andrew Jackson on the $20, which makes up about 11 percent of all paper currency the U.S. prints each year, according to the Federal Reserve.
Putting a woman on the bill would be "a powerful statement to my daughters and to young women across this country and to people across the globe who look to America as an example of inclusion and equal rights," Gutiérrez said.
The campaign to boot Jackson — who historians say is an odd choice to be honored on paper currency in the first place, because he strongly opposed the whole idea of paper money — has come front and center since September, when President Barack Obama revealed in a speech that "a young girl wrote to ask me why aren't there any women on our currency."
"Then she gave me like a long list of possible women to put on our dollar bills and quarters and stuff — which I thought was a pretty good idea," he said.
Women's suffrage leader Susan B. Anthony was honored on the $1 coin from 1979 to 1981, and Sacagawea, an American Indian guide on the Lewis and Clark expedition, has been on $1 gold coins minted since 2000.
And Marsha Washington briefly appeared on the $1 silver certificate beginning in 1886.
But none of those currencies caught on with the public.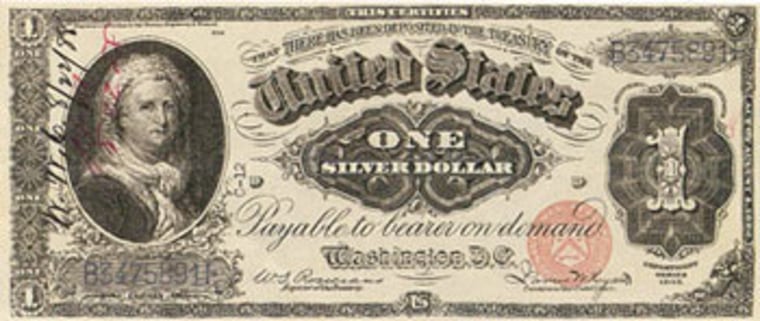 An activist group called Women on 20s has organized an online petition to the White House to put a woman on the bill, complete with an online "primary" to identify the best candidate. The finalists, as voted by the public, are Eleanor Roosevelt, Harriet Tubman, Rosa Parks and Wilma Mankiller, the first female chief of the Cherokee Nation.
IN-DEPTH
SOCIAL
— M. Alex Johnson