A federal lawsuit filed by four women who were on Team USA Taekwondo claims the team and the United States Olympic Committee subjected them to sex trafficking by forcing them to train with two brothers — one a coach, the other an athlete — accused of sexual abuse.
The class-action suit, filed Friday in U.S. District Court in Denver, claims Jean and Steven Lopez — widely regarded as the "First Family" of Taekwondo — used their stature in the sport to coerce athletes into sex.
Jean Lopez, 44, was a longtime coach of USA Taekwondo, and Steven Lopez, 39, is a two-time Olympic gold medalist. Neither has been criminally charged.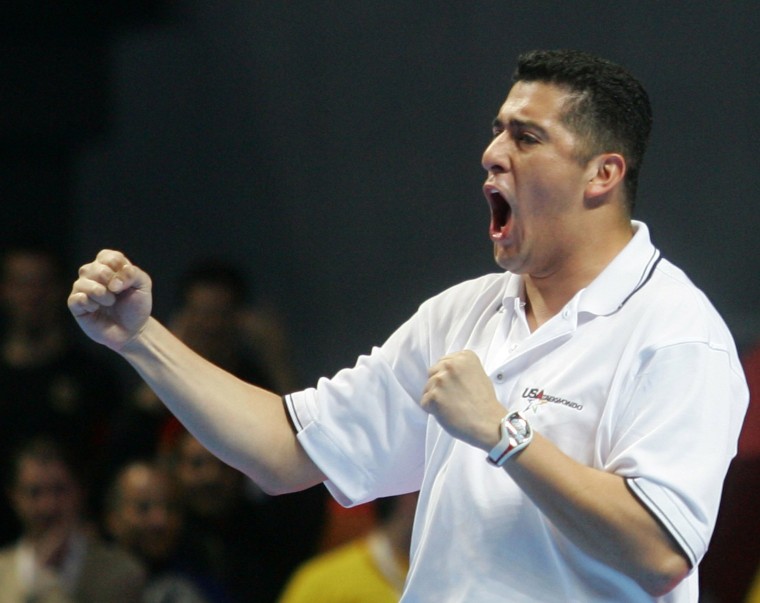 Last month, the U.S. Olympic Committee's U.S. Center for SafeSport found that allegations from as far back as 2006 accusing the Lopezes of physical and sexual abuse were true.
"After decades of complaints about Jean Lopez, the SafeSport deemed Jean Lopez permanently ineligible and banned Jean Lopez for life from participating or coaching in USOC controlled sports, including USA Taekwondo," the lawsuit states.
One of the plaintiffs, Mandy Meloon, was one of the first to report the abuse she allegedly experienced at the hands of the Lopez brothers to the team.
Meloon claimed that in 1997, when she was 15, Jean Lopez, then an athlete with the team, entered her hotel room while at a competition in Cairo, Egypt, and digitally penetrated her vagina while she pretended to sleep.
In 2000, Meloon began a relationship with Steven Lopez, during which the lawsuit claims he raped and beaten her.
On April 3, SafeSport "issued a written opinion finding Ms. Meloon's allegations of rape (along with allegations from many other victims of the Lopez brothers) to be true and, as a result, banned Jean Lopez from the Olympics or any USOC events."
When Meloon made a formal complaint in the late 2000s, USA Taekwondo's then-CEO determined her claims weren't credible and sided with Jean Lopez's decision to keep her off the team roster.
"Because he was the coach and the ultimate decider of Team USA's roster and therefore controlled all aspects of taekwondo for Team USA, Jean was able to sexually abuse and traffic female athletes around the world with impunity," the lawsuit claims.
The three other plaintiffs also claimed sexual abuse at the hands of the Lopez brothers:
• Heidi Gilbert said that she was drugged by Jean Lopez and sexually assaulted while a member of the team in 2003, according to the suit.
• Gabriela Joslin alleges in the suit that she was "violently raped" by Jean Lopez in 2011 and that while at a competition Steven Lopez "required sex before he would address his responsibilities as her coach."
• Amber Means said she was pressured into performing oral sex on Steven Lopez when she was a minor training with the brothers in 2007, according to the suit. The suit also claims that Steven Lopez drugged and raped her in 2008.
"Like the other plaintiffs, Amber felt that if she angered the Lopez brothers, she would face retaliation," the lawsuit states. "When Amber rebuffed the sexual advances of Steven Lopez, she did face retaliation and ultimately her fighting career ended as a result of Jean's control over the placement of athletes on competitive teams."
A fifth women who is mentioned in the suit but is not a plaintiff, Kay Poe, claims that Jean Lopez engaged in a sexual relationship in 1999 with her when she was a minor and a member of USA Taekwondo.
Steven Lopez is currently under investigation by SafeSport for allegations of sexual misconduct that emerged last year, according to The Washington Post. However, details of the allegations have not been made public.
"The USOC is deeply focused on supporting, protecting and empowering the athletes we serve," U.S. Olympic Committee spokesman Patrick Sandusky told NBC News in a statement. "We are aggressively exploring and implementing new ways to enhance athlete safety, and prevent and respond to abuse. The launch of the U.S. Center for SafeSport, along with a number of additional significant actions we are taking, will ensure that our athletes are better protected from these heinous acts,"
USA Taekwondo Executive Director Steve McNally said in a statement that the team is reviewing the claims made in the suit, but declined to comment further.
NBC News was unable to immediately reach Jean or Steven Lopez. Last month Jean Lopez denied the allegations made by Meloon and Gilbert, according to the Post.
"It is an absolute fact that these claims against me are not true," he said.
CORRECTION (May 8, 2018, 11:20 a.m. ET): A previous version of this article misstated Kay Poe's role in the lawsuit. While her allegations are included, she is not one of the four plaintiffs.