Seven people who were evicted from homeless encampments in Minneapolis parks this year and had their property destroyed sued the city and others in federal court on Monday claiming that their constitutional rights had been violated.
The lawsuit, filed in U.S. District Court of Minnesota, seeks to stop the sweeps of the homeless encampments in the city's parks, alleging they violate the Fourth and Fifth Amendments of the Constitution, as well as the Minnesota Constitution and common law. The suit is seeking a temporary restraining order on the evictions and a preliminary injunction.
Dozens of encampments have sprung up in Minneapolis this year in the wake of the pandemic, with some allowed to remain and others being torn down in evictions.
"Giving little or no notice, law enforcement bulldozed people's shelters, throwing away personal belongings including keepsakes, identification cards, clothing and blankets," the American Civil Liberties Union of Minnesota, which filed the lawsuit along with the Mid-Minnesota Legal Aid, said in a statement.
"Clearing the encampments damages thousands of dollars in property — those tents are $100 apiece — and people's important documents, family photos and medication get destroyed," Patrick Berry, one of the plaintiffs, said in the statement. Berry lost his tent, mattress and sleeping bag during one camp eviction. "People are already suffering so much. It is really cruel what the city is doing."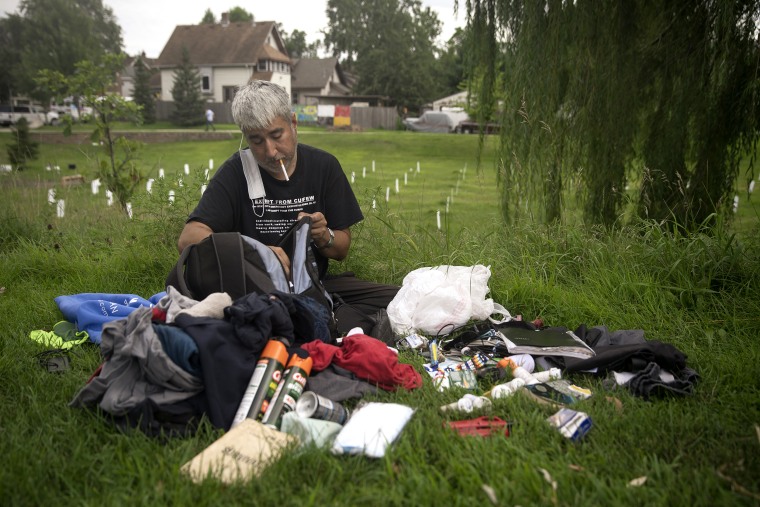 The lawsuit names Hennepin County, the city of Minneapolis, local law enforcement and the Minneapolis Parks and Recreation Board as defendants.
"Homelessness is a crisis across the country, even in our prosperous city of Minneapolis, and simply removing people from public view is not the solution," Justin Perl, litigation director of Mid-Minnesota Legal Aid, said in the statement. "The city and county's bulldozer approach is not only cruel, it is shortsighted, counterproductive, and a waste of taxpayers' dollars."
Clare Diegel, a staff attorney for the American Civil Liberties Union of Minnesota, said there are thousands of people who are homeless in the Twin Cities and "the city and county have failed to offer adequate shelter or housing."
"Instead, the so-called plan is to repeatedly kick out hundreds of residents without permanent homes from public parks, upend their lives, destroy their property and then fail to find them somewhere safe to live," she said in the statement. "Throwing away people's only belongings without notice is a shameful violation of their civil liberties."
ZACAH, a local nonprofit that supports Minnesotans facing poverty and housing instability, is also named as a plaintiff in the suit.
The Minneapolis Park and Recreation Board (MPRB) released a statement disputing the claims in the suit and insisting they have been following coronavirus guidelines set by Minnesota Gov. Tim Walz.
"The lawsuit filed today by the Minnesota ACLU, Legal Aid and Zacah makes numerous allegations, many of which are simply not true," the MPRB said. "This summer several park encampments were removed due to size; documented crime, health, and safety incidents; or location in a school safety zone. In all cases, notice to vacate was provided to those living in the encampments, significant social service outreach took place, and transportation was offered to shelter locations."
"The MPRB has consistently acknowledged that parks do not provide dignified shelter," the statement continued. "Three people have already died at homeless encampments in Minneapolis this year. The action by the plaintiffs in today's lawsuit does absolutely nothing to ensure the safety of homeless people in the coming days when the first days of winter are upon us all."
Hennepin County said in a statement Monday night that it was unable to comment on active litigation but it was currently operating the "largest and safest shelter system" it ever had and that it continued "to work with our partners to expand shelter, and protective housing options."
The county said it had spent more than $12 million to provide protective housing at hotels for people experiencing homelessness who were most at risk of coronavirus complications due to their age or underlying health conditions.
"Since March, we have provided protective and isolation housing to more than 1,400 people at area hotels," the county said. "On any given day, more than 540 people are staying in county-run protective housing at area hotels."
The county also said it has also allocated $5.7 million to make improvements to existing shelter sites.
On Tuesday, "the Hennepin County Board is expected to act on up to $22 million in funding for six additional sites to serve people experiencing homelessness," the county said. "Three of these are planned hotel purchases that will replace rooms the county is currently leasing for protective and isolation housing."
"Two more will be new shelter locations and one is new low-barrier housing," the county said in the statement. "The County previously allocated $3.5 million to create a new 50 bed shelter that will open next month."
"We are working with our nonprofit and agency partners at the city and state on these efforts and they will bring 200 new safe emergency shelter beds online before the end of the year," the county said.
"One person sleeping outside is too many," the county said. "We need to make full use of the options available right now, even as we bring more online."
Issues of racial inequality, skyrocketing housing prices and stagnating wages have created a homelessness crisis in the city, even before the pandemic began and before protests over George Floyd's death in May put the city in the national spotlight.
As the homeless population in Minneapolis has grown, the pandemic also limited or closed vital services and public spaces, forcing more people without housing into the open. As a result, the crisis has been playing out in the city's vast park spaces, housing advocates and local officials said.
An encampment in a city park this summer grew to nearly 300 people living out of some 600 tents.
As of Oct. 15, there were 222 tents in 14 parks, according to the Minneapolis Parks and Recreation Board, with about 100 along the Midtown Greenway, a bicycle-pedestrian trail. There were also 1,327 people who had stayed in emergency shelters in Hennepin County as of Oct. 13.