WATERLOO, Iowa— The city with Iowa's highest African-American population has settled lawsuits against white police officers who roughed up three black residents, including a 13-year-old girl who was handcuffed after yelling at a passing officer to "slow down."
Videos obtained by The Associated Press in two of the cases show questionable uses of force by Waterloo officers at a time when interactions between police and minority residents around the country are being scrutinized after several high-profile deaths of blacks at the hands of police.
In one, officer Mark Nissen slams 17-year-old Malcolm Anderson face-first into a concrete sidewalk outside a hospital and leaves him handcuffed and injured on the ground. In another, Nissen points his stun gun at a crowd of black residents before using it to shock 31-year-old Justin Jones, who had been helping police break up an early morning party outside his home.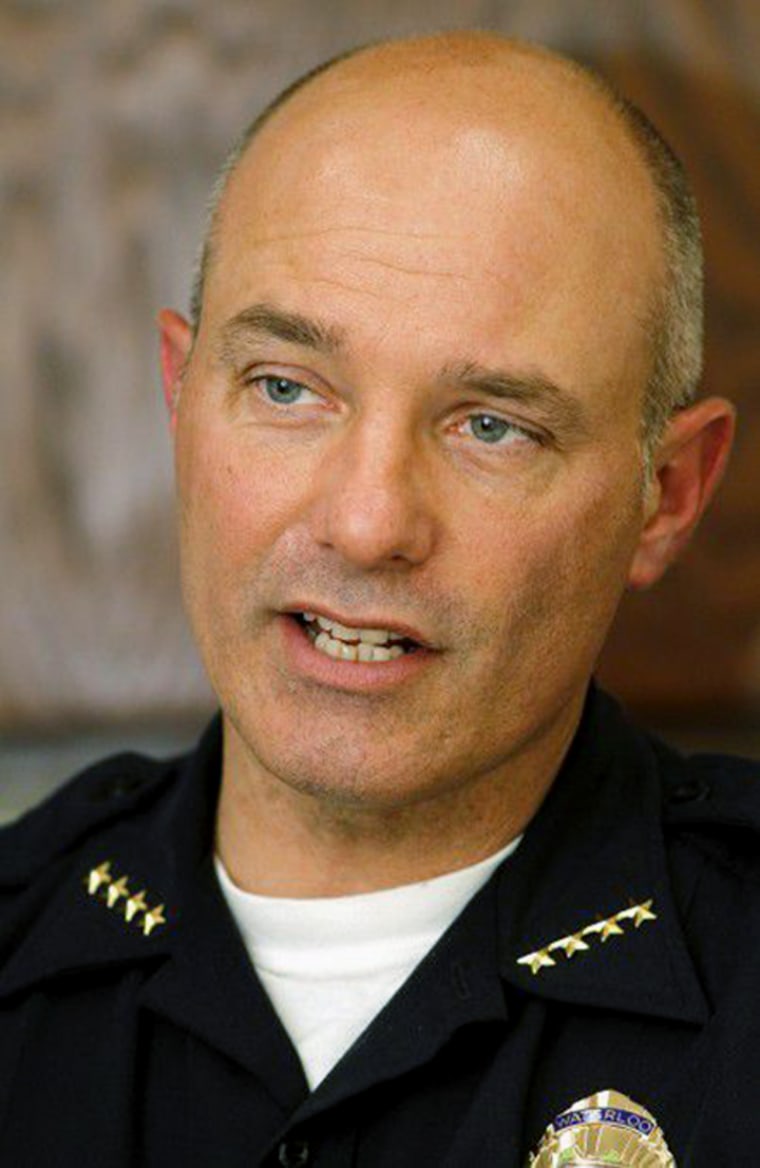 In a third case outlined in court records, officer Timothy Everett took the 13-year-old girl to the ground and handcuffed her after she refused to give him her last name. Everett initiated the encounter after the girl yelled "slow down" after he sped by in his patrol car, pulling a U-turn to confront her about the comment.
Related: Pence Helps Bolster GOP Ticket Among Iowa Conservatives
The incidents occurred between 2013 and 2015, prompting lawsuits that were settled last month, according to court records. The settlements follow a $2.5 million payment that the city's insurer agreed to in January with the family of a 22-year-old black man who was fatally shot by a white officer in 2012.
Sixteen percent of Waterloo's 68,000 residents are African-American, but just two of the city's 124 police officers are black, which can make for tense relations.
Waterloo's insurer has agreed to pay $170,000 to settle the Jones and Anderson cases. An additional amount expected to go to the 13-year-old girl's family hasn't been released since the settlement needs approval from a judge.
Attorney Tom Frerichs, who represented all three plaintiffs, said he could only comment on two cases filed by Jones, who will receive $70,000 to settle the 2013 stun gun incident and a separate wrongful arrest in 2015. The other two cases include confidentiality agreements.
"The Jones cases reflect a serious and nearly complete lack of any meaningful disciplinary policy within the Waterloo Police Department," Frerichs said, calling it a "recipe for disaster."
In each case, charges that were filed against the suspects were later found to be meritless and dismissed. Yet internal affairs investigations justified the uses of force and found no violations of policy or law.
Handcuffing juveniles is illegal in Iowa under most circumstances. But the department backed Everett's treatment of the 13-year-old, claiming that the force was justified because she tried to flee.
Police Chief Daniel Trelka said officers made "honest mistakes" due to deficient training. He said officers have been instructed to stop arresting people who won't give their names, a practice that is illegal absent additional criminal activity.
Related: Justice Department Finds Baltimore Police Practices Are Racially Biased
"They were errors that we felt we could correct from training, that didn't rise to the level of needing discipline," he said.
Trelka said he remains confident in the policing abilities of Nissen, who has been sued four times since 2012 over his use of force. "It just happens he's one of our most active officers," the chief said.
Nissen faces a separate lawsuit after he and another officer shot a black man who was leaving a nightclub last year, a shooting later ruled justified.
Anderson, who was 17 when he was injured by Nissen outside Allen Memorial Hospital in 2014, will receive a $100,000 settlement.
Officers wanted Anderson to go with them to the police station so he could be questioned about the stabbing of an acquaintance he had taken to the hospital. But he said he knew nothing and wouldn't go voluntarily since he wasn't under arrest.
Video captured by freelance journalist Myke Goings shows Nissen restraining Anderson's arms behind his back before throwing him to the ground outside the front door of the emergency room. Officers keep Anderson on the ground with his face down as passers-by walk in and out of the hospital, getting him up only after Goings flashes his lights to signal that he's filming. They later accused Anderson of fighting with officers but a judge dismissed the charge, saying the video showed otherwise.
Related: #BlackLivesMatter Goes Global
"Officer Nissen assaulted my son and then lied about it in a police report. He should not continue to be a police officer," Malcolm's mother, Andrea Anderson, wrote in a complaint. An internal affairs investigation, in which Anderson was not interviewed, cleared Nissen.
In 2013, Jones had been hosting a party at his home, and a crowd spilled into an adjacent lot. After officers arrived, Jones cooperated and got the partygoers to begin leaving. But after he refused to give his last name, police sought to arrest him. Nissen pointed his stun gun at the crowd before shooting electrodes into Jones, who was later kneed in the groin by another officer after he repeatedly asked what he'd done wrong.
The department found both uses of force justified, telling Jones: "We appreciate you bringing this to our attention."