Attorneys for Mexican drug lord Joaquin "El Chapo" Guzman argued in federal court Friday that he is being held in conditions that are "too restrictive" — so deplorable, they say, that he was even denied water.
"Essentially, he's locked in a cell for 23 hours a day," defense attorney Michelle Gelernt later told reporters gathered outside the Brooklyn, New York, court building. "He's only permitted out for limited members of our office and one hour of exercise a day — it's extremely restrictive."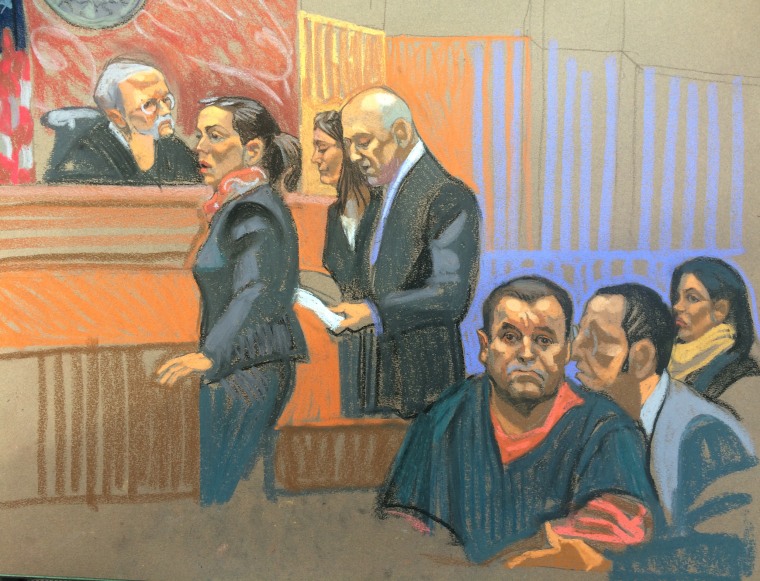 Guzman's time in a Lower Manhattan lockup was under discussion during his second court appearance after he was extradited from Mexico two weeks ago. He faces a 17-count international drug-trafficking indictment as leader of the world's largest drug cartel based in the Mexican state of Sinoloa.
Authorities have made sure he's kept under strict watch — knowing his penchant for breaking out of Mexican prisons.
Gelert said she would like the judge to permit Guzman, 59, to eventually be able to see his wife, who attended Friday's hearing, and make phone calls to his attorneys.
She added that guards at the high-security Metropolitan Correctional Center, where he's being housed, are so extreme they denied him water during a meeting with his defense team.
"I don't think there's any thought that if I have the guards give him a glass of water during a three-hour meeting that somehow that's going to effectuate his escape," Gelernt told reporters.
During the hearing, U.S. District Judge Brian Cogan acknowledged that Guzman's case is complex and unusual, but said he would defer security arrangements to the Justice Department and the Metropolitan Correctional Center.
Guzman was escorted to Brooklyn on Friday morning via a police motorcade. His jail is the same corrections center that once housed Gambino crime family boss John Gotti and the 1993 World Trade Center bombing ringleader Ramzi Ahmed Yousef.
Related: Why El Chapo's Extradition from Mexico Surprised U.S. Officials
Guzman wore a navy blue jumpsuit during the hearing and required a Spanish-language translator. His American-born common-law wife, Emma Coronel, sat in the first row.
Guzman at his first hearing last month pleaded not guilty to charges related to running the Sinoloa cartel, which authorities say has been involved in countless murders and kidnappings. The U.S. has been pursuing him for years, but he managed to escape Mexican prisons twice, including most infamously in 2015 by burrowing out of a shower in his cell and running out a mile-long tunnel.
Guzman's next hearing is scheduled for May 5.