Just hours after the Trump administration's travel order went into effect, the state of Hawaii went to federal court Thursday to challenge it, saying the order barred too many people.
The Supreme Court ruled Monday that Trump's order could be enforced in part until the court makes a final ruling on the order later this year. The order went into effect at 8 p.m. ET on Thursday.
The ruling allowed Trump to impose a 90-day ban on travelers from six countries — Iran, Syria, Sudan, Somalia, Libya and Yemen — as well as a 120-day ban on any refugees who have no "bona fide relationship" with an entity or person in the United States.
In a message on its website, the State Department initially defined "close familial relationships" as parents (including in-laws), spouses, children, adult sons and daughters, sons- and daughters-in-law, siblings, half-siblings and step-relations.
On Thursday, it added fiancés to the approved list. But the definition still excludes grandparents, grandchildren, aunts, uncles, nieces, nephews, cousins, brothers- and sisters-in-law and any other "'extended' family members."
Related: Who Will Be Affected by the Supreme Court's Travel Ban Ruling?
In an emergency motion (PDF) filed Thursday in Honolulu, Hawaii Attorney General Douglas Chin asked U.S. District Judge Derrick Watson to rule that the order doesn't block people with those relationships, either. Specifically, it says an injunction that Watson issued against the original order in March — which the Supreme Court's ruling on Monday partly overturned — should be put back in place pending final clarification.
"In Hawaii, 'close family' includes many of the people that the federal government decided on its own to exclude from that definition," Chin said in a statement. "Unfortunately, this severely limited definition may be in violation of the Supreme Court ruling."
Activists contended this week that the word "entity" also wasn't clearly defined. In its motion, Hawaii argued that the word is confusing, adding:
"It is extremely difficult to see how a foreign national with an agreement to give a lecture within the United States may be considered to have a 'formal, documented' relationship with an entity in the United States, but a refugee with a guarantee of a local sponsor and a place to live cannot."
Watson gave the U.S. Justice Department until Monday to respond.
Meanwhile, lawyers and immigration advocates gathered at airports and monitored hotlines across the country as the revised order started taking effect.
"We have a number of civil rights and advocacy groups that are having attorneys essentially stationed at the airport between now and this evening," Ameena Qazi, executive director of the Los Angeles branch of the National Lawyer's Guild, told NBC News while en route to Los Angeles International Airport, where it wasn't yet 8 p.m.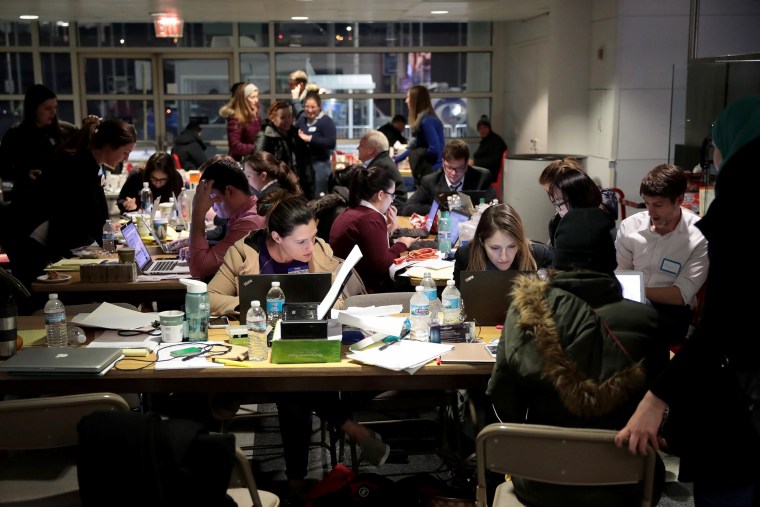 Qazi said her group was planning to have teams of attorneys and organizers at various airports over the next week as they assess the impact of the reinstated order.
Ibrahim Hooper, national spokesman for the Council on American-Islamic Relations (CAIR), said his organization would also have "attorneys from our chapters going to different airports around the country." He added that the group had lawyers available in San Francisco, Los Angeles, Chicago and possibly New York.
Immigration groups told NBC News that they were sending attorneys and translators to international airports and closely monitoring email and phone hotlines, five months after the first version of Trump's executive order led to chaos as dozens were detained and some sent back.
Camille Mackler, director of legal initiatives for the New York Immigration Coalition and member of the American Immigration Lawyers Association, said she didn't expect the chaotic scenes that unfolded when the order was first implemented. Like Chin, she said the main issue was how the administration interpreted the high court's decision in the first place.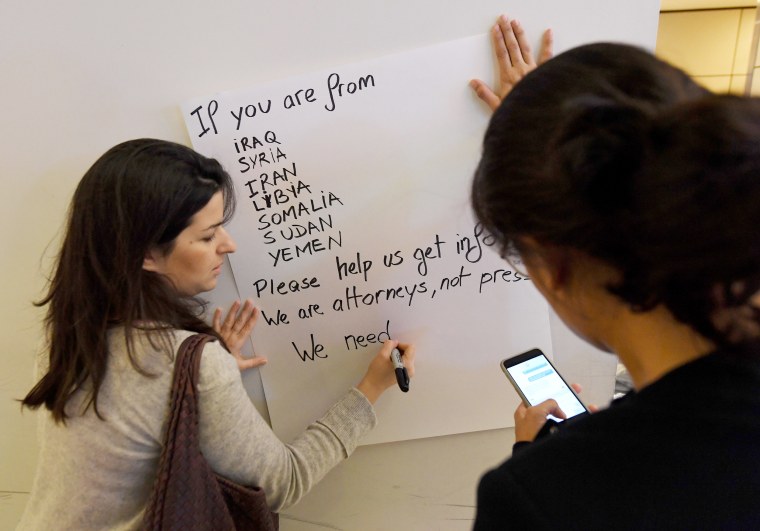 "What I'm worried could happen is what the Department of State intends to happen — is a grandfather and grandmother gets denied a visa, people who we believe would still fit with what the Supreme Court intended," Mackler said.
"I don't think anyone would say that the Department of State guidance that was issued is a common-sense interpretation of what the Supreme Court intended," she said, adding: "They're taking the Supreme Court decision and twisting it for their own political purposes."
The State Department move prompted a social media campaign, #GrandparentsNotTerrorists, by the National Iranian American Council's action group.
Qazi said the impact of the order was most likely to be felt abroad at consulates, where people could be denied visas.
"We just don't know at this time what it might look like," she said. "But if everything goes according to the order, the main impact of this will be felt abroad, when families and those seeking visas will be denied outright, which is still egregious and outrageous in it's own right."
She added that as a practicing Muslim, the issue hit close to home for her.
"The timing, it just cuts to our core, because the Supreme Court decision came out the day after our Eid celebration, which is our largest religious holiday after a month of fasting," she said.
"It's tearing families apart, and in a time and moment when we as a faith community are celebrating our family and our loved ones, it's just so outrageous on so many levels," she said.
Alex Johnson reported from Los Angeles, and Daniella Silva from New York.