Mississippi authorities warned Wednesday that pregnant women and young children in the city of Jackson should not drink unfiltered tap water because high levels of lead have been found.
Officials in the city of 173,000 took pains to downplay any comparisons to the poisoning crisis in Flint, Michigan, which went undetected for many months, triggered a state of emergency and put a national spotlight on water safety.
"We're not just like Flint," said Sheila Byrd, a spokeswoman for Jackson's mayor.
In Jackson, of 100 homes tested last month, 11 had lead levels higher than 15 parts per billion — the point at which federal regulators say action must be taken.
Fifty-eight of those homes had actually been tested previously, back in June. But the state Health Department didn't analyze the results and tell the city some were well above the action level until January.
"Nobody flagged it," Health Department spokeswoman Liz Sharlot told NBC News. "Now we are going to be looking at them on a weekly basis."
Her agency issued a set of precautions that will stay in effect for six months while the city takes steps to stop its water from corroding pipes and leaching lead into the system.
She said recommendations were made out of a "abundance of caution" and were not mandated by the Centers for Disease Control and Environmental Protection Agency.
"We have not seen any elevated blood levels in our children," Sharlot said.
Nevertheless, expectant mothers and children age 5 and younger are being told to stick to bottled or filtered water for drinking and cooking.
And households were instructed not to use to hot water for drinking or cooking and to run their cold water taps for one to two minutes to reduce possible lead levels.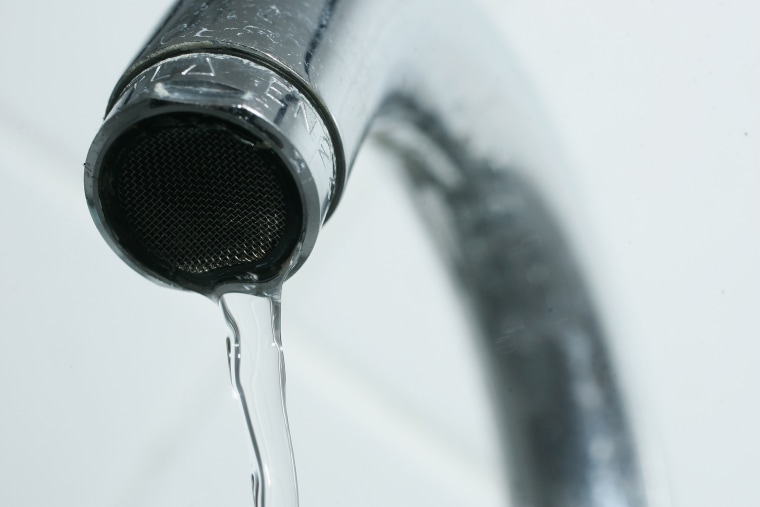 The state said its WIC program would provide bottled water and ready-to-feed baby formula to families below the poverty line.
City Council member DeKeither Stamps said that since the lead levels were disclosed, he has been pushing Jackson to declare a state of emergency — to get help evaluating the scope of the problem, provide bottled water and filters, and help homeowners remove lead from their plumbing.
"I'm trying to ring the bell that we have issues here as well," Stamps said.
He said that two weeks ago, students from Tougaloo College loaded up an 18-wheeler with water for Flint.
"I could have given them the names of some people in South Jackson who need it," he said.
Of the 58 homes tested in June, 13 had lead higher than 15 ppb, topping out at 128 ppb. In the second round of testing in January, all but two of the 13 dropped below the action level. It's unclear why they dropped, but the state said the water source for some of the homes had changed in the interim.
Nine new homes in the second round were found to be above the action level, though none were higher than 16 ppb, Sharlot said.
The state wants to see Jackson improve its corrosion control so that its water chemistry is consistent.
"It's not an easy fix," Sharlot said.
In the meantime, officials are recommending all children age six and under get tested for lead. Experts agree there is no safe level of lead exposure.