No one needs to tell the residents of New Orleans how much danger water can bring.
Hurricane Katrina flooded the modest homes of Gentilly, the quiet neighborhood where Quinn Bourgeois, a father of two, now lives. He knows what it's like to worry about water. But he didn't know to worry about the lead in the water coming through his tap.
"I'm alarmed," he said. "Me, my kids, we use the water a lot."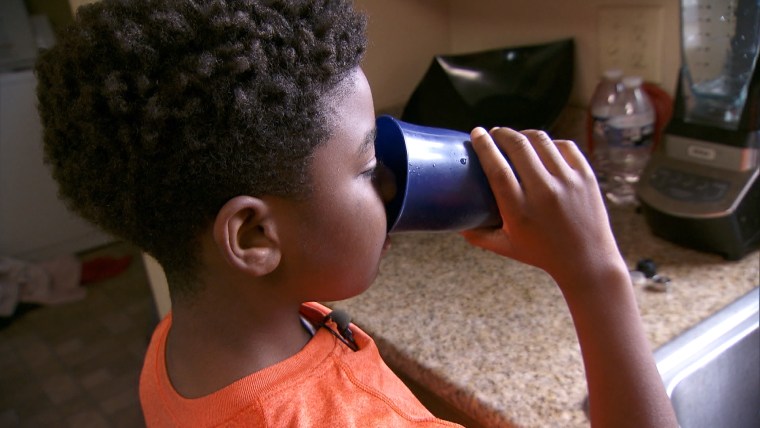 NBC News had a lab test the tap water in two dozen homes in New Orleans, a 300-year-old city with aging infrastructure and many lead pipes. The results, including Bourgeois', revealed that harmful levels of lead may be much more prevalent in the city than tests currently prescribed by the Environmental Protection Agency show.
Experts said the NBC News investigation bolstered what scientists, including those at the EPA, have known for years — federally mandated tests used across the country to ensure water systems are safe may significantly underestimate lead levels in drinking water. By some estimates, up to 90 million Americans could be drinking from water systems that, if tested more rigorously, would not pass federal muster.
"The flaws in our sampling program have created a false sense of confidence both with the utilities, and the EPA, and consumers in this country that lead in water is a problem of the past," said Dr. Marc Edwards, the Virginia Tech researcher who helped expose widespread lead contamination in the water in Flint, Michigan. "This is a problem of the present."
Related: Bad Decisions, Broken Promises: A Timeline of the Flint Crisis
The disaster in Flint brought national attention to lead in water just as the EPA finalizes new regulations, due out in 2017. But it's unclear if the revisions will include more rigorous testing of drinking water.
New Orleans, which has among the highest blood lead levels of children in the state, is a case in point.
Seven of the 24 homes tested by NBC News, or nearly 30 percent, had at least one sample that exceeded 10 parts per billion, the maximum acceptable level set by the World Health Organization. Three of those seven homes tested over 15 ppb, the point at which the EPA says that action must be taken.
The tests indicate lead may be more common than shown in the city's tests. In 2013, when the New Orleans water board conducted its last round of federally-mandated lead testing, only one of the 53 homes tested exceeded the EPA threshold. Under EPA guidelines, no more than 10 percent of all samples can exceed the threshold. New Orleans passed the monitoring with flying colors.
But the city's results relied on "first draw" samples, as currently prescribed by the EPA, which requires water systems test only the initial liter of water that comes through the tap.
When federal rules for lead were written in 1991, that first liter was supposed to be the best way to gauge "worst case" lead levels in the water. But the science has evolved.
Experts now believe that in houses connected to the water main with a service line made of lead, the highest levels may come after the "first draw," in the water that has been sitting in the lead line.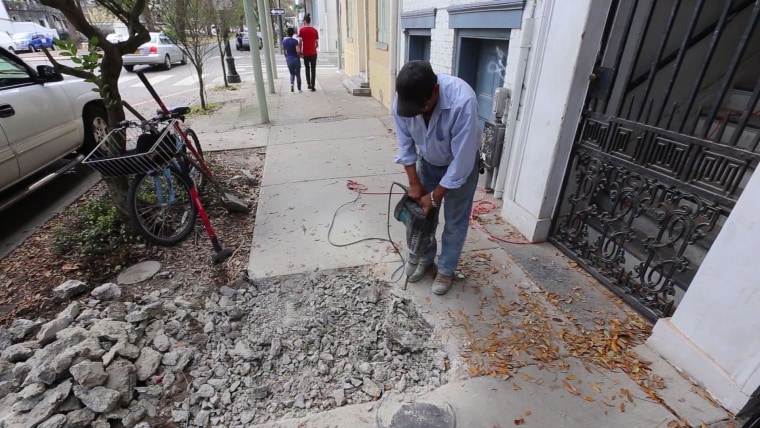 In the NBC News sample, that appeared to be the case. NBC News tested homes with a multi-step approach designed by Edwards. This method samples water three times as it runs to capture the lead levels in the water at various points in the pipe, from the tap to the service line that connects to the city water main.
Using this method, half of the homes NBC News sampled tested higher after the first draw. In fact, all but one of seven samples that registered over 10 ppb would have been missed had NBC News only conducted "first draw" tests. In other words, experts say, the tests we rely on across the country to declare our water safe may routinely miss the highest levels of lead contamination in our drinking water.
Though NBC News used the same methods Edwards is using to monitor water in Flint with EPA funding, EPA officials declined to comment directly on NBC News' results. In a statement, the agency said it could not determine if the results "provide meaningful information to determine regulatory compliance."
"They never contacted me one time and said you have high lead content...They never told me anything."
In order to target the highest-risk homes with lead pipes, as federal regulations require, NBC News requested any documents from the city that might list the location of lead lines. The city's Sewerage and Water Board said it had none. So NBC News tested homes on streets where the city had tested in the past, like Bourgeois', listed in records obtained through an information request, and relied on homes' age and an examination of their plumbing materials to choose homes. This is the same method the city's utility said it used to choose homes for the testing that the EPA requires it to perform every three years.
Residents in 24 homes were handed a kit. They were told to let water sit for at least six hours without being used. After that "stagnation" period, each was instructed to go to the kitchen tap and turn on the cold faucet. They collected a "first draw" liter, a second sample after the water had run for 45 seconds, and a third bottle two minutes later.
Related: Is There Lead in Your Kids' School Water?
The results showed how levels can vary from home to home. In six out of 24 homes, lead was nearly undetectable. But it showed up in 18 other homes. Seven of those had levels that exceeded the WHO threshold. One, which had recently had work done on the pipes, had a sample of 121 ppb — more than eight times the EPA threshold.
Sitting in his kitchen in March, Bourgeois looked at the results. Levels in his home had climbed from 6 parts per billion in the "first draw" bottle to 11 ppb in the last.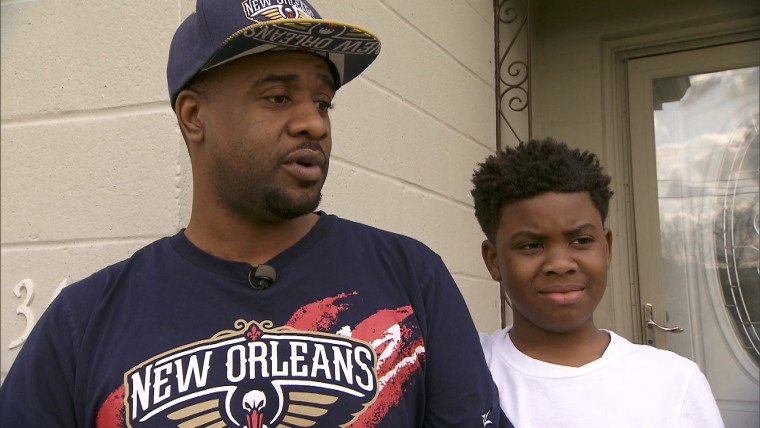 "It seems like after two minutes of running your water, it's still leveling up higher and higher," said Bourgeois.
He looked over at his son, Quinn, 11, who shares his dad's first name and wide smile.
"It's kind of scary," said Bourgeois. His son has been drinking Kool-Aid and eating pancakes made with that water since he was four years old, his daughter Sileah since she was just one. Children are particularly vulnerable to lead's toxic effects. At low levels, lead can dampen IQ, prompt behavioral issues and high blood pressure. In extreme cases, it can cause seizures or death.
Utilities, including the New Orleans Sewerage and Water Board, generally tell residents that flushing out their taps for 30 seconds to two minutes before using will clear the lines of any lingering lead. But even after two minutes, the water in Bourgeois' tap was still above the WHO's safety level of 10 ppb.
This raised questions about long-held assumptions on how we protect both individual residents and whole water systems against lead.
Related: 'People Are Scared': Jackson, Mississippi, Copes With Lead Alarm
Current regulations for lead in drinking water rest on the assumption that the first-draw sample is the best way to measure the "worst case" lead in a home. Utilities use these worst-case samples from a small number of high-risk homes — between five and 100 depending on the size of the system — as a yardstick to measure whether they are properly treating the corrosivity of the water. When water is corrosive, as it became in Flint, it can leach lead from pipes and solder, contaminating drinking water. If 90 percent of those samples come in at under the EPA "action level" of 15 ppb, the system is considered compliant.
But if the test isn't capturing that worst-case scenario, said experts, then the foundation of the system we've set up to protect Americans from lead in their water may be flawed.
"If you're only collecting the first-draw sample you're certainly going to miss the higher lead levels that might be sitting in your lead service line," said Dr. Adrienne Katner, a researcher at Louisiana State University's School of Public Health. "There needs to be a change in how we sample the water."
Katner has tested the water at more than 150 sites across New Orleans for lead, using the same methodology that Edwards designed. Her results, which come from both low and high-risk homes, bolster NBC News' findings.
"The flaws in our sampling program have created a false sense of confidence...that lead in water is a problem of the past."
More than half of the sites Katner sampled saw lead levels rise 30 seconds or two minutes after the water had begun to run. Nineteen sites, including a community center and daycare, exceeded the EPA's 15 ppb action level. The highest, in a community center, was over 190 ppb. Both Katner's and NBC News' samples were analyzed in Edwards' lab at Virginia Tech.
EPA scientists found similar patterns while testing homes in Chicago. A 2013 peer-reviewed study found federal testing protocol "significantly" underestimated lead levels in drinking water at homes with lead service lines. Running the water for two minutes was not always long enough to clear the lines of lead, researchers found. They recommended a five-minute flush for homes with lead pipes. Even then, some of the homes still had lead in the water.
More than 90 million Americans drink from water systems that might exceed the EPA's threshold if the agency required more robust testing, according to a recent study by the American Water Works Association, an industry-funded research group. That's 70 percent of all systems in the country. It does not, however, mean that there is lead coming through every tap in a given system.
Presented with NBC News' findings, the New Orleans Sewerage and Water Board said that the first-draw samples had even lower lead levels than the results the utility got in 2013. As for NBC's subsequent samples, where lead levels rose, those confirmed what the utility already knew.
"EPA's sampling protocol does not always capture the peak lead levels in a home's water and EPA's advice to flush faucets for 30 seconds to 2 minutes to reduce lead exposure is not always sufficient," spokesman Robert Jackson wrote in an email.
That message is not making it to the public. New Orleans continues to advise residents worried about lead to flush their taps for two minutes or less. Residents in homes that pose a particular risk said they felt they had not been properly warned by the utility.
Kendall Banks lives a few blocks from the Bourgeois family. In 2010, his neatly-tended home with green hurricane shutters was one of 53 the city tested during its routine monitoring. His sample came back at 23 ppb, according to records obtained by NBC News through a public records request, eight points above the EPA threshold. He said the city never warned him about his water.
"They never contacted me one time and said you have high lead content," he said. "They never told me anything."
NBC News tested his home again last February. The results were lower than the city's test years ago, but still detected significant amounts of lead in the water — nearly 7 ppb in the first draw, and almost 12 ppb after the water ran for two minutes.
"I'm very upset with that," he said. "That's all we're doing, is drinking lead."
Asked why New Orleans did not proactively do more thorough sampling and advise residents to flush their taps for longer to help reduce exposure, Sewerage and Water Board spokesman Jackson said the city's hands are tied by federal rules.
"Public utilities cannot unilaterally change the sampling protocol," said Jackson, who added that the utility has an "aggressive" program to replace lead service lines.
"We expect EPA to address these issues in their next revision of the Lead and Copper Rule due next year."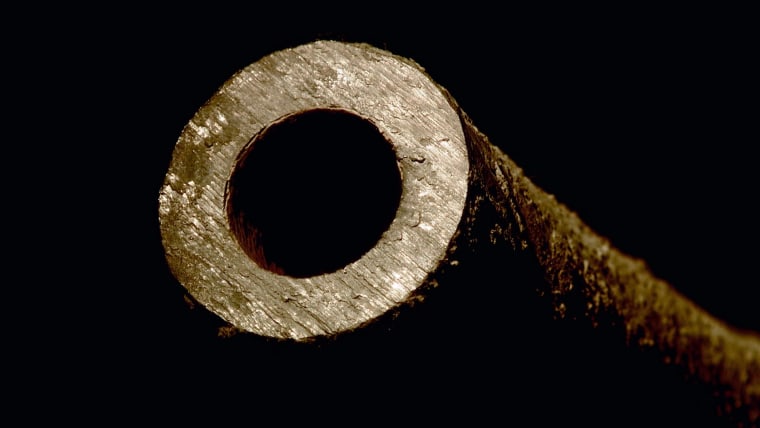 Revisions to the regulation governing lead are nearly 12 years in the making, slow even by the federal clock. EPA will have to strike a balance between hewing to the newest science to protect the safety of the country's drinking water, and creating a rule that water systems small and large can actually enforce.
EPA spokeswoman Monica Lee said in an email that the agency believes first-draw samples are preferable to samples from taps that have been flushed. She also said absorption of lead is highest on an empty stomach and that is most likely to apply to people consuming first-draw water in the morning or after getting home from work or school.
"This is of special concern for young children who absorb a much higher percentage of lead than adults," she said.
The EPA told NBC News in a statement that the agency is considering changes to the way it requires water systems to take samples as it prepares proposed revisions to its regulations, due out in 2017. It did not say whether a requirement of "sequential" testing was on the table. The agency added that it is "evaluating the best available science" to inform the advice it issues to residents like Bourgeois and Banks about how long to run their water before drinking or cooking with it.
Bourgeois isn't taking risks with the health of his kids. Now, when 11-year-old Quinn reaches for water to make his breakfast grits, there's a filter on the kitchen tap.