A suspect was in custody and another was being sought Saturday after an early morning mass shooting in a busy entertainment district in downtown Austin, Texas, police said.
The suspect's identity was not released.
"We continue to work on this case and follow up on leads to apprehend the remaining suspect," the Austin Police Department said in a statement, adding that the U.S. Marshals helped with the arrest.
Interim Police Chief Joseph Chacon described the violence as historic.
"This is one of the most significant incidents that we've ever had happen in our city," he said at a news conference.
The first call about the shooting came in around 1:24 a.m., Chacon said, and multiple 911 calls followed.
"I'm happy to report no one has died," Chacon told reporters overnight near the area of 400 E. 6th Street, a popular spot filled with bars and restaurants.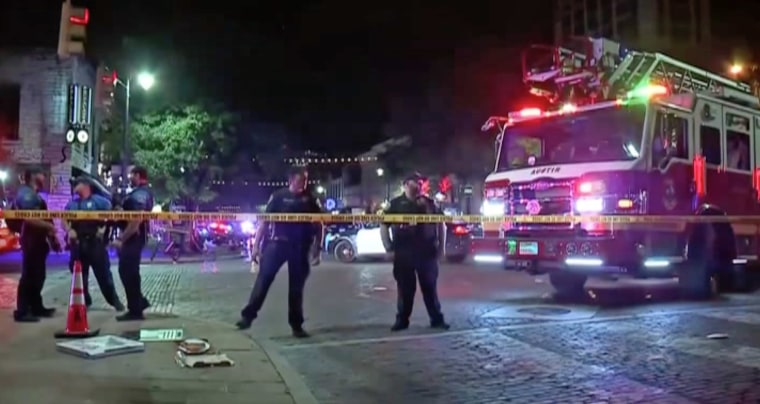 Two people were in critical condition and 12 others were stable, he said. Most of the victims appear to be innocent bystanders.
Chacon said police had identified two suspects, and investigators believed a dispute between them prompted the shooting.
"Our officers responded very quickly," Chacon said. "They were able to immediately begin lifesaving measures for many of these patients, including applications of tourniquets, applications of chest seals."
Download the NBC News app for breaking news and politics
Austin Mayor Steve Adler thanked "law enforcement, firefighters, and EMS personnel for a quick response on Sixth Street" in a statement, while alluding to a rise in gun violence in the area.
"The uptick in gun violence locally is part of a disturbing rise in gun violence across the country as we exit the pandemic," Adler said.
Austin police and the City Council are implementing new violence prevention efforts in response to the trend, he added.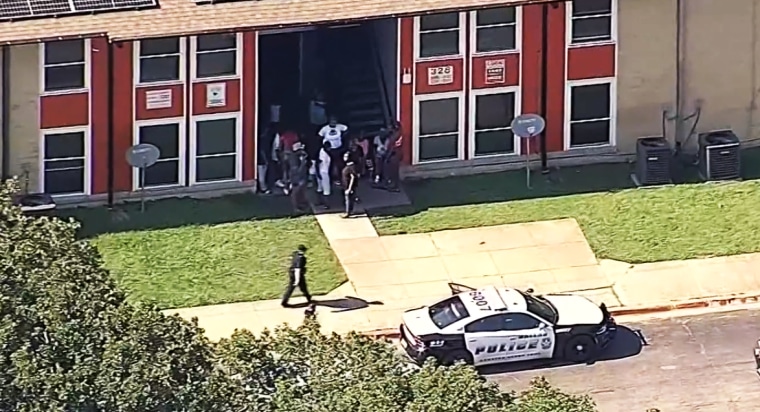 Hours earlier, authorities responded to a shooting in Dallas, about 195 miles northeast of Austin, where four adults and a 4-year-old suffered injuries that were not life-threatening.
Police said they still don't know what or who caused the disturbance, but they released photos of the alleged suspect's vehicle, a black Kia Optima with paper dealer tags that was being driven by a woman, according to NBC Dallas-Fort Worth.