At least two people were injured and two children rescued after a suspected tornado touched down in a Louisiana village Wednesday night, officials said.
The National Weather Service in New Orleans warned residents of Tangipahoa, about 60 miles northeast of Baton Rouge, to "take shelter now" in a tweet after it spotted a "radar confirmed tornado" headed just north of the area Wednesday evening.
The weather service explained in a separate tweet that radar confirmation meant experts had observed rotation and debris via radar, "so the tornado is confirmed via radar."
A string of flash flood warnings were also issued for parts of Louisiana.
At least three people suffered non-life-threatening injuries, Tangipahoa Parish President Robby Miller said.
Power was also knocked out for some in the area, he said, while several roads remained barricaded for clean-up.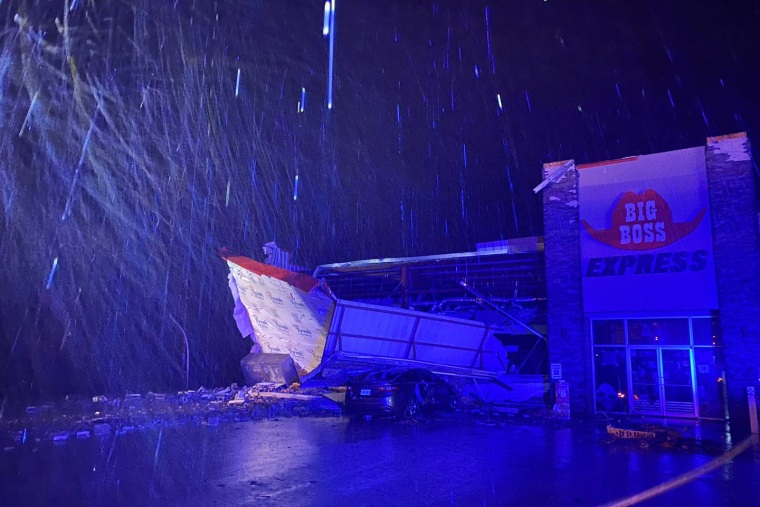 He said a number of mobile homes had been overturned, with a toddler and infant rescued from one mobile home that had rolled over. Both children appeared to be uninjured but were taken to a hospital with their mother as a precaution, Miller said.
He said around 10 to 15 structures had been damaged, with videos showing damaged buildings and downed trees and power lines.
At one gas station, the Big Boss Gas Station in Tangipahoa, workers and customers had to hide in a cooler after hearing tornado warnings on their phones, he said.  
Hours after its initial warning, the National Weather Service in New Orleans sounded the alarm on "another severe storm with a tornado warning on it is moving along a similar track as the storm that produced damage in Tangipahoa." It warned residents once again to take shelter.
The Tangipahoa Parish Government said officials were "on the ground in the Village of Tangipahoa, helping residents after a likely tornado struck the area earlier this evening."
"We still have severe weather in our area overnight. Stay weather aware, and be careful on the roads tonight," it warned.
The National Weather Service in New Orleans said teams would be out on Thursday surveying the damage caused by the storm in Tangipahoa. It said details on the length, track and strength of "possible tornadoes" would not be out until later in the day.