At least six people were killed and 18 others were injured Tuesday in a crash on an Ohio interstate between multiple vehicles and a bus carrying school students, authorities said.
Shortly after 9 a.m., two commercial vehicles including the bus, a semitrailer and two passenger vehicles were involved in what was described as a "chain-reaction crash," the Ohio State Highway Patrol said. At least three vehicles burst into flames.
The semitrailer rear-ended a charter bus carrying students and chaperones from the Tuscarawas Valley Local School District who were heading to an Ohio School Boards Association conference in Columbus, the district said on Facebook.
Three passengers on the bus were pronounced dead at the scene. The state Highway Patrol identified them as John W. Mosely, 18; Jeffery D. Worrell, 18, and Katelyn N. Owens, 15.
All three passengers in another vehicle in the collision were killed, according to the agency. They are Dave Kennat, 56, Kristy Gaynor, 39, and Shannon Wigfield, 45. All six who died were from Ohio.
Local hospitals are treating 15 students and the bus driver. The remaining students were taken to what authorities called a "reunification site."
The driver of one commercial vehicle involved was treated for non-life threatening injuries in hospital, while the driver of the other commercial vehicle was treated and released at the scene.
Bus company Pioneer Trails confirmed in a Facebook post Tuesday that one of its buses was involved in the crash.
"We understand from law enforcement that there may be multiple serious injuries and we are working to learn the details. We will share news with you as we are able, including our plans for upcoming school days and events," Superintendent Derek Varansky said.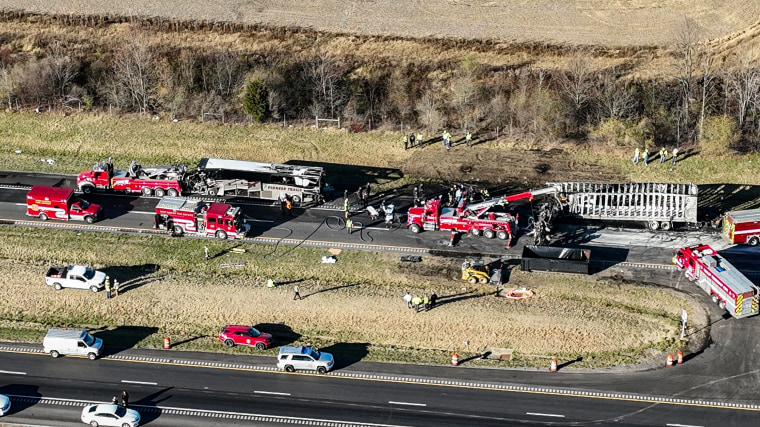 "Right now, our focus is on getting in touch with our Tusky Valley families who had loved ones on the bus and providing support to our entire school community. Our Trojan family is strong, and it will take that strength and love to get through these coming challenging days," Varansky continued.
The crash involved five vehicles on Interstate 70 West in Licking County, said Lt. Nate Dennis, a spokesperson for the Ohio State Highway Patrol.
A total of 57 people were onboard, said Licking County Emergency Management Agency Director Sean Grady, who confirmed the number of deaths and injuries in an interview.
Gov. Mike DeWine called the crash "our worst nightmare."
"Our hearts go out, our prayers to all the families, all those who were on the bus," he said at a news conference.
DeWine ordered that the flags on public buildings and grounds in Ohio should be flown at half-staff from Wednesday through Saturday.
Jennifer Homendy, chair of the National Transportation Safety Board, told reporters Tuesday night that the investigation into the crash could take 12 to 18 months, but an initial report would be released in the coming weeks.