Police pleaded with the public for help identifying a gunman who fled after killing four women and a man at a Washington state mall Friday night.
The suspect, dressed in a black T-shirt and black shorts, was seen on surveillance footage at the Cascade Mall in Burlington, about 65 miles north of Seattle, where he opened fire inside a Macy's department store.
Authorities are still working to determine a motive and said there's no immediate evidence the rampage was terror-related.
"This was a senseless act," Burlington Mayor Steve Sexton said at a Saturday morning press conference, adding his town would do everything possible to help law enforcement "bring this son of a b---- to justice."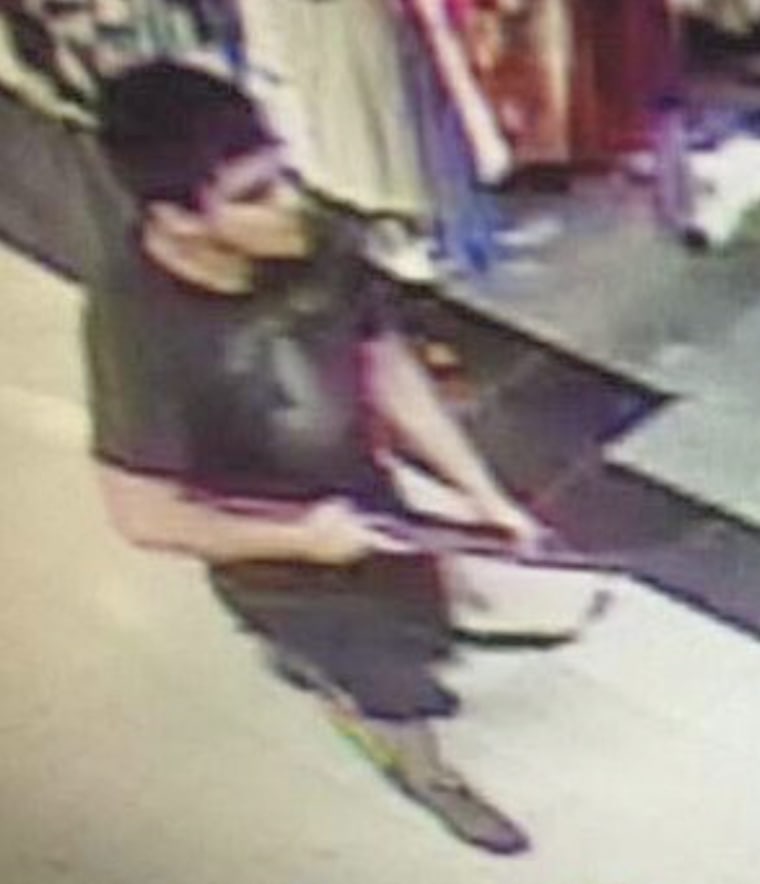 Authorities don't know the gunman's whereabouts or identity, but believe he is a Hispanic man in his 20s or 30s.
"Hopefully people who know and recognize this individual will help us," Mt. Vernon Lt. Chris Cammock said at the press conference.
Security footage showed the man entering the mall, apparently without a weapon. In additional footage from about 10 minutes later, he "entered Macy's with a rifle and fired multiple times," Cammock said.
The shots killed the four females — who ranged in age from one in her teens to another who was a senior citizen — in the store. The man suffered critical injuries but later died.
A rifle was recovered at the scene, Cammock said, but he refused to disclose how many shots were fired or what the caliber of the weapon was due to the ongoing investigation.
Victims' identities won't be released until after autopsies are completed, authorities also said Saturday.
Detectives have interviewed more than 20 people and scoured tips on social media and by phone.
The chaotic aftermath of Friday's shooting was hampered by the fact that once officers arrived on-scene at the 434,000 square-foot mall, they weren't aware that the gunman had already fled, officials said.
"This was a long, drawn-out process," said Tom Moser, Burlington's assistant police chief.
Officers helped employees and shoppers, many of whom were sheltering in stores, exit the Macy's, he said, while searching every inch of the mall for a suspect.
Officials believe the gunman acted alone and have no indication it was a terrorist act.
"I'd be extremely diligent and careful if you come in contact with the suspect," Washington State Sgt. Mark Francis warned in a Friday night news conference. "Stay indoors, stay secure."
Reports about a shooting started coming in around 7 p.m. local time, Washington State Trooper spokeswoman Heather Axtman said earlier.
"We have very little information right now," Axtman said. "We're still trying to gather as many witnesses as we can to get more information."
The FBI was assisting local authorities as dozens of police officers searched for the suspect. The FBI's Seattle office said on Twitter that it "has no information to suggest additional attacks planned" in Washington state but did not elaborate.
Joe Zavala of Blaine, Washington, was drinking coffee outside of Macy's while his wife was in the store when he heard shots ring out.
"Then I saw a man pointing a gun and shooting people," Zavala told NBC affiliate KING 5 in Seattle. "And then I got up to look a little closer and he saw me, pointed the gun, and I took off running."
He bolted into Macy's to look for his wife once the shots stopped. As he searched, he saw people lying on the floor and a rifle placed on top of the cosmetics counter.
He eventually found his wife inside a fitting room.
"It all happened so fast," Zavala told KING 5. "At first I didn't believe it. I didn't believe what I was hearing. I felt helpless, because I couldn't do anything."
Stephanie Bose, an assistant general manager at Johnny Carino's Italian restaurant near the Macy's store at the mall, said she immediately locked the doors to the restaurant after hearing about the shooting from an employee's boyfriend.
"He was trying to go to the mall and people were screaming," she told The Associated Press. "It was frantic."
The mall said it would be closed Saturday "out of respect for the victims of this tragic event and their families."
The mayor of Burlington asked for prayers for the victims' families.
"There are people waking up this morning who are waking up, their whole world changed forever," Sexton said Saturday.