Five Houston police officers were injured during a firefight at a residence Monday, police said.
The violence broke out when a group of narcotics and patrol officers attempted to serve a search warrant around 5 p.m. local time (6 p.m. E.T.) at a residence where heroin was allegedly being sold, Houston Police Chief Art Acevedo told reporters at a press conference.
Officers were met with gunfire as they entered the home in southeast Houston, but authorities are unsure how many suspects were shooting, Acevedo said.
Four officers were shot and another officer suffered a knee injury during the exchange. Authorities initially reported that all five of the officers had been shot.
"Two officers are currently in surgery —they're in surgery for gunfire sustained and they are in critical but stable condition," Acevedo told reporters. "Two other officers were shot and they will remain hospitalized for observation for at least a 24 hour period."
Two suspects were hit by gunfire from the police and were pronounced dead at the scene, Acevedo said.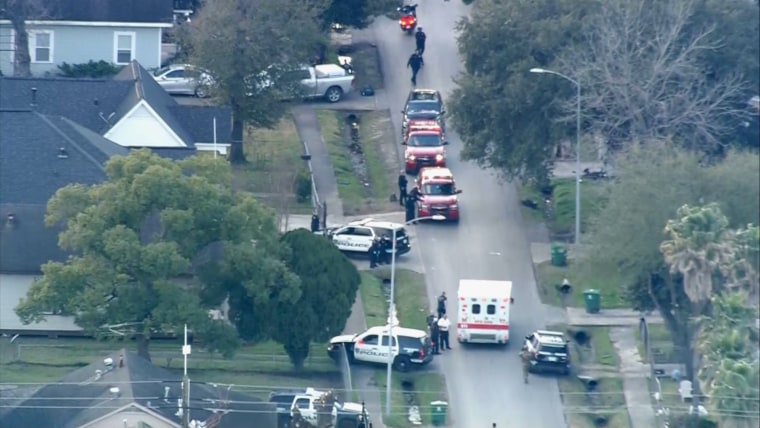 One of the officers in critical condition is a 54-year-old who was leading the drug case. He was airlifted to a hospital. Acevedo did not release the officer's name but said he has been shot "several times" in his career.
The officer whose knee was injured will be discharged.
Houston Police Officers Union President Joseph Gamaldi made a statement at the press conference and asked that the community keep the injured officers in their prayers.
Texas Gov. Greg Abbott released a statement on the "horrific attack."
"This evening's horrific attack on police officers is a solemn reminder of the service and sacrifice our brave men and women in law enforcement make every day to keep us safe," the statement said. "The city of Houston and the Houston Police Department will have whatever state resources they need to bring swift justice to those involved."