A suspect in a Washington, D.C. shooting that left four people injured used a "sniper-type setup" and fired more than 20 rounds, authorities said Friday.
The person is believed to have taken his own life while officers from the Metropolitan Police Department were entering an apartment where he was at the time, Metropolitan Police Chief Robert Contee said.
It wasn't immediately clear if the suspect was Raymond Spencer, 23, who authorities identified earlier as a person of interest. Contee said authorities were no longer looking for Spencer, but he said he would not name the suspect until after his family is notified.
Contee said the suspect had a tripod pointed from an apartment on Connecticut Avenue on Friday afternoon when he opened fire.
Authorities found multiple rounds of ammunition and six guns at the home, including several long guns and handguns, he said.
"Obviously his intent was to kill and hurt members of our community," Contee told reporters.
He added that a possible motive remained unclear.
Police earlier Friday counted at least three victims in the shooting near the city's Embassy Row area, but later said a fourth reported to officers at the scene.
Three of the victims — a 12-year-old girl who was shot in the arm, a woman in her mid-30s and a 54-year-old man — were stabilized, Assistant Chief Stuart Emerman said.
A woman in her mid-60s with a graze wound to her upper back was treated at the scene and released, he said.
Contee identified the man as a retired local police officer.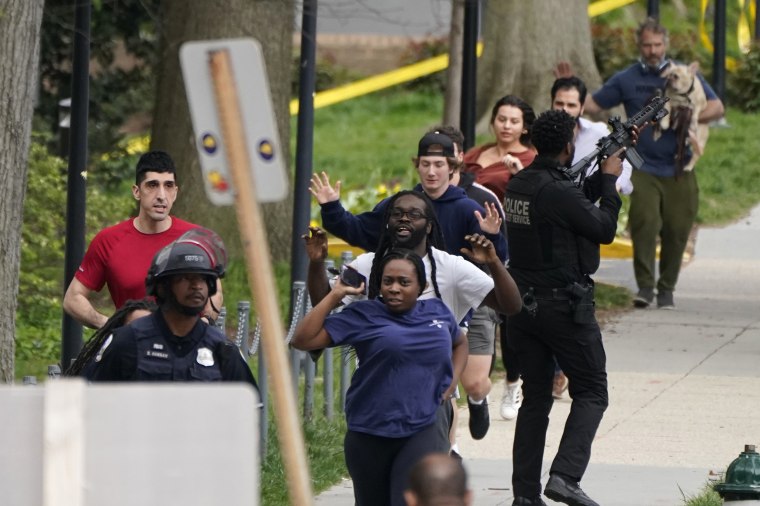 Authorities told people in the area of Van Ness Street, NW, and Connecticut Avenue, NW, in the Van Ness neighborhood, to shelter in place.
However, after officers swarmed the neighborhood, occupied by both Edmund Burke School, home to students in grades 6-12, and Howard University School of Law, dozens of people were escorted away.
The Edmund Burke prep school was locked down, and parents hoping to retrieve children were told to wait, Emerman said.
Contee said it wasn't clear if the alleged gunman had a connection to the Edmund Burke school.
Mayor Muriel Bowser said late Friday that they were beginning to reunify those students with their families.
Bowser described looking into the eyes of parents who were terrified thinking of what might have happened to their children.
"We have experienced this too much in our country," she said. "The epidemic of gun violence, the easy access to weapons, has got to stop. People should not be scared taking their children to school."
Metro police said they were conducting sweeps of the area in a search for suspects. The FBI and the federal Bureau of Alcohol, Tobacco, Firearms and Explosives both said they were sending personnel to the scene.