Two Walmart grocery store employees and a greeter at a Giant store are among at least four supermarket workers who have died from the coronavirus in the U.S.
A Walmart spokesperson confirmed to NBC News on Tuesday that two workers at a Chicago-area store died after contracting the virus.
"We are heartbroken at the passing of two associates at our Evergreen Park store and we are mourning along with their families," the company said in a statement.
The employees were identified in a wrongful death lawsuit filed against the company as Wando Evans, 51, and Phillip Thomas, 48.
Full coverage of the coronavirus outbreak
Evans' brother, Toney Evans, filed the suit against Walmart Inc. on Monday in a Cook County Circuit Court, claiming willful and wanton misconduct, reckless disregard and gross negligence.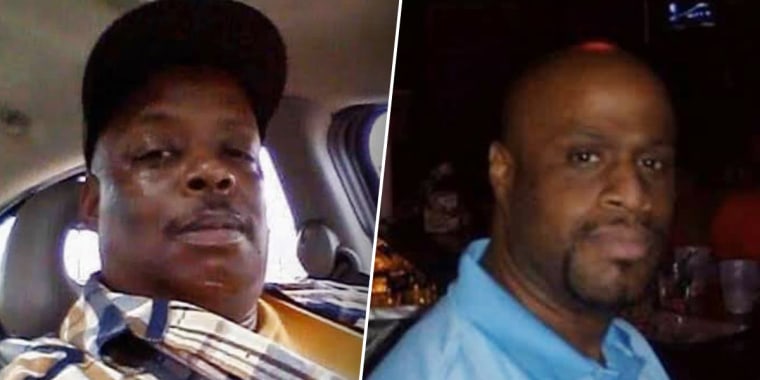 The suit alleges that managers at the store in Evergreen Park, about 17 miles southwest of downtown Chicago, failed to alert workers after several employees began showing symptoms of COVID-19, the disease caused by the virus.
Walmart "had a duty to exercise reasonable care in keeping the store in a safe and healthy environment and, in particular, to protect employees, customers and other individuals within the store from contracting COVID-19 when it knew or should have known that individuals at the store were at a very high risk of infection and exposure," the lawsuit states.
Wando Evans, an overnight stock and maintenance associate, first began experiencing symptoms in mid-March and told a store manager, "but was ignored," the brother's attorney, Tony Kalogerakos, said in a press release.
On March 23, the 51-year-old was sent home from work. Two days later he was found dead in his home.
Download the NBC News app for full coverage of the coronavirus outbreak
Kalogerakos said that Walmart had a responsibility to notify store employees that a colleague was showing symptoms of the coronavirus, but they did not. Four days after Evans' death, Thomas died of the virus, according to the suit.
Walmart spokeswoman Anne Hatfield said that the store has conducted a deep cleaning, and as "an extra precaution," an outside company was brought in to further assist in disinfecting the store.
Hatfield said the company has not yet been served the lawsuit, but they "take this issue seriously."
Melissa Love, a member of the labor advocacy group United for Respect, has worked for Walmart for the past four years.
She said in a statement through the organization that it's terrifying that two workers from the same store died from the virus and criticized Walmart for waiting to take action.
"They didn't pass the emergency leave policy until an employee tested positive for COVID-19 in Kentucky. They stalled for weeks implementing social distancing after the CDC announced guidelines on March 16, and most of us still don't even have access to gloves, masks or hand sanitizer," she said. "With Walmart, it's always too little too late."
Love said the company has to "get serious about protecting our health and safety."
Last week, the company announced that it was making operational changes which included checking the temperatures of store employees and providing masks and gloves to those associates who want them.
Over the weekend, the company began limiting the number of shoppers allowed inside its stores at once. In an April 3 press release, Walmart said customers would be allowed to enter through a single door on a one-by-one basis.
"Once a store reaches its capacity, customers will be admitted inside on a '1-out-1-in' basis," Walmart said.
A greeter at a Giant Food Stores in Largo, Maryland, also died from the coronavirus. The Washington Post identified the worker as Leilani Jordan, 27.
Daniel Wolk, a spokesman for the food chain, said in a statement that the company was told by the worker's family on Thursday that she had died.
"We can only imagine the heartache they are experiencing and have offered our support during this difficult time," he said.